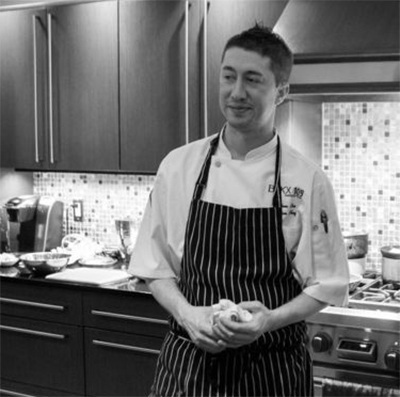 Stephen Coe has joined Mirbeau Inn & Spa at The Pinehills as Executive Chef. The Massachusetts native takes the helm of the elegant Henri-Marie restaurant and Wine Bar & Bistro, which will make their debut with the inn's opening in June 2014. He will also oversee in-room dining and what is expected to be a robust catering operation.
"Stephen has already made an impact on the New England culinary scene through his kitchen talents, agricultural advocacy and charitable works," says Natalie Ward, General Manager, Mirbeau Inn & Spa at The Pinehills. "We are thrilled to welcome him to the Mirbeau team and look forward to his culinary contributions to the success of our new inn and the Mirbeau brand."
Coe brings to Mirbeau more than 20 years of culinary experience. Most recently, he was executive chef at Bokx 109 American Prime at Hotel Indigo, an upscale steak house in Newton, Mass. He has also led the kitchens at Alba Restaurant in Quincy and Patrizia's Trattoria in Plymouth. He spent three seasons as Pastry Chef at Topper's at the Wauwinet in Nantucket. Coe's culinary experience also includes The Martini House in Napa, Calif., The Chef's Table in Pembroke, Mass., and The Country Club in Brookline, Mass.
In addition to his executive chef post, Coe, a strong advocate of sustainable agriculture, will source his own honey and seasonal vegetation from local farms in Plymouth. He is active in Boston and Rhode Island food banks, Share Our Strength, and Meals on Wheels.
A natural competitor, Coe has cooked on more than 100 stages worldwide, winning, among other awards, the Grand Prize in Food Network's Tyler Florence Recipe Contest and the American Culinary Foundation's Boston 2002 Junior Chef of the Year. He recently placed in the top three of 450 chefs in the World Food Competitions in Las Vegas, which will be showcased on A&E on July 7, 2014.
Coe is a graduate of the prestigious culinary arts program at Johnson & Wales University. He completed his certificate in French food and language at Institute Francais des Alpes in Annecy, France. For more information on Coe's culinary philosophy and background, visit kitchensurfing.com/stephencoe.
For more information on the Inn & Spa, visit mirbeau.com/pinehills.
About the Mirbeau Properties
The Mirbeau Inn & Spa is an intimate, year-round retreat for rejuvenation and romance, offering gracious hospitality, award-winning cuisine, and world-class spa treatments. Steeped in elegant French country style, Mirbeau Inn & Spa is graced by signature Monet-inspired pond gardens. The legacy Mirbeau Inn & Spa, in the heart of New York's Finger Lakes wine region, is the only Forbes Four-Star Award winner for hotel, spa and restaurant in New York State, and an AAA Four-Diamond winner. It is also distinguished by the Wine Spectator Award of Excellence, Top Ten Spas in the World in the categories of romance, boutique, yoga and cuisine in Spa Finder's Annual Readers' Choice Awards, and Top Five Spas for Couples in the World in back-to-back years of Spa Magazine's Silver Sage Readers' Choice Favorites. It has been awarded a spot on Condé Nast Traveler's Top 30 Small Resorts in the US for three years in a row, and won a 2011 SpAWARD for Most Romantic Spa. For more information, visit www.mirbeau.com.