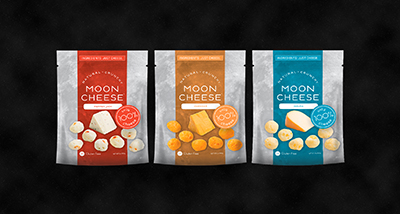 Moon Cheese is produced by NutraDried LLP, a partnership between EnWave Corporation and Lucid Management. Available at Kroger's Fred Meyer and Quality Food Centers stores across Washington, Idaho and Oregon, Moon Cheese is available in three flavors including American Cheddar, Pepper Jack and Gouda. NutraDried plans to ramp up production and increase the distribution of this natural crunchy snack in the coming months.
"The healthy snacking trend continues to grow in North America as more and more consumers are becoming increasingly conscious about what they are putting in their bodies," says Brent Charleton, Vice President of Marketing for EnWave Corporation. "There is also attention being paid to the consumption of artificial and genetically modified ingredients. Moon Cheese consists only of 100% cheese, is gluten-free, high in calcium and a great source of protein. A single serving of Moon Cheese offers 5 grams of protein and 13% of the recommended daily calcium intake."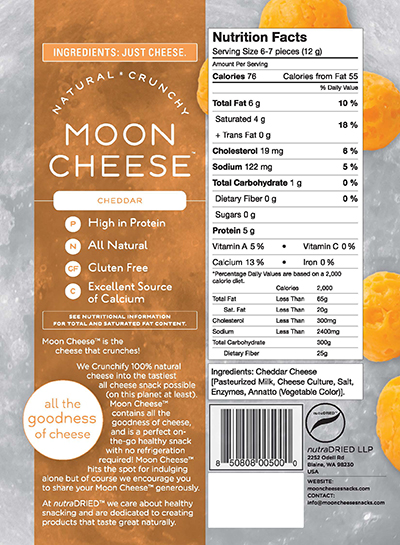 "The use of EnWave's REV technology for the production of Moon Cheese is very attractive from an economic standpoint," stated Mr. Rufino Dee, CFO at NutraDried LLP. "NutraDried should show growing revenues over the coming months and potentially ramp up sales significantly in 2014 once excess production capacity has been secured."
Dr. Tim Durance, Chairman and co-CEO, EnWave Corporation is the innovator behind the company's dehydration technology. While at the University of British Columbia in 1996, Dr. Durance developed the first prototype Radiant Energy Vacuum ("REV") machine for dehydrating food and nutraceuticals. "In addition to the attractive taste and texture, we believe that the high protein content, gluten-free aspect and superior calcium levels will set Moon Cheese apart from competing snack items," adds Durance.
About NutraDried
NutraDried LLP, a joint partnership between EnWave Corp. and Lucid Capital Management is behind the new commercial launch of Moon Cheese, a healthy, crunchy, 100% natural cheese snack. Three varieties of Moon Cheese (American Cheddar, Pepper Jack and Gouda) are now being initially be launched in up to 200 stores throughout two grocery store banners, Fred Meyer and Quality Food Centers ("QFC"). Both banners are owned by the Kroger Company, the largest grocery store chain in the United States of America. To learn more please visit EnWave on the web, and find them on Twitter.