Healthy Fast-casual Eatery Marks its One-year Anniversary With the Addition of a New Menu Items, Live Well Speaker Series, and Corporate Catering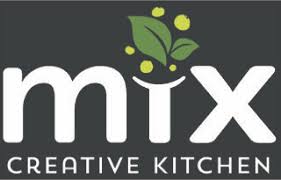 MYX Creative Kitchen is on a mission to feed and fuel busy, hungry people who want to eat well, revitalize, and add the consumption of fresh, from scratch foods made with real ingredients to their lifestyle. Last spring, Palm Foods LLC, the entrepreneurial team behind the MYX brand, put their hunger where their mouths are and introduced a made-to-order, 3-meals-a-day, concept that offers quality food in a fast-casual setting. The MYX menu is under the direction of Chef Fausto Mieres, a graduate of the French Culinary Institute whose local kitchen cred includes stints at farm-to-table restaurant Oak + Almond and Mexican inspired bartaco.
MYX will be launching their new website in April. The approach, much like their signature build-your-own-meal concept with meals prepared in front of the customer, will feature the ingredients that go into MYX's salads, sauté bowls, pizza, and sandwiches. The "calculator" will monitor portions, calories, fat, carbs, etc.
"The transparency of the menu items, the ingredients and the preparations, is a large part of what drives home the healthful, fresh, and enjoyable part of this concept, "says Rey Santos, the Director of Operations for Palm Foods LLC, "Having this technology further enhances the MYX experience and will allow consumers to be in control of what they are putting into their bodies."
The new MYX menu is comprised of their signature Salad Bowls such as the Golden Greens tossed with romaine, quinoa, charred onions, tomatoes, cauliflower, and turmeric yogurt dressing and their popular Sauté Bowls, including the Korean BBQ with spinach, rice, zucchini, carrots, mushrooms, charred onions, sesame seed, and Korean bbq sauce. All bowls come with the option to build your own and can be topped with your choice of protein such as Asian pork, balsamic chicken, or poached salmon.
In addition to MYX's Gluten-Free Pizza with a variety of fresh toppings, Chef Fausto has added Gluten-Free Flatbread Sandwiches such as the "Zesty" filled with charred chicken, spinach, jalapeno and lime onions, cheddar cheese, and honey Dijon vinaigrette. Also newly added are Sauté Noodle Bowls with such flavorful combinations as the Curry Noods with wheat noodles, kale, red pepper, cabbage, carrots, charred onion, cashews, and red curry sauce, again, with a choice of protein, from roasted Brussels sprouts and turkey meatballs, to charred chicken and seasonal shrimp.
MYX Creative Kitchen, in addition to carry-out service, offers a bright and comfortable café setting to relax and enjoy your meal or mid-day getaway. House-made juices, organic coffee, grab and go power snacks, sweet and healthy treats, and prepared meals are always at the ready.
Corporate Catering is now available and can be delivered to local Greenwich area offices. Order rejuvenating meal packages and snacks for your office meetings and events.
MYX continues with their Live Well Speaker Series, featuring healthy lifestyle book authors, nutrition and exercise coaches, and local wellness experts.