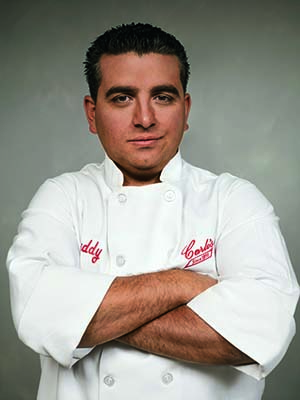 Discovery Communications, the world's number-one nonfiction media company, and Parragon, Inc., a leading publisher with over 100 million cookbooks sold globally over the last four years, today announced the publication of TLC Kitchen: 150 Timeless Recipes From Our Family To Yours. The cookbook serves up delicious, easy-to-make recipes from a variety of chefs, featuring contributions from stars of TLC's most popular series.
The 256-page hardcover book is available at a variety of retailers including Barnes & Noble, Amazon.com and TLCStore.com. Featured TLC personalities include Buddy Valastro (Cake Boss), June "Mama June" Shannon (Here Comes Honey Boo Boo), Jen Arnold and Bill Klein (The Little Couple), Randy Fenoli (Say Yes to the Dress), Katherine Kallinis Berman and Sophie Kallinis LaMontagne (DC Cupcakes), and Marisa Lopez (Next Great Baker).
The cookbook and corresponding e-book feature recipes for every taste, from breakfast and brunch to family dinners and desserts. Each includes serving sizes, prep time and helpful hints. Full-color photos are paired with each recipe, and many recipes feature step-by-step visual instructions.
The e-book edition allows users to take recipes with them anywhere they go. The TLC Kitchen: 150 Timeless Recipes From Our Family To Yours e-book version is available from iBooks, Nook and Kobo.
"This cookbook is our way of inviting fans and families to bring a taste of TLC into their own kitchens, and the familiar faces that contributed recipes to this cookbook know that good food can bring families closer together," said Elizabeth Bakacs, Vice President of TLC Licensing. "Through this partnership with Parragon, we look forward to expanding your recipe collection to include TLC's family favorites."
"We are happy to have partnered with TLC for this exciting collaboration. TLC's extraordinary roster of talent is already a familiar group in living rooms across America and we hope to extend that relationship into the kitchen with this fantastic new title that offers delicious recipes with simple, clear instructions and stunning photography! There really is a recipe for everyone," offered Venetia Davie VP New Business Development, Parragon.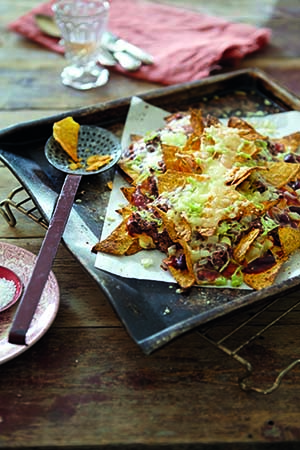 Jen's Spoon Taco
PREP TIME: 10 minutes
COOK TIME: 40 minutes
1 (30 oz) bag of tortilla chips
2 cans (15–20 oz) meat chili
(no beans)
16 slices, soft processed cheese (like Velveeta)
1 (20 oz) jar of salsa (you choose the heat)
1 cup shredded cheddar/taco cheese
2 or 3 finely sliced jalapeño peppers
1/2 cup finely chopped onion
2 cans (15–20oz) refried beans
Preheat oven to 450°F.
In a large deep-based baking tray, create your spoon taco layers.
Here is a suggested order:
Start by creating a layer of tortilla chips that covers the bottom of the tray.
Then add a layer of meat chili.
After that, add a layer of the sliced cheese (evenly disperse the slices
to best cover the whole tray).
After that, a layer of salsa can be added.
Then add another layer of chips.
Then add a layer of the shredded cheese.
Drop in 3/4 of the jalapeño peppers and about all of the chopped onions over the salsa.
Then add a layer of the refried beans.
Then one more layer of chips.
Finally add one more layer of shredded cheese and the remaining
jalapeños to add some color.
Cover your tray with foil and place in the oven and bake for 30 minutes. Remove the foil and bake for another 10 minutes to make the top crispy. Remove from the oven, grab a plate and dig in—be careful, it's hot!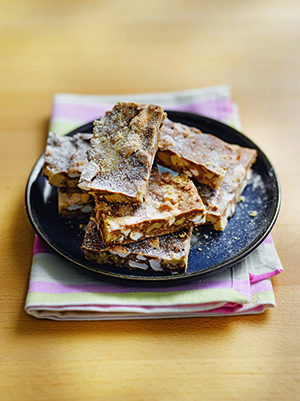 Rocky Road Bars
makes 8 bars
PREP TIME: 20 minutes, plus
2 hours chilling time
COOK TIME: no cooking
6 oz milk chocolate or semisweet dark chocolate
4 tbsp butter
4 oz shortbread cookies, broken into pieces
11/2 cups white miniature marshmallows
3/4 cup walnuts or peanuts
confectioners' sugar, sifted, for dusting
Line a 7-inch square cake pan with parchment paper.
Break the chocolate into squares and place in a heatproof bowl. Set the bowl over a saucepan of gently simmering water and heat until the chocolate is melted, being careful to make sure that the bowl
does not touch the water. Add the butter and stir until melted and combined. Let cool slightly.
Stir the broken cookies, marshmallows and nuts into the chocolate mixture. Pour the chocolate batter into the lined pan, pressing down with the back of a spoon. Chill in the refrigerator for at least 2 hours, or until firm.
Carefully invert out of the pan onto a cutting board. Dust with confectioners' sugar and cut into 8 pieces to serve.
variation These popular bars are simplicity itself to prepare, and the shortbread cookies give them an irresistibly rich flavor—try substituting
ginger snaps for a spicy alternative.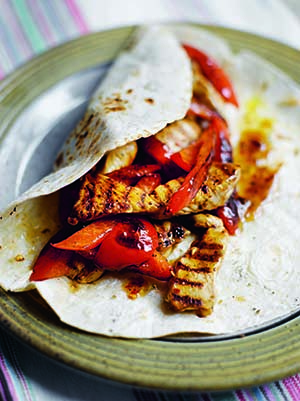 Chicken Fajitas
makes 4 servings
PREP TIME: 20 minutes, plus
2–3 hours chilling time
COOK TIME: about 10 minutes
3 tbsp olive oil, plus extra
for drizzling
3 tbsp maple syrup or honey
1 tbsp red-wine vinegar
2 garlic cloves, crushed
2 tsp dried oregano
1–2 tsp crushed red pepper flakes
salt and pepper
4 boneless, skinless chicken breasts
2 red bell peppers, seeded
and cut into 1-inch strips
8 tortillas, warmed
Place the oil, maple syrup, vinegar, garlic, oregano and crushed red pepper in a large, shallow dish or bowl, season with salt and pepper, and mix together.
Slice the chicken across the grain into 1-inch-thick slices. Toss in the marinade until well coated. Cover and chill in the refrigerator for
2–3 hours, turning occasionally.
Heat a grill pan or skillet until hot. Lift the chicken slices from the marinade with a slotted spoon, lay on the grill pan, and cook over medium-high heat for 3–4 minutes on each side, or until cooked through. Remove the chicken to a warm serving plate and
keep warm.
Add the bell peppers, skin side down, to the pan and cook for
2 minutes on each side. Transfer to the serving plate. Serve with
the warm tortillas to be used as wraps.
Stuffed Cupcakes
makes 12 cupcakes
PREP TIME: 15 minutes
COOK TIME: 25 minutes
1 cup all-purpose flour
3/4 cup sugar
11/2 tsp baking powder
1/4 tsp salt
1/4 cup shortening
1/2 cup whole milk
3/4 tsp vanilla
2 egg whites from large eggs
1 large (use egg whites for
a white cake and yolk for a yellow cake)
1 cup raspberry jam
3 cups Chocolate-Fudge Frosting (recipe opposite)
Preheat oven to 350°F. Line cupcake pans with paper liners.
Combine flour, sugar, baking powder, salt, shortening, milk and vanilla in a large mixing bowl. Mix at low speed for 2 minutes. Scrape bowl. Add egg whites and additional whites or yolks, and mix at high speed until fluffy and smooth, approximately 2 minutes.
Fill liners one-half to two-thirds full of batter. Do not overfill. Bake 20–25 minutes or until toothpick inserted in center comes out clean. Let cool 10 minutes in pans then remove from pan, and place on wire racks to cool completely.
Place raspberry jam into a piping bag with a fine tip.
With a paring knife cut a cone shape into the the top of the cupcake. Remove the cone to reveal a hole in the top of the cupcake.
Pipe about 1 tablespoon of raspberry jam into the whole of the cupcake. Place the piece of cut-out cake back into the hole of the cupcake.
Place chocolate-fudge frosting into a piping bag with a large star tip. Frost the top of the cupcakes.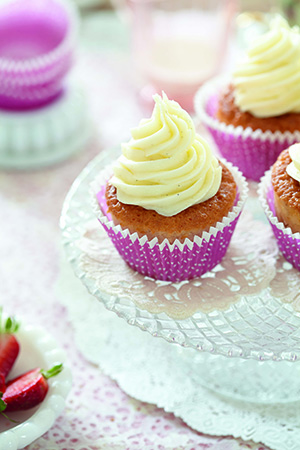 Strawberry-Banana Cupcakes with Strawberry Frosting
makes 12 cupcakes
PREP TIME: 10 minutes
COOK TIME: 15-20 minutes
21/2 cups all-purpose flour
21/2 tsp baking powder
1/4 tsp salt
8 tbsp unsalted butter, at room temperature
13/4 cups sugar
2 large eggs, at room temperature
21/4 tsp pure vanilla extract
11/4 cups whole milk, at room temperature
1/2 cup diced fresh strawberries
1/2 cup diced fresh ripe bananas
Frosting
4 tbsp unsalted butter, at
room temperature
6 oz. cream cheese, at
room temperature
1/4 tsp pure vanilla extract
4 cups confectioners' sugar, sifted
1/2 cup diced fresh strawberries
Preheat the oven to 350°F. Line a standard cupcake pan with twelve paper baking cups.
Sift together the flour, baking powder and salt on a sheet of parchment paper or wax paper and set aside.
In the bowl of a stand mixer or in a bowl with a handheld electric mixer, cream together the butter and sugar for 3 to 5 minutes, or until light and fluffy. Add the eggs one at a time, mixing slowly after each addition. Add the vanilla to the milk in a large liquid measuring cup.
Add one-third of the dry ingredients followed by one-third of the milk, and mix thoroughly. Repeat. Stop to scrape down the bowl as needed. Add the last third of dry ingredients followed by the last third of milk. Mix thoroughly. Add the diced strawberries and bananas and mix slowly until just incorporated.
Scoop the batter into the cupcake pan using a standard-size ice-cream scoop until each cup is two-thirds full. Bake for 16 to 18 minutes (start checking at 15 minutes), or until a toothpick comes out clean. Transfer the pan to a wire rack to cool completely.
For the frosting: Combine all of the ingredients in a mixer and whip together at high speed until light and airy, approximately 3 to 5 minutes. Transfer the frosting into a large piping bag fitted with a large round tip and frost each cupcake with a signature swirl. Serve and enjoy!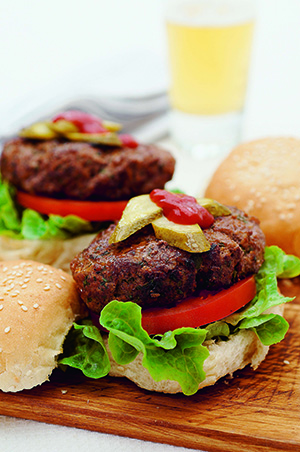 Homemade Hamburgers
makes 6 servings
PREP TIME: 10 minutes, plus
30 minutes chilling time
COOK TIME: 20–30 minutes
2 lb 4 oz ground beef
1 small onion, grated
1 tbsp chopped fresh parsley
2 tsp Worcestershire sauce
salt and pepper
2 tbsp vegetable oil
6 hamburger buns, split and toasted
salad greens
tomato slices
dill pickles, sliced
ketchup
Put the ground beef, onion, parsley and Worcestershire sauce into a bowl, season with salt and pepper to taste, and mix well with your hands until thoroughly combined.
Divide the mixture into 6 equal portions and gently form into patties. If you have time, chill in the refrigerator for 30 minutes to firm up.
Heat the oil in a large skillet. Add the hamburgers, in batches, and cook over medium heat for 5–8 minutes on each side, turning them carefully with a spatula. Remove from the skillet and keep warm while you cook the remaining hamburgers.
Serve in toasted hamburger buns with salad greens, tomato slices, dill pickles and ketchup.
tip Fresh thyme is the beef flavor enhancer—add 1 tablespoon of
the chopped fresh herb with the parsley to give your burgers that
extra wow! factor.
About Discovery Communications Inc.
Discovery Communications is the world's #1 nonfiction media company reaching more than 1.8 billion cumulative subscribers in 218 counties and territories. Discovery is dedicated to satisfying curiosity through 155 worldwide television networks, led by Discovery Channel, TLC, Animal Planet, Science and Investigation Discovery, as well as U.S. joint venture networks OWN: Oprah Winfrey Network, The Hub and 3net, the first 24-hour 3D network. Across the Nordic region, Discovery owns and operates SBS Discovery Media, a top-three portfolio of 20 television brands that feature leading nonfiction content, as well as locally produced entertainment programs, sports and the best scripted series and movies from major studios. Discovery is also a leading provider of educational products and services to schools and owns and operates a diversified portfolio of digital media services, including Revision3.
About Parragon, Inc.
Parragon is the largest illustrated non-fiction publisher in the world. For more than twenty years, Parragon has made enriching and entertaining content accessible to readers all around the globe. As an industry leader in a changing book world, Parragon continues to provide innovative multi-platform content and impeccable service to retailers and consumers. Whether you want a printed book, an ebook or an app, Parragon exceeds expectation. Parragon's wide roster of licensed brands includes Discovery Kids, Nickelodeon, Disney, Marvel, Barbie, Power Rangers and Entenmann's. For more information, visit www.paragon.com.