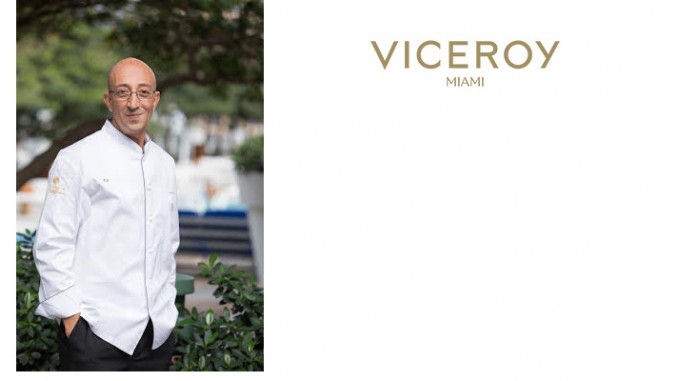 Viceroy Miami Welcomes Newly Appointed Executive Chef Kamel Dahmani

Viceroy Miami is proud to announce the appointment of award-winning French chef, Kamel Dahmani, as executive chef, overseeing all culinary operations at the 148-room boutique lifestyle hotel. Having worked with acclaimed chefs including Joël Robuchon, Joseph & Thomas Keller of French Laundry and Per Se, among others, Dahmani plans to transform culinary offerings at Viceroy Miami, starting with the debut of a new menu at the Downtown Miami hotel's signature restaurant, 15th & Vine Kitchen and Bar. Stay tuned for more details coming soon!
"Just in the last few years, Miami has become widely-recognized for its culinary scene," says Alex Novo, general manager of Viceroy Miami. "Chef Dahmani's vast and impressive expertise is the recipe we need to contend with so many great options. We're delighted to have Chef Dahmani and know our guests will be impressed with his innovative cuisine and passion for food."
Dahmani built his career over 20 years, working in world-class resorts, palaces, estates and several upscale restaurants around the world. Most recently, Dahmani served as executive chef at Sheraton Club des Pins Resort in Algeria, managing a staff of up to 147 with functions that included scheduling, menu planning and purchasing for a resort with multiple restaurants. Additionally, the Miami Beach resident's experience extends to Blue Waters Resort, Curtain Bluff Resort and Big Banana Restaurants' The Beach Restaurant, where he was executive chef at all three Antigua based establishments. He was also instrumental in the pre-opening and opening of Joseph's Brasserie, Lombardi's, Ibiza and Aladdin Hotel & Casino in Las Vegas, N.V.
With a longstanding reputation of offering a distinctive blend of creative flair and precision to all of his undertakings, Dahmani is a source of guidance and inspiration for his team. His accomplishments include Nominee for Best Southeast Regional Chef by the Miami Herald and Food & Wine's Best Rising Chef, as well as cooking for high-profile clients and celebrities, such as Sharon Stone, Sylvester Stallone, Sir Sean Connery, Cindy Crawford, Prince, Michael Jackson, Queen Rania of Jordan, and Patrick Anson (Lichfield), 5th Earl of Lichfield.
He earned a master's degree in Management Culinary & Innovation from the Institut Paul Bocuse located in Écully, France. Dahmani is fluent in English, Algerian Arabic, French and Spanish.
About Viceroy Miami
Viceroy Miami is the centerpiece of Icon Brickell, a 10-acre bay-front enclave located at the north entrance of the prestigious Brickell Avenue in the heart of Miami's burgeoning urban center. Flanked by two public parks, the stylish hotel is situated in Miami's financial district, with a lush waterfront setting directly on Biscayne Bay. Its features include 148 residentially appointed guest rooms and suites, award-winning 28,000 square-foot spa and fitness center, two restaurants including 15th & Vine Kitchen and Bar, the rooftop FIFTY Ultra Lounge, Florida's longest infinity pool, and three meeting rooms. Located at 485 Brickell Avenue, Viceroy Miami is nearby attractions, cultural institutions and South Florida's popular neighborhoods including the Wynwood Art District and South Beach. For more information, call 305-503-4400, follow @ViceroyMiami on social media, or visit www.viceroyhotelsandresorts.com/miami.