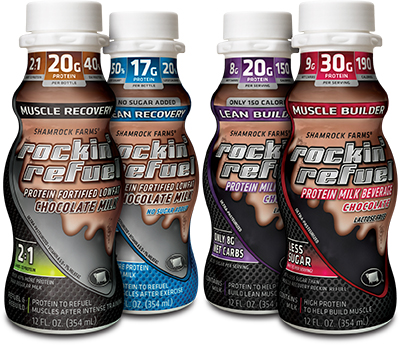 Shamrock Farms Adds 150 Calorie Option to its Successful Rockin' Refuel Protein Beverage Line Up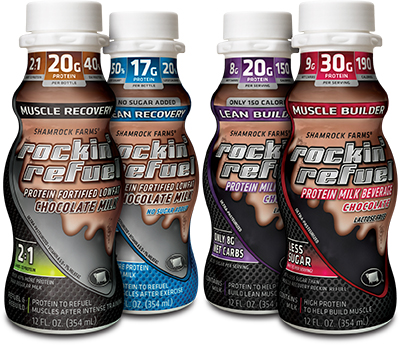 Rockin' Refuel by Shamrock Farms has expanded its product portfolio to include new Rockin' Refuel Lean Builder, a 150 calorie protein milk beverage designed specifically for people looking to build and tone lean muscle. Lean Builder is made with real milk for an excellent source of natural protein, and joins the popular Rockin' Refuel line of products designed for muscle development and post workout recovery.
Lean Builder provides 20 grams of high quality protein with only eight grams of carbs and six grams of sugar and is available in delicious chocolate and vanilla varieties. In addition, Lean Builder is lactose free and contains essential nutrients naturally found in milk, including calcium, vitamin D and potassium. It's an extension of Rockin' Refuel Muscle Builder product, which is packed with 30 grams of protein and only eight net carbs for athletes looking to add muscle mass.
"Our new Lean Builder product comes with even fewer calories for everyday active people looking to stay in shape and build lean muscle," said Blake Atkinson, Director of Brand Management for Shamrock Farms. "As one of the pioneers in protein fortified milk, Rockin' Refuel is constantly evaluating the needs of people who lead active lifestyles in order to create new products that are beneficial to achieving their physical goals."
Lean Builder is the latest addition to the full line of Rockin' Refuel protein beverages. Rockin' Refuel Muscle Recovery is already the protein beverage of choice among professional and collegiate athletes looking to rebuild muscles after a workout or game. Today it is found in over 160 top college and university athletic programs. Rockin' Refuel Lean Recovery features the same 2:1 carb to protein ration as Muscle Recovery, but with no sugar added.
"With the addition of Lean Builder, we have a well-rounded portfolio of the best tasting protein milk beverages for all types of people with active lifestyles," said Atkinson.
Lean Builder is now available in 12 oz. bottles in the dairy section at select Walmart stores and popular retailers nationwide. To find the best Rockin' Refuel product for you, or where to purchase Rockin' Refuel, visit www.RockinRefuel.com.
About Shamrock Farms:
Shamrock Farms, one of the largest family-owned dairies in the country, manufactures the brand's Rockin' Refuel, protein-fortified flavored milk and Shamrock Farms Milk, which can be found in all 22,000 SUBWAY Restaurants nationwide. The Rockin' Refuel product portfolio includes Muscle Recovery and Lean Recovery, designed to maximize rebuilding muscles after working out, and Muscle Builder and Lean Builder, designed for athletes looking for more protein with fewer carbohydrates.
Headquartered in Phoenix, Shamrock Farms has its own farm hosting a herd of more than 10,000 cows, and was founded in 1922 in Tucson, Arizona. For more information, visit www.rockinrefuel.com or go to Facebook or Twitter.