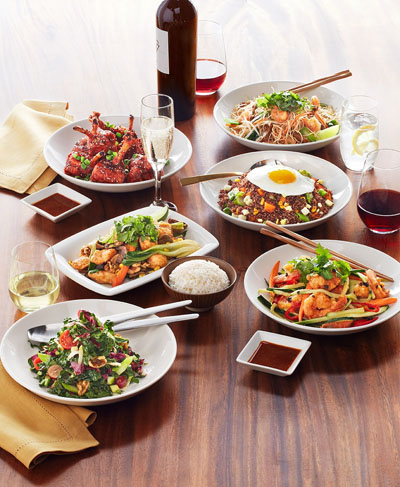 Bold, crisp, seasonal flavors highlighted in new dishes, desserts and cocktails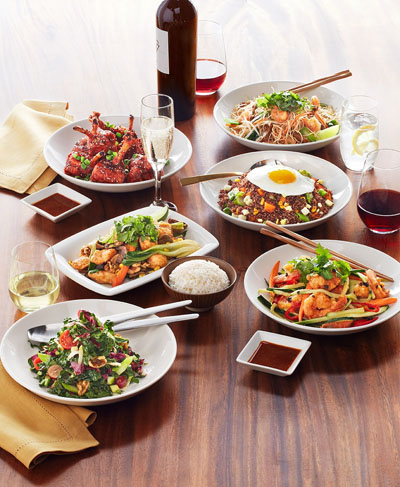 P.F. Chang's is unveiling its new Fall Seasonal Menu at locations nationwide, bringing guests delicious new dishes, desserts and cocktails that capture the vibrant, fresh flavors of autumn. The new menu highlights a mosaic of fall ingredients including kale, quinoa, Brussels sprouts, butternut squash and zucchini—giving guests 11 unique seasonal creations inspired by the goodness of fall.
The fall menu features a variety of starters and entrees, including:
Crispy Korean Chicken Wings—Served lollipop-style with house-made sweet & spicy red chili sauce, sprinkled with scallions and sesame seeds. Suggested wine pairing: Mumm Napa Brut
Shanghai Waldorf Salad—Fresh chopped kale, endive, radicchio, crisp apples, grapes, celery, grape tomatoes and candied walnuts tossed in a light miso-lime vinaigrette. Suggested wine pairing: Estancia Pinot Grigio
Miso Chicken—Savory miso-tamarind sauce wok-tossed with sliced chicken breast, baby carrots, Asian mushrooms, bok choy, candied walnuts and corn, topped with fresh cilantro. Suggested wine pairing: Penfolds "Thomas Hyland" Shiraz
Citrus Mustard Prawns—Tangy citrus mustard sauce wok-tossed with prawns, baby carrots, black beans, ginger, Fresno peppers and hand cut zucchini ribbons, garnished with fresh cilantro. Suggested wine pairing: Silverado Chardonnay
Harvest Vegetable Quinoa "Fried Rice"—Wok-toasted red quinoa with spiced butternut squash, Brussels sprouts, wok-charred corn, snap peas, carrots, zucchini and diced green apples, topped with a sunny-side egg – and can be prepared gluten-free. Suggested wine pairing: Garnet Pinot Noir
Vietnamese Noodles with Steak & Shrimp—A Pho-inspired dish that blends the bright flavors of hoisin, sriracha, cinnamon and coriander with rice noodles, marinated shrimp and flank steak, wok-tossed with Chinese broccoli, carrots and bean sprouts, topped with fresh cilantro. Suggested wine pairing: Alamos Malbec
For a sweet close, P.F. Chang's also introduces two new dessert options inspired by favorite fall flavors:
Pumpkin Wontons—Handmade, warm and crispy wontons filled with savory pumpkin and cream cheese, dusted with powdered sugar and served with vanilla and pumpkin sauce, finished with candied walnuts and fresh mint.
Caramel Apple Wontons—Handmade crispy wontons filled with warm apples, caramel and cream cheese, dusted with powdered sugar and served with cinnamon and caramel sauce and fresh mint.
"Fall is a time for comfort food, but that doesn't mean it has to be staid," said Yuji Iwasa, P.F. Chang's Head Development Chef. "Our new fall menu captures the essence of a season that celebrates the bounty of the fall harvest."
And for sipping throughout the season, the restaurant is debuting three new cocktails:
Apple Cinnamon Martini—Absolut Orient Apple Vodka and Tuaca Liqueur shaken with apple juice, fresh lemon juice and a hint of cinnamon.
Ginger Jalapeno Mule—Tanteo Jalapeno Tequila shaken with fresh ginger, lime juice and Thai Basil leaves.
Rum Chata—Cream Liqueur poured over an ice sphere garnished with a cinnamon stick, star anise and an orange peel.
"P.F. Chang's is offering an unexpected twist on seasonal beverages," said Mary Melton, P.F. Chang's Beverage Director. "Our cocktails provide a fresh culinary perspective that utilize unique ingredients with complex, multi-dimensional flavors."
To celebrate the new menu, P.F. Chang's is launching the Goodness of Fall Contest, challenging home chefs to create their own original recipes using ingredients from the fall menu. Participants are invited to post their recipes to the P.F. Chang's Facebook page from Oct. 10 to Nov. 15. The Facebook community will then vote to determine the top five submissions, which will go on to be judged by an expert panel including co-founder Phillip Chiang, Yuji Iwasa, Mary Melton, and culinary blogger Jennifer Chong.
Entrants will be eligible for a daily $50 P.F. Chang's gift card, and the grand prize winner will enjoy a once-in-a-lifetime Napa Valley experience, including a two-night trip with an exclusive visit to the guest house at a Napa Valley vineyard where judges Chiang and Iwasa will prepare some of their favorite dishes for the winner and a guest while Melton will guide an extensive wine tasting. The lucky winner will be announced around November 25.
For more on P.F. Chang's new fall menu and the Goodness of Fall Contest, visit pfchangs.com/fall and Facebook.com/pfchangs.
About P.F. Chang's China Bistro, Inc.
P.F. Chang's China Bistro, Inc., owns and operates two restaurant concepts in the Asian niche. P.F. Chang's features a blend of high-quality, Asian-inspired cuisine and American hospitality in a sophisticated, contemporary bistro setting. Pei Wei Asian Diner offers a modest menu of freshly prepared pan-Asian cuisine in a relaxed, warm environment, offering attentive counter service and take-out flexibility. P.F. Chang's operates 211 restaurants in 40 states across the U.S., and has an additional 31 international locations. In addition, the Company has extended the P.F. Chang's brand to international markets and retail products both of which are operated under licensing agreements. For more information on P.F. Chang's, please visit pfchangs.com, and follow us on Facebook and Twitter.