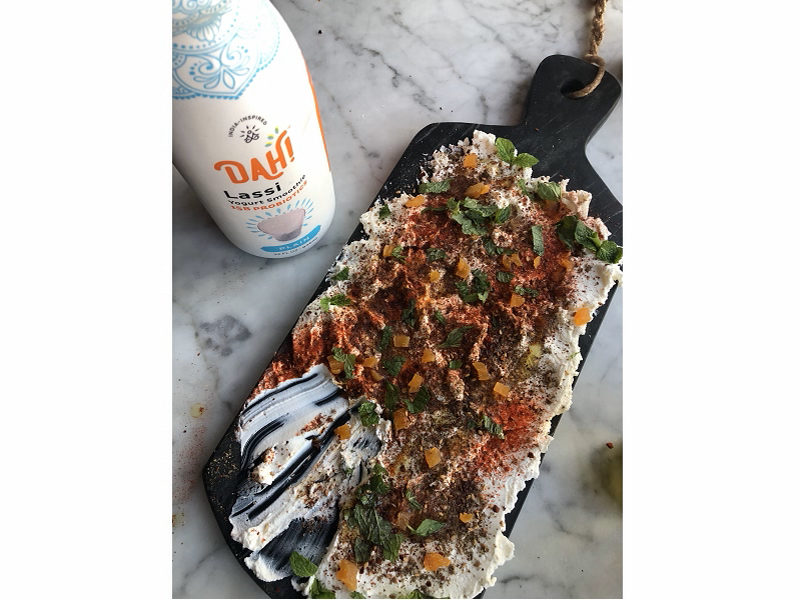 With the holidays just upon us inclusive of New Year's Eve entertaining, what could be better than a butter board?! Well…a Lassi Board that is rich in probiotics, great for gut health, and tastes delicious!!
Padma's Lassi Board is THE Perfect spread for NYE gatherings and Christmas, plus all of your holiday week entertaining!
The newest social media trend is taking the holiday season by storm and Padma Lakshmi offers a fun twist on the butter board with her favorite signature Dah! Lassi for a delicious Lassi board option. This is a sure crowd pleaser, that is also rich in probiotics, that all your guests will love for the holidays. (See the video of Padma making the board on her TikTok and Instagram below)
https://www.tiktok.com/@padmalakshmi/video/7176416428147477802?is_copy_url=1&is_from_webapp=v1&lang=en
https://www.instagram.com/p/CmNXOrbDnwC/?hl=en
Recipe:
Made with strained DAH! Lassi, first spread the Lassi all over the board.
Then drizzle olive oil all over the Lassi. Sprinkle sumac, smoked paprika and aleppo pepper. Add dried apricot and mint to the board after sprinkling the spices. Pair with crackers, shortbread cookies, crispy parmesan and more, get as healthy as you like with the pairings. You can also use fresh veggies like celery and cucumber, nuts and berries for the perfect holiday board pairing.
DAH! (DAH-EE) merges the time-tested, ancient wisdom of India's culinary traditions with the precision of modern methods and technologies to produce premium, slow-cultured products high in probiotics in dairy and plant-based offerings. Rooted in the time-honored traditions of Indian food culture, DAH! yogurts are crafted through a slow-culturing process that gives DAH! its incredible flavor and smooth, velvety texture. This slower process also means their yogurts are naturally more nutritious, delivering high probiotic content and less sugar to promote digestive health and overall well-being.
DAH!'s hero product Lassi is a slow-cultured yogurt smoothie cooked at a lower temperature for a more extended time yielding a smooth, richly textured, intensely flavorful product. DAH!'s Lassi varieties are always made with real fruit and pack 60 billion live probiotics per 32-oz. bottle, making them delicious and excellent for digestive health. Flavor offerings include Plain (with no added sugar), Vanilla with Cardamom, Strawberry with Mint, Peach with Honey, and its award-winning and best-selling flavor Alphonso Mango (with mangoes sourced from India). DAH! Mango Lassi yogurt smoothie took home the Gold Sofi Award in the Yogurt & Kefir category in 2020.
DAH! is available at Sprouts, Whole Foods, Smart & Final and more. www.dahlicious.com for full store locator and brand information.