JUST BE KITCHEN TO OPEN TODAY


Tuesday, April 25, 2017
Fast-Casual Paleo and Gluten Free Spot to Open in Denver

Co-CFOs (Chief-Foodie Officers) Jennifer Peters and Chef Carrie Baird bring their scratch-kitchen Paleo concept, Just BE Kitchen, to Denver. Located in between Denver's LoDo and LoHi neighborhoods, Just BE Kitchen aims to help guests BE all they can BE by nourishing their bodies and souls in a loving, mindful space. Just BE Kitchen will open on April 25, 2017 at 7:00 AM at 2364 15th Street, Denver, CO 80202.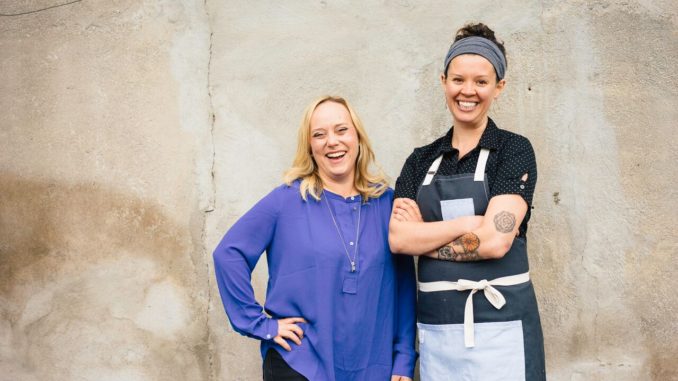 With a mission to serve mindful mouthfuls from a conscious kitchen with kindness on a plate, Peters and Baird have more in mind that just a place to grab some grub. In addition to food made with love and care from scratch, Just BE Kitchen aims to be a home away from home for its guests.
Says Peters, "We want everyone to feel nourished and cared for when they are here. We want our guests to be able to have a 'mindful moment' at Just BE Kitchen, and feel like they are doing something good for their minds and bodies. Food is the vessel for the experience we want to create, because food is at the heart of total well-being."
Just BE Kitchen is Denver's only full-menu restaurant whose menu is completely Gluten-Free and Paleo.

Upon entering the space, guests may feel inspired by the various quotes of inspiration on the walls, hand-made vintage furniture and carpentry (lots of Beetle-Kill is used), all which give the space a cozy, shabby-chic vibe. To compliment the positive energy Peters and Baird want customers to feel, there is a large chalk wall where guests can answer the question: "What would you do if you weren't afraid?"
"Most of the fast-casual spots you see these days have a very stark and industrial aesthetic," explains Peters. "We wanted Just BE Kitchen to combat that cold, impersonal feeling and instead embrace a more homey ambiance—which when coupled with our modern style of service makes for what we hope to be a great customer experience."
Guests will place their orders at a custom counter, designed and built by Eddie Bartnick of Breckenridge Wood Company (he also did the tables), and then have an opportunity to grab a Bullet Coffee from the barista station catty-corner. Then, guests will enjoy their food at one of Just BE Kitchen's many seating options including Beetle-Kill small tables, a Farmhouse-wood community table, cozy armchairs, or their inviting 20-seat patio.
Gala Stude Interiors did the space planning and helped with some design elements, and Laura Schwamman did the wall artistry, but Peters is really the heart and soul of the restaurant—the complete picture of the space is her vision.
The Food
Chef Carrie Baird (Brazen, Euclid Hall, Rioja) has taken great care to create a Paleo and Gluten-Free menu that satisfies all—from diners who exclusively eat from a Paleo and Gluten-Free diet by choice, to those suffering from various food allergies or intolerances, to those who simply would like to eat more mindfully once in a while.
Baird has also taken care to source locally and responsibly for her menu, which features items from purveyors like Neiman Ranch, Rocky Mountain Eggs, Frontier Natural and Red Bird Chicken.
Some of the items Baird is most excited to share with Denver include the Meatzza, a Paleo and Gluten/Grain-Free take on a classic pizza, featuring a sausage base rather than dough; and the JBK Bone Broth, made from grass fed and pasture raised bones with the option to add garlic, ginger, parsley, turmeric, sea salt, or scallions.
The menu features breakfast served all day and savory and satisfying lunch choices. All grain-free breads, cookies and pastries are made in house, as is practically everything else on the menu.
The "Grab and Go" menu items include rotating Seasonal Muffins, always changing but always made with nut or vegetable flours; Chia-Seed Coconut Yogurt, topped with grain-free granola and seasonal fruit; Almond Joy Macaroons and the company's signature Paleo Chocolate Chip Cookies (both gluten/grain-free and dairy-free), among others.
The Breakfast menu, features some Gluten/Grain Free and Paleo takes on traditional items like a healthy "Egg McMuffin;"a Breakfast Burrito, wrapped in a house-made almond flour tortilla and filled with scrambled eggs, jalapeno, red onions, "cheddar" wiz, and smothered with JBK's pork or veggie green chili; and a Veggie Hash using seasonal vegetables and power-green pesto.
Exciting lunch options include hearty salads like the Cashew Caesar and an Arugula Salad, to which Red Bird Chicken or Bacon can be added. Heartier choices include the JBK Burger, made with grass-fed beef and topped with bacon (raw cheddar optional); and the signature Meatzza with a pineapple jam topping.
Menu entrées range in price from $8 to $13. Complete menu is below.
The Drinks
Just BE Kitchen's coffee bar will feature coffee from Copper Door Roasters, a local, women-owned roaster; and Method Roasters, offering a bold, dark, strong-flavored coffee.
In keeping with the Paelo ideology, Just BE Kitchen will feature Bullet Coffees, which are blended with MCT oil and organic butter. The addition of healthy fats to coffee brings a slow release of energy with the fat and caffeine. Regular coffee, espresso, lattes and the like will also be available.
Just BE Kitchen's other beverages are no-sugar added and include Q Sodas and Happy Leaf Kombucha (which has no sugar added after the initial fermentation).
A liquor program complete with grain-free spirits, is in the works and will launch later this spring.
Just BE Kitchen
2364 15th Street
Denver, CO 80202
7:00 – 3 PM
Every Day
All Day Menu
(Everything is Gluten, Grain & Refined Sugar-Free)
Just Beginnings
Ecstatic: Grainless Granola: mixed nuts, dates and coconut Cup w/ coconut milk: $6 Bag: $12 V, Veg

Conscious: Seasonal Muffin: ask for details $3 Veg

Lifted: Chia-Seed Yogurt: Grainless granola, fresh fruit $5 V, Veg *Ask for NF option
Just BE Comforted

Bone Broth Bar: Choose 2: garlic, ginger, sea salt, scallion, jalapeño, cayenne, turmeric, butter, cilantro
Extra Toppings: $1.00/each
Mug: $6 Pint: $8 32 Oz: $12
Just BE Awakened
Fulfilled: Burrito: scrambled eggs, sausage, 'cheddar' wiz, Paleo tortilla, crispy hash browns, pork or veggie green chili, cilantro, scallion, jalapeno $13
Simplicity: Two Eggs: crispy hash browns, bacon or sausage patty, tortilla or griddled house bun $$ Add spring veg: $11, add spring veg $4

Thrive: Egg Sandwich: two eggs, bacon or sausage patty, 'cheddar' wiz, arugula, griddled house bun $11, add raw cheddar $1.50

Wonder: Seasonal Veggie Hash: seasonal veggie, almond gremolata, poached egg. $12 Add: sausage $2 bacon $2
Just BE Satisfied

Crave: Bacon Cheeseburger: grass-fed beef patty, bacon jam, 'cheddar' wiz, pickled red onion, arugula, griddled house bun $13 Sub: Raw Cheddar $1.50

Lust: Meatzza: sausage crust, bacon pineapple jam, crispy kale, raw parmesan, house hot sauce $11

Desired: Chicken Caesar: chicken breast, cashew Caesar dressing, pickled red onion, raw Parmesan, chopped romaine, croutons. Salad or wrap $12

Enchanted: Seasonal Salad: arugula, pickled red onion, roasted beets, almond 'feta,' grainless granola, roasted garlic balsamic vinaigrette $11 Add protein: grilled chicken or bacon $3

Wholehearted: Pork Green Chili: 'cheddar' wiz, jalapenos, scallion, cilantro, tortilla Cup $5 or bowl $9
Surprised: Veggie Green Chili: 'cheddar' wiz, jalapenos, scallion, cilantro, tortilla Cup $5 or bowl $8.50

Just BE Naughty (Desserts)
Delighted: Chocolate Chip Cookie $3

Indulgent: Almond Joy Macaroon$3
Lifted: Chia-Seed Yogurt: Grainless granola, fresh fruit $5 V, Veg *Ask for NF option
Just BE Youthful (For the Kiddos)
All $6

Grain-less granola, chia seed yogurt, fresh fruit

Bowl of fruit
Egg Burrito, scrambled egg, raw cheddar, house tortilla
1 egg, crispy hash browns, strip of bacon
Chicken Strips, crispy baked tenders, dippin sauce, carrot sticks
Hamburger, raw cheddar, mustard, house bun, carrot sticks
Meatzza, sausage base, red sauce, raw cheddar, or cheddar wiz
Just BE Alive:
Coffee 12 or 16 oz
Awake: choose from local roasted beans and homemade creamer
Drip coffee $2.50 $3
Cold brew $3 $4
Powerful: Bullet Coffee
Classic: grass-fed butter, MCT oil $6.50
Maple: grass-fed butter, maple syrup, MCT oil $6.50
Mocha: grass-fed butter, MCT oil, cocoa, coconut milk, honey $6.50
Chai: grass-fed butter, maple syrup, MCT oil, chai spices, vanilla $6.50
Maple Cinnamon Butter: grass-fed butter, maple syrup, MCT oil, cinnamon $6.50
Da Bean: Espresso/Latte
Espresso $3 $4.50
Americano $3 $4.50
Smooth: Latte:
Vanilla: coconut milk, vanilla, salt $6.50
Almond milk, maple syrup, whey protein $6.50
Coconut Almond Mocha: coconut, almond milk, cacao powder $6.50
Lavender Clover Honey Latte: lavender, clover honey, almond milk $6.50
Warmed:
Protein Hot Cocoa, Paleo grass-fed chocolate cocoa, coconut milk $6.50
Just BE Quenched (Non-Alcoholic Drinks)
Cold Drinks
Ice Tea $2.50
La Croix $2.50
Kombucha (ginger chai or hibiscus) $6
Fresh Fruit Juice: Pineapple, Grapefruit, Orange $4
V = Vegetarian Veg = Vegan