Mandarin Oriental, Barcelona And World Class To Open Pdt (Please Don't Tell) Pop-Up Cocktail Bar At The Hotel

Mandarin Oriental, Barcelona and WORLD CLASS, the luxury collection of spirits from Diageo RESERVE, are opening a pop-up bar. The hotel's Banker's Bar will be made-over to recreate PDT (Please Don't Tell), the legendary New York speakeasy named World's Best Bar at Tales of the Cocktail in 2009, and again in 2011 by The World's 50 Best Bars poll, which awarded it All-Time Achiever recognition. PDT BCN, the pop-up bar at Mandarin Oriental, Barcelona will be open from 1 to 30 September.
To faithfully recreate the look and feel of PDT, guests will enter PDT BCN through a hidden entrance in a phone booth, and, once inside, find a bar that closely resembles the New York original. New York's PDT is concealed behind a vintage phone booth at Crif Dogs, a hot dog stand in East Village. Jim Meehan, bartender, founder of PDT, author of the PDT Cocktail Book, and Jeff Bell, current General Manager of PDT and WORLD CLASS USA Bartender of the Year 2013, will join veteran PDT bartender, Adam Schmidt, behind the bar at PDT BCN creating their unique cocktails.
Liaising with the PDT BCN team, some of the world's most recognized Chefs will prepare hot dogs they have invented specially for the bar's customers, including:
Joan Roca, whose three Michelin-star El Celler de Can Roca is placed second in The World's 50 Best Restaurants.
Carme Ruscalleda, who has seven Michelin stars, more than any other female chef in the world.
Ángel León, the "Chef of the Sea", whose restaurant, Aponiente, has two Michelin stars.
Gastón Acurio, the "Ambassador of Peruvian cuisine", whose restaurant, Astrid & Gastón, is placed second in Latin America's 50 Best Restaurants.
Albert Adrià, the innovative owner of Barcelona's one Michelin-star restaurants, Tickets, Pakta and Hoja Santa. Tickets is ranked 42 in The World's 50 Best Restaurants. Adrià has played an important role in the creative process at EL Bulli restaurant together with his brother, Ferran Adrià, and was recognized as The World's Best Pastry Chef by The World's 50 Best Restaurants 2015.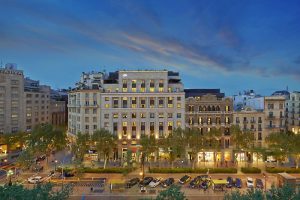 PDT's food and beverage offering reflects the diversity of New York City's East Village and the Northeastern United States at large. In Barcelona, recipes will be adapted according to the wealth of ingredients available in Spain to provide a distinctive, world-class experience for guests of Mandarin Oriental, Barcelona.
Inspired by similar collaborations in the culinary world, Mandarin Oriental, Barcelona and WORLD CLASS are confident PDT BCN will further promote high-end international cocktail culture in Barcelona.
Greg Liddell, General Manager of Mandarin Oriental, Barcelona said, "We are very excited to bring PDT to Barcelona in collaboration with WORLD CLASS and recreate its surroundings here at Banker's Bar with the PDT BCN pop up. We're bringing the world's best cocktails to Barcelona and the best barmen, Jim, Jeff and Adam. Additionally, some of the most exciting chefs in Spain and the world have been invited to create their own gourmet hot dog toppings, which will give the hot dog an exciting local and international twist for foodies, whilst supporting a great cause."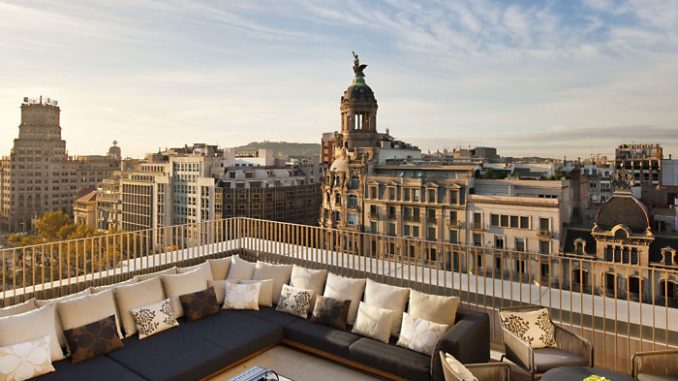 PDT's arrival at Mandarin Oriental, Barcelona will be its latest overseas adventure. A PDT pop-up bar was created at The Landmark Mandarin Oriental, Hong Kong in January and was a great success with more than 200 people enjoying the experience, and others have been hosted in Paris, Tokyo and Melbourne, with each one adapted to its locale.
PDT BCN opening hours: Tuesday to Saturday, with first bookings at 7.30pm and second bookings at 9.30pm.
For reservations please contact Banker's Bar from Monday to Sunday, between 10am and 6pm, by phone: +34 610726449 or email: mobcn-pdtbankers@mohg.com
Overseas guests interested in joining this one-of-a-kind pop-up event can take advantage of the hotel's latest accommodation offers. For room reservations please call +34 93 151 88 88 or email mobcn-reservations@mohg.com
#pdtbcn
#pleasedontellbyworldclass
About PDT (Please Don't Tell)
PDT, an acronym for please don't tell, opened in May of 2007: a little over five years after Crif Dogs opened in the same building on 113 St. Marks Place between 1st Avenue and Avenue A. The byproduct of Crif Dogs founder and owner Brian Shebairo's bawdy sense of humor and whimsy, and former Gramercy Tavern and Pegu Club bartender Jim Meehan's Midwestern hospitality and creative drinks, PDT has ironically become one of the cities most talked about bars under the stewardship of Jeff Bell.
Classic cocktails with an unusual twist and a handful of hot dogs garnished by some of downtown New York City's most celebrated chefs are on offer, along with local beers and wines at this intimate bar's 13 bar stools and 6 tables. The bar accepts day of reservations for tables and reserves bar seats for neighborhood walk-ins: standing is not permitted. PDT is open seven days a week from 6pm till 2 AM, sometimes later, and available for private parties for special occasions.
About Diageo Reserve World Class™
DIAGEO RESERVE WORLD CLASS™ is transforming fine drinking experiences and cocktail culture around the world and in the home. The industry's largest, most credible investment in the luxury on trade, it discovers the next generation of bartending talent who set the latest mixology trends and bring these to the best bars worldwide.
At the core is an outstanding, global training programme and internationally recognised platform that elevates the craft of the bartender and builds careers in the industry culminating in an annual luxury landmark week where the DIAGEO RESERVE WORLD CLASS™ Bartender of the Year is announced. Launched in 2009, over 20,000 bartenders have been inspired and educated in the craft of mixology using the finest spirits in the DIAGEO RESERVE collection.
www.facebook.com/WorldClassSpain
The World Class Collection of brands includes: Cîroc vodka, Tanqueray No. TEN, Johnnie Walker Blue Label , Platinum Label and Gold Label Reserve Tequila Don Julio, Zacapa rum, Ketel One vodka, Haig Club single grain Scotch Whisky, Bulleit Bourbon, Talisker and Cardhu.
ABOUT MANDARIN ORIENTAL, BARCELONA
Mandarin Oriental, Barcelona is an elegant, contemporary hotel in the heart of the avant-garde city's celebrated Passeig de Gràcia. Located in a renovated mid-20th century building, this 120-room hotel, offers exceptional services and facilities including an award-winning spa, innovative dining at Blanc Brasserie & Gastrobar and two Michelin-starred dining by Carme Ruscalleda, within an exquisite interior created by world renowned Spanish designer Patricia Urquiola.
ABOUT MANDARIN ORIENTAL HOTEL GROUP
Mandarin Oriental Hotel Group is the award-winning owner and operator of some of the world's most luxurious hotels, resorts and residences. Having grown from its Asian roots into a global brand, the Group now operates 29 hotels and eight residences in 19 countries and territories, with each property reflecting the Group's oriental heritage and unique sense of place. Mandarin Oriental has a strong pipeline of hotels and residences under development, with the next hotel opening planned in Doha.