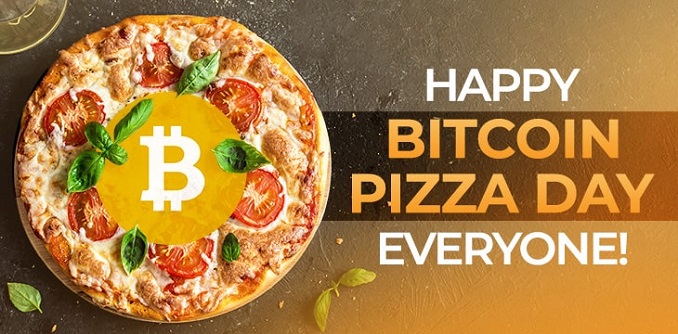 On Bitcoin Pizza Day, the pizza familia at Rare Pizzas will throw the largest pizza party in world history through an art-to-food pipeline from NFT sales to buy physical pizzas at participating pizzerias all over the world.
Built on a love for pizza and digital art, the Rare Pizzas project out of the PizzaDAO (Decentralized Autonomous Organization) has raised over 300 ETH (~ $500,000 USD) from their NFT art sales since reservations opened on March 15th 2021. These digital creators and organizers plan to buy 100,000+ pizzas to support pizza lovers, and local pizzerias in the process. The PizzaDAO's programmers, box and topping artists, and business-minded individuals have self-organized at an unprecedented pace to get their website and pre-sales up and running since the art project's inception on February 18th, 2021.
Strangers across the globe have united around the story of "Bitcoin Pizza Day" and built a quirky internet community and culture centering around, you guessed it, pizza. The group's Discord server numbers well over 1,700 members, as art, pizza, and NFT lovers have tuned in from all over the world to find out how to contribute their talents to this "art-to-food pipeline." The PizzaDAO is dedicated first to supporting its artists and leveraging the NFT space to create more opportunities for creators, and second, to feed people pizza.
Each of the 300+ artists has contributed their own unique digital topping to these NFT pizzas, some of which can be seen on rarepizzas.com. One of the box artists collaborating to bring these rare pizzas to life may have worked on one of your favorite movies or video games. Another may be a world-famous painter. Other topping artists may have acted in your favorite childhood TV shows, or waited behind you in line at the grocery store. On Bitcoin Pizza Day digital pizza reservation holders will finally get to see their one-of-a-kind randomly distributed NFT pizzas. We believe it will be the best pie you've never had. Reservation holders receive NFT pizza boxes designed by our artists, stacked with fun graphics and easter eggs…There's still time to grab a delicious historical slice of the future.
So, you hungry? Grab your pizza reservation or onboard your local pizza place, and join the "pizza mafia," by heading over to Rarepizzas.com. For additional information or press inquiries, please email hello@rarepizzas.com