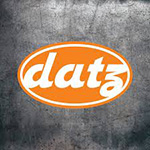 Mary Poppins Returns, Tampa-based restaurant Datz has debuted a collection of Poppins-inspired menu items including:
Chimney Soot Burger, crafted with a short rib and brisket patty, smoked Tillamook cheddar, Jones bacon, grilled Portobello mushrooms, crispy onion straws, and a brioche bun with activated charcoal as soot. The delicious burger is paired with Supercalifragilistic sauce (special smoked tomato sauce) and a "chimney" of fries with smoked sea salt, ancho chili powder, garlic oil and soft herbs.
Spoonful of Sugar, a delicious cocktail crafted with lime juice, simple syrup, and strawberry puree created from real fruit.
Sweet treats including Poppins-inspired donuts, cookies, and even a Practically Perfect Parfait with blueberry pomegranate and strawberry punch ice cream with rock candies.