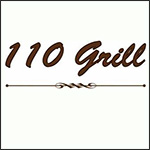 110 Grill Restaurant Group, New England's fastest growing restaurant group, will expand yet again, opening the doors to its 17th location in the largest metropolitan area of western Massachusetts on Wednesday, December 12, 2018. Located at Holyoke Mall, 50 Holyoke Street in Holyoke, MA, the 5,600 square-foot, 180-seat restaurant will feature modern-American cuisine with unparalleled gluten-free and dietary restricted menus.
Following the vision of Director of Culinary, Elliot Williams, 110 Grill Holyoke's menu combines Williams' global culinary influence with seasonally-inspired dishes that are proficient in allergy awareness, offering a gluten-free version of the entire core lunch and dinner menu. Guests can enjoy seasonal dishes including Chorizo Totchos prepared with fried tater tots topped with chorizo sausage, nacho cheese sauce, fresh pico de gallo, avocado, sour cream and scallions; Short Rib Flatbread with pesto, shredded braised short rib, caramelized onions, roasted tomatoes and white cheddar, finished with arugula and a horseradish truffle cream; Chicken Piccata Gnocchi, a twist on an Italian classic, featuring lightly fried chicken served with sautéed gnocchi and spinach tossed in a lemon caper parmesan butter sauce with fried sage; as well as the Beyond Burger, 100% plant-based burger served on a brioche bun with garlic aioli, topped with a choice of cheese, lettuce, tomato and red onion, accompanied by a pickle and choice of one side, which is also available vegan upon request. Williams' menu will also feature 110 staple items such as Pulled Pork Sandwich with slow cooked pulled pork tossed in BBQ and served on a pretzel bun with coleslaw, pickles, cheddar and crispy onion strings; 110 Beef Stroganoff with pan-seared beef tenderloin and wild mushroom blend with caramelized onions and rich, salted demi-glace, served with crispy herb spatzle; along with impressive steak cuts including 110's Ribeye, 14 oz., 21 day-aged, served with balsamic BBQ compound butter.
From the restaurant's signature horseshoe bar, guests can enjoy a variety of craft beers from both local and national brands, a diverse wine list and handcrafted cocktails, including the Ginger Harvest prepared with Tito's Handmade Vodka, housemade apple ginger shrub, fresh lemon juice and a cinnamon sugar rim; Pomegranate Basil Smash with Bacardi Superior Rum, pomegranate liqueur and juice, fresh muddled basil, lemon and lime; and Maple Bacon Manhattan with Larceny Bourbon, housemade maple simple syrup and a candied bacon rim. Guests can also choose between the bar's seasonal White Pear Sangria with Pinot Grigio, vodka, pear brandy; pear nectar, apple cider, and housemade cranberry apple shrub; or the Pom-Berry Sangria with Merlot, red berry vodka, housemade pomegranate shrub, berry puree and citrus juices.
110 Grill Holyoke opens on the heels of the restaurant group's first expansion beyond New England, debuting 110 Grill in Albany, NY this summer 2018, as well as recent location openings in Worcester, MA and Manchester, NH. The team is projected to open an additional location in Saugus, MA before end of 2018.
110 Grill Holyoke, located at Holyoke Mall, on the upper level near JCPenney, will open at 4pm on Wednesday, December 12, 2018; serving lunch and dinner during regular hours of operation thereafter. For more information, please visit110grill.com.
About 110 Grill
Modern American Cuisine in a Trendy Casual Atmosphere
110 Grill is a growing restaurant group based in Westford, MA, which currently has seventeen locations in Massachusetts, New Hampshire and New York. Its comfortable, but yet upscale-casual atmosphere, complete with open kitchens, private dining rooms, large horseshoe-shaped bars and outdoor patios with fire pits, creates the ideal dining environment for any occasion. 110 Grill prides itself on preparing its dishes from the freshest ingredients in its scratch kitchens and offers seasonal menus and monthly specials. The organization is very committed to allergy awareness and features extensive gluten free menus. For more information, visit www.110grill.com.