Ryan Valentine, Director of Beverage for Cameron Mitchell Restaurants.

The award-winning beverage program at Cameron Mitchell Restaurants (CMR) is attributed to the vision of the Director of Beverage & Operating Partner, Ryan Valentine. A 25-year veteran of the restaurant industry and an 18-year CMR associate, Ryan has worked almost every restaurant job, with the exception of executive chef. His knowledge of the industry coupled with his passion for wine and spirits have given him much credibility and he is interviewed frequently by national industry publications.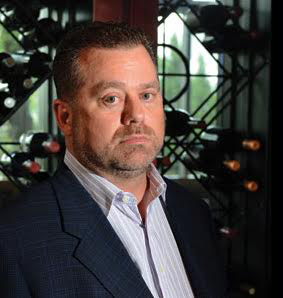 His travels in pursuit of wine and spirits education have taken him to California, Oregon, Washington, Spain, Scotland, France and Italy. He is credited with establishing the company's fresh beverage foundation and he continues to seek opportunities to elevate the wine and spirits programs at all seven CMR concepts and The Rusty Bucket Restaurant & Tavern. Ryan's time is split between working the supply and wholesale channels to decide on offerings and pricing for the markets in which CMR conducts business and developing the content of all wine lists and cocktail menus for each of their restaurants. In his spare time, Ryan is an avid golfer, and he enjoys traveling with his wife, Laura, and their two young daughters.
Everyone has a story. Tell us how you knew you wanted to become part of the beverage industry…what was your "light bulb" moment?
I didn't have a light bulb moment for the beverage industry but I was always drawn to the beverage part of the restaurant experience. As a young bartender I felt the responsibility to have knowledge about all of the bottles behind the bar. I would read about things like port to better understand them to explain the differences to an interested guest or educate our service staff. To be honest early on it was about fifty/ fifty split between ambition and fear of being asked a question I did not have an answer to. My time behind the bar did create a curiosity that lead to a passion for learning about wine and spirits that has been with me ever since.
What does a typical day of work look like for you?
There is no typical day! That is what I like best about my job. On any given day I might be traveling to one of our out of town stores, working on development in the test bar, meeting with a supplier or working with a beverage manager on their inventory levels or beverage costs. We have many concepts so that really adds to how dynamic my job is day to day.
What is the most rewarding thing about your profession?
It is without question helping to develop and mentor our people. Seeing them grow is really fun to be a part of.
About 3 years ago, a young bartender started to come to our beverage rollouts and I really thought she had great people skills. I got to know her a little bit and took a chance and asked her in a now famous conversation "what is your five-year plan, kid?" I told her if she wanted to learn and grow, we would create a job for her.
Andrea Hoover now works alongside me as our Beverage Operations Manager. Her personality in combination with her growth in knowledge of spirits, flavor and mixology has been fun to watch develop over time.
I also get the opportunity to travel to our restaurants during openings to work with be our beverage managers, educate associates and implement our beverage program in the new properties.
What is the most difficult part of your job as a Director of Beverage?
We have many concepts in many markets and gauging where each market is as far as timing in receiving new trends is tricky. You don't want to be too early and you don't want to be too late. Several years ago we put a touch of Laphroaig in a Margarita for smokiness and everyone sent it back. Now people are ready for Mescal. Also each market has its own local scene so plugging into that is important.
What's the Beverage culture like in your City? Any regional trends you've observed?
Columbus is a great city with a lot of local pride. We have great restaurants, local spirits and local beers. We have many dynamic things going on behind our bars as do several independents.
Our take on regional trends is our approach to the local beverage scene. We have chosen to embrace the local scene by collaborating with local companies. We've been able to create unique and exclusive offerings for our local restaurants incorporating these local beverage partners. We made a Pilsner with a local brewery, Four String Brewing for the Rusty Bucket, and an oyster stout with North High Brewing for The Pearl and we partnered with Watershed Distillery to make a chamomile infused gin for The Guild House and a cabernet sauvignon barrel soaked bourbon for The Barn.
Which wine region is top on your list of places to visit?
Piedmont. I have been to Italy twice but have not been there yet. I love Barolo, Arneis and Barbera. I think Barbera can be great wine when made with enough care and is a bit under the radar. I need to go there preferably during truffle season!
What was the biggest "break" that helped launch your career?
I had been in the restaurant business since I turned 16 and started working for Cameron when I was 25 and interested in getting married and serious about my career. Cameron provided me the path and the opportunity to grow. He took a chance on a cocky bartender and I am glad he did. I knew I would have to continue to evolve to achieve in a growing company and that lead me from bartender, to Manager later to General Manager and finally Director of Beverage.
What advice do you have for someone considering a similar career path?
Learn and grow. Evolve your skill set. Read and travel because what you know today will not be good enough in five years. Develop the ability to learn from everyone around you. I am no chef but I have learned a ton about food from our chefs over the years because I am curious and I ask questions.
What's next for you?
Next for me means staying ahead. We have always been a progressive company in food and beverage. Before we opened our first Ocean Prime in 2008, I really thought Spanish wines would become the next big thing in the wine world. I added a Spanish section to our wine menu, but it wasn't for several more years that Spanish wines started to really take hold like I originally thought. I'm now just returning from my second visit to Spain – primarily because as the US consumer's interest in Spanish wine grows, so has mine.
And the biggest challenge?
Each CMR concept has its own unique beverage program. I would say the most difficult thing is not to create something great for a concept but instead it's the implementation process. The difficulty lies in getting each stakeholder to execute at the level intended. That could be mixing the cocktail for the bar team, ensuring correct product is in place by the management team or getting the servers to be enthusiastic in selling it.
What was the last wine / spirit that really made an impression on you?
It's a bourbon we made with a local company named Watershed Distillery. They make a great bourbon and the bar at our restaurant the Barn is called the Bourbon Lounge. Greg Rigo and Dave Lehman owners of Watershed and I were talking we decided it would be fun to age their bourbon in a used Cabernet Sauvignon Barrel. I called my friend Ryan Waugh of Waugh cellars in Napa and he sent over a barrel. We got together once a month for a tasting and slowly the bourbon started to change. Once it hit a year, it was ready. It turned out great so we have more bourbon in the works with barrels from different varietals of wine.
What celebrity have you encountered or served that made an impression on you?
He is more of an an industry star and its Tony abou Ganim. I met him about eleven years ago and he is the person that inspired the change we made to using fresh ingredients in our beverage program.
If you could change one thing about the industry, what would it be?
Eliminate control states!
What is your definition of success in your industry?
When we opened The Guild House I was watching our bar team make cocktails and interact with guests. I saw people at the bar that were there just to see what was new behind the bar that did not come to eat. Years ago people waited in the bar for their table. I believe success today in this business is when people are coming to your bar for an experience before heading for the dining room for another. I am proud that we have made that happen in our company.
Lastly, what do you do when your relaxing?
I used to play golf as much as possible but I put that on the back burner to be involved in anything my daughters are up to. My definition of relaxing these days is watching a Softball or Field Hockey game with my wife. Golf will be there waiting but I can't miss out on these years with my daughters because they are precious and time is going by way too fast!