TEA IS NOW SERVED
Beverly Hills serves up a bespoke afternoon tea experience

For over half a century, The Beverly Hills has offered gracious hospitality and intuitive service. We invite guests to indulge on an old tradition and experience our Signature Afternoon Tea buffet, available in The Sugar Club every Friday and Saturday afternoon from 14h30 to 16h30.
Located on upper terrace of the hotel boasting beautiful Indian Ocean views, The Sugar Club offers deliciously styled signature tea buffet in a luxurious and relaxed atmosphere.
Ingredients are carefully sourced and skillfully prepared to ensure gourmet finger sandwiches, warm scones and chic pastries are made fresh each day from the finest seasonal ingredients. Flavourful sweet treats such as honeycomb, homemade brownies are created by the hotel's dedicated and dynamic team. One of the highlights will be the freshly baked cake of the day, think black forest gateaux (Schwarzwälder Kirschtorte), traditional sacher torte or baked cheesecake.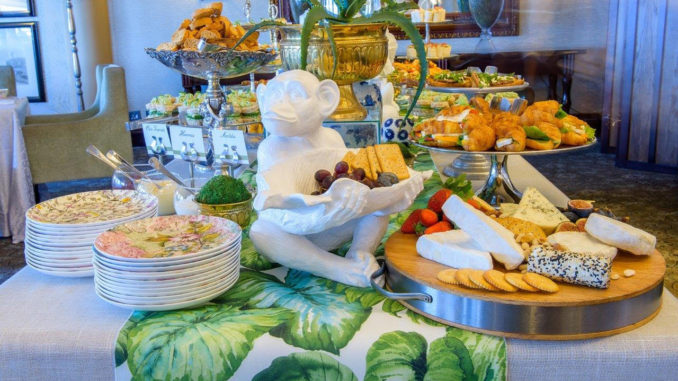 A wide selection of specialty teas by German tea brand Ronnefeldt is not to be missed/ Tea is served in William Kilburn crockery from Maxwell William and a musician adds to the five star experience.
A traditional tea doesn't get more luxurious than when served with chilled bubbly, available by the glass or bottle because there's always a reason to celebrate at the Beverly Hills.
Afternoon Tea is priced at R265 per person.
For reservations, call Chrizanne on 031 561 2211, chrizanne@tsogosun.com.
TRADITIONAL AFTERNOON TEA
DID YOU KNOW ?
Afternoon tea service is a great British tradition that's laced with rules. For those of us who didn't grow up with tea as part of a regular schedule, it can certainly get confusing.
First, learn the proper terminology. Not all teas are created equal.
"Afternoon tea" is typically a social affair intended to help fill the gap between lunch and dinner.
"High tea"—though often confused with afternoon tea—was originally a more substantial evening meal with a savory dish or two consumed by the working classes after a long day at work.
Ready to enjoy a spot of tea? Here's some dos and don'ts.
Do:
Always use loose tea. It tastes so much better.
Let the tea steep as long as you like. If it is not to your taste, ask for a fresh pot. Tea should be replenished regularly.
Feel free to request different milk –Full fat, soy, skim should all be available.
Stir the tea delicately.
Eat the finger sandwiches with your hands. They are designed for and named after their purpose. Cakes tend to be more delicate and require at least a fork. A scone with cream and jam needs a guiding hand.
Don't:
Add the milk first. Milk should be added after the tea so you can properly gauge how much you need to balance the strength of the brew.
White tea, green tea, and infusions are suitable to drink with milk.
Pronounce the long "o" in "scone." It is properly pronounced "scon."
Dunk your biscuits.