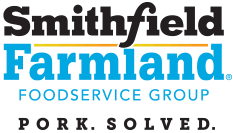 Smithfield Farmland Foodservice Launches No-Salt Pork Product Line
Number One Pork Provider Answers Consumers Demands with Introduction of Three Top Favorites Without Salt
KANSAS CITY, Mo. (July 13, 2015) – Smithfield Farmland Foodservice Group (SFFG) continues to innovate the pork industry and provide consumers with healthier options with the addition of its No-Salt Added line of products. This unique line contains only natural sodium content and has less than 140 milligrams or less per serving in accordance to FDA guidelines. In a recent study conducted by Innova Market Insights, 83% of U.S. consumers are concerned about their sodium intake. SFFG new no-added salt line is an extension of customers' favorites, which includes: no-salt added brown sugar, hardwood smokes bacon and pre-cooked sausage links and patties.
"Consumers feel that low sodium products give them peace of mind when planning meals," said Jerry Lamb, Vice President and General Manager-Foodservice at Smithfield Farmland Foodservice Group. "Through internal research, we see opportunities in market segments where low-salt offerings could build business and add profitability for operators, for example in elderly care facilities and schools."
Today, there is an opportunity to replace traditional products with salt-free alternatives. US guidelines call for nearly 50% of Americans to limit sodium intake to 1,500 milligrams or less per day. People over the age of 50 should only consume about 1500 milligrams of sodium daily from their food sources. Schools nationwide are working to review menus to meet new USDA federal nutrition requirements. Consumers on a sodium- restricted diet look for the "real thing" in terms of taste and texture. Through an internal survey conducted by SFFG, consumers perceived the new line as being relatively healthy; a great alternative to turkey products and also similar flavor profiles.
For more information about Smithfield Farmland Foodservice Group new no-salt added pork line, visit www.SmithfieldFarmlandFoodservice.com.
About Smithfield Farmland Foodservice Group
The leading resource for comprehensive pork products and services, Smithfield Farmland Foodservice Group offers its customers the competitive advantage they need in today's challenging foodservice environment. Smithfield Farmland's powerful brands represent the ultimate in quality, selection and versatility, through the Farmland brand featuring the perfect product mix for professional operators, to the Smithfield line, offering an exceptional, premium selection for the discerning chef.
Smithfield Farmland Foodservice Group is committed to constantly improving and expanding their product line to meet today's consumers' tastes through extensive research and development via their two Innovation Centers, on-staff corporate chefs, culinary experts, and more. With a wealth of knowledge of the newest industry trends, Smithfield Farmland is an operator partner, sharing new opportunities, on-trend menuing ideas, and the most innovative, culinary know-how. No one offers more successful business building solutions than Smithfield Farmland Foodservice Group. For more information about Smithfield Farmland Foodservice Group, visit www.SmithfieldFarmlandFoodservice.com.
About Smithfield Foods
Smithfield Foods is a $13 billion global food company and the world's largest pork processor and hog producer. In the United States, the company is also the leader in numerous packaged meats categories with popular brands including Smithfield®, Eckrich®, Farmland®, Armour®, Cook's®, Gwaltney®, John Morrell®, Kretschmar®, Curly's®, Carando®, Margherita®, and Healthy Ones®. Smithfield Foods is committed to providing good food in a responsible way and maintains robust animal care, community involvement, employee safety, environmental, and food safety and quality programs. For more information, visit www.smithfieldfoods.com and www.smithfieldcommitments.com.