New Korean Barbeque and Curry Veggie-Packed Crisps Highlight Popular South Asian Ingredients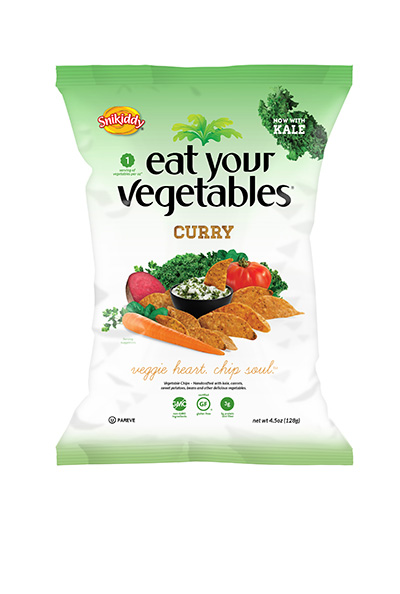 Snikiddy, a line of healthier snacks made from simple, real-food ingredients, today announced two new Eat Your Vegetables flavors, Korean Barbeque and Curry, are launching exclusively in Whole Foods Markets in the mid-Atlantic and Rocky Mountain region. The new South Asian-inspired varieties will be available in more than 60 Whole Foods Market stores throughout Colorado, Kansas, Maryland, New Mexico, Utah, Virginia, Pennsylvania, New Jersey and Washington, D.C. starting in mid-November, with plans to expand to additional regions after 60 days.
"Like many American families, we love Asian food in our house, and these new spicy and sweet Curry and Korean Barbeque flavors allow Snikiddy to tap into a broader audience who is searching for more exotic and flavorful snacks," said Mary Schulman, founder and executive vice president of marketing for Snikiddy. "These bold new flavors combine the most popular and delectable ingredients from Southern Asian cuisine into every savory crisp, for a truly global snacking experience. We worked long and hard to perfect these new flavors and are thrilled to debut these worldly snacks to Whole Foods shoppers!"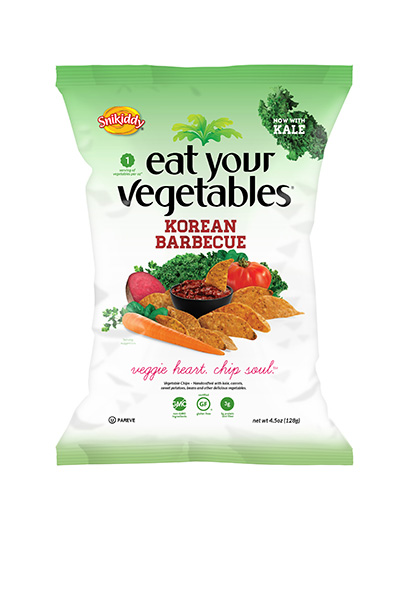 Like all other Eat Your Vegetables varieties, the new Curry and Korean Barbeque crisps are made with eight vegetables including kale, broccoli, spinach, tomatoes, sweet potatoes, navy beans, carrots and shitake mushrooms, and provide a full serving of vegetables per ounce. Snikiddy Eat Your Vegetables are a good source of vitamin A, C, E, B1, B6 and antioxidants. The snacks also provide 3 grams of fiber and 3 grams of protein per serving from a proprietary blend of beans and brown rice. All Snikiddy snacks are certified gluten and wheat free, made with non-GMO ingredients, and are completely peanut and tree nut free. Snikiddy Eat Your Vegetables are available in other fun, family-friendly flavors including: Sea Salt, Sour Cream & Onion, Jalapeno Ranch, Italian Herb & Olive Oil, Soy Ginger and Sea Salt & Lime.
Snikiddy snacks are available at grocery, natural, specialty and family retailers nationwide, including select Kroger locations, Sprouts Farmers Market, The Fresh Market, Whole Foods Market, Toys 'R' Us, and Babies 'R' Us as well as online at Snikiddy.com.
About Snikiddy
Snikiddy, was created from the imaginations of a mother and daughter team, who wanted healthier, snacks for families. The snacks are made from simple, wholesome, real-food ingredients. The line includes Cheese Puffs, Baked Fries, and Eat Your Vegetables, a first-of-its kind veggie chip snack that provides a full serving of vegetables in every ounce. All Snikiddy snacks are made with non-GMO ingredients, are certified gluten and wheat free, and do not contain any artificial colors, preservatives, high fructose corn syrup, trans fats, hydrogenated oils or MSG. For more information, please visit www.Snikiddy.com.