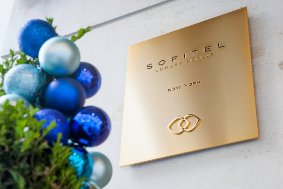 Joie de vivre, dazzling décor, and robust yet refined flavors are just a few of the elements that make Sofitel New York's stylish French Christmas a must. Those thirsting for a taste of France in their holiday celebrations will find satisfaction in Executive Chef Sylvain Harribey's special prix-fixe menus at Gaby Brasserie Française for Christmas Eve, Christmas Day and New Year's Eve. Children will also delight in building their own gingerbread houses in the restaurant, contributing to the spectacular holiday display awaiting guests.
On Thursday, December 24 from 5:30 p.m. to 10:00 p.m., and Friday, December 25from 12:00 p.m. to 10:00 p.m., guests can enjoy a Christmas prix-fixe menu priced at $95 per person (exclusive of tax and gratuity) that includes a celebratory glass ofVeuve Clicquot Champagne accompanied by an amuse-bouche of a Mushroom Cappuccino scented with truffle oil. The appetizer is a Smoked Salmon and Lobster Terrine Mimosa with gribiche sauce. The entrée is a choice of St. Jacques Pan-Seared Scallops served on a bed of creamy leek fondant and puff pastry along with caviar beurre blanc, or Grilled Petit Filet Mignon with porcini potato gratin and oven-roasted shallot béamaise sauce. For dessert, French tradition calls for a Mini Bûche de Noël, a biscuit cake rolled with chocolate mousse and raspberries, accompanied by Grand Marnier raspberry crème anglaise. A children's menu is also available for $24.50. Children 12 and under dining at Gaby on Christmas Day can also participate in gingerbread house building activities from 1:00 p.m. to 3:30 p.m., and from 5:00 p.m. to 7:30 p.m. at no charge. For more information, visitgabynyrestaurant.com.
On New Year's Eve, Sofitel New York celebrates the magic of the holiday in both New York City and Paris by offering two New Year's toasts. At Gaby, guests will enjoy a live DJ from 5:00 p.m. to 3:00 a.m., as well as a special screening of the fireworks in Paris beginning at 6:00 p.m. and the Times Square Ball Drop from 11:30 p.m. Diners will enjoy a prix-fixe menu for $120 per person for seatings from 5:00 p.m. to 6:00 p.m., and for $190 per person for seatings from 8:30 p.m. to 9:30 p.m. It includes a half bottle of Veuve Clicquot Champagne accompanied by an amuse-bouche of Smoked Salmon Roulade with artichoke mousse and dill sauce; and an appetizer choice of Tiger Shrimp Salad featuring grilled shrimps marinated in ginger and served with grilled sucrine lettuce, citrus segments and vinaigrette; or Hudson Valley Foie Gras flavored with cognac and ginger chutney served with toasted country bread. Entrées include a choice of Scallop and Lobster Pithivier served on a bed of saffron leek compote, puff pastry and caviar beurre blanc; or Beef Short Ribs with truffles, sautéed sweet breads, saffron potato purée and vegetable flan. A Decadent Chocolate Hazelnut Croquant with a mini raspberry macaron will be offered for dessert. An open bar offering house drinks and Veuve Clicquot Champagne will be available from 11:00 p.m. to 1:00 a.m. for $100 per person, or $50 for guests who dined at Gaby.
A splurge-worthy New Year's Eve VIP section will also be available from 5:30 p.m. to 1:00 a.m., and it includes private mezzanine seating, two toasts of Grande Dame Champagne, free-flowing Veuve Cliquot Rosé and open bar, and specialty high-end hors d'oeuvres and canapés from Chef Harribey. The VIP New Year's Eve is priced at $500 per person, or $450 per person with the Early Bird special available through December 20. For more information, visit gabynyrestaurant.com.
Reservations may be made by calling 212-782-3091