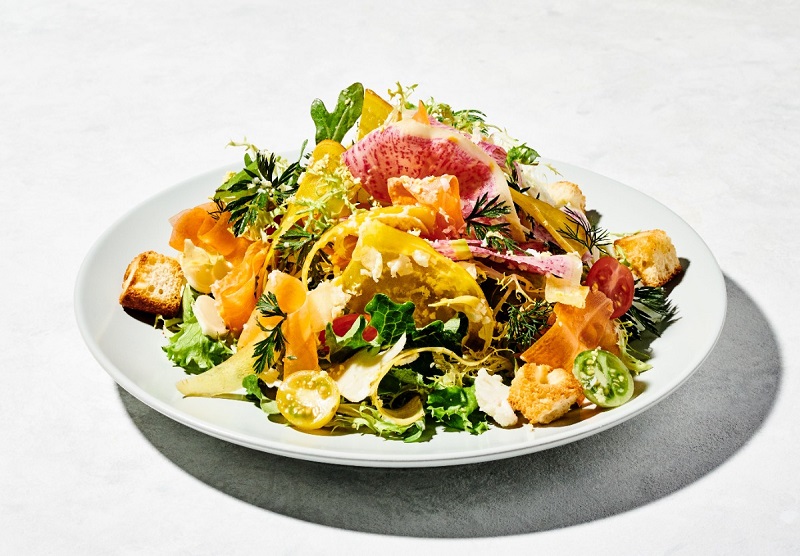 Solstice, a new seasonally-driven restaurant concept, is coming to The Boardwalk in Irvine in the fall of 2021. Centrally located at the intersection of Jamboree and Dupont in Irvine, Solstice will offer a thoughtfully prepared menu driven by seasonally curated dishes that spotlight ingredients harvested at the peak of their season sourced from the best growing regions, farms, and producers across the country.
Culinary Director Chef Demetrio Zavala, who also oversees the restaurant's second location in Newtown, Pennsylvania, is responsible for developing the menu and curating Solstice's ingredients from around the country. Zavala has competed in and won several Food Network TV competitions, including "Chopped: Grudge Match" and "Chopped: Beat Bobby Flay." Together with Executive Chef Brittany Valles, the duo will debut a menu rooted in the ancient Ayurvedic philosophy of ritucharya – the discipline of eating with the seasons. Valles is an Orange County native who most recently was Executive Chef of the Fashion Island Hotel and has worked alongside world-class chefs including Wolfgang Puck and Michael Voltaggio. Leading day-to-day operations alongside Chef Valles is General Manager Katie Pavkov, an Orange County native whose career has taken her to manage territories across the U.S. for rapidly growing concepts like P.F. Changs and Del Frisco's. Together, the dynamic all-female executive team brings more than 30 years of hospitality management experience to Solstice.
Designed by award-winning hospitality architecture and design firm Preen, Solstice invites guests into a progressive dining experience mirroring the changing of the seasons. Solstice offers four unique dining zones, each with a unique vibe and color palette that fades into the next, akin to the subtle changing of the seasons. The restaurant's industrial architecture is balanced with a palette of earthy undertones. The 5,030 square-foot restaurant includes a trellised patio, a bar complete with an outdoor lounge on its breezeway, and a focused dining zone that gives guests a front-row seat to the restaurant's focal point – floor-to-ceiling glass panels that peer into the open kitchen. Private dining options include a 24-seat private dining room embanked by temperature-controlled wine cellars, two outdoor dining vignettes, and more across The Boardwalk's property.
Zavala and Valles combine their culinary acumen and creativity to create a menu of vibrant dishes that play with a juxtaposition of modern, whimsical plating and refined execution. Together, their passion for seasonality and mastery of technique allow the rich complexity of each ingredient to sing. Solstice's menu changes with each season and is driven by nutrient-rich, micro-seasonal ingredients that showcase the diverse bounties of spring, summer, fall, and winter.
Upon opening, the fall menu at Solstice will feature a selection of Snacks to share, including freshly baked Parker House Rolls with plum glaze and cultured ginger butter and Mason Jar Deviled Eggs served alongside house-made toasted focaccia and relish. Fresh and vibrant Starters include Branzino Ceviche with shiitake mignonette, radish, cranberry gelée, dash broth; and Celery Root Tartare with chermoula, red wine vinaigrette, and celery root chips. Flavor-forward Salads like Red-Wine Poached Pear Caprese and Solstice Salad are ingredient-driven, boasting the finest produce picked at the peak of their season. Artisanal pastas are made in-house daily and bring about bold flavors through selections like Poached Lobster Gnocchi and Braised Wagyu Pappardelle. Guests can look forward to individual entrees such as the Pan-Roasted Salmon, Malbec-Braised Wagyu Short Rib, and a veg-forward steak of Celery Root Mignon or indulge in a for-the-table experience with selections like the 32oz Porterhouse. Guests who sign up for Solstice's unique rewards program prior to opening day will receive a $10 dining voucher.
Led by bar manager Dylan Dinsmore, the libations program at Solstice is based on seasonal, handcrafted cocktails, along with a curated wine list featuring the best bottles and by-the-glass selections from the United States and European winemakers. Elevated Classics will feature twists on traditional cocktails. The juices and syrups used to create the restaurant's signature cocktails will be made in-house. Large-format punch bowls are also available to share among friends at a table, adding to the restaurant's social atmosphere. An extensive Zero-Proof Un-Cocktail selection using vitamin-packed aloe juice as the liquor substitution will also be available.
Solstice is located at The Boardwalk in Irvine (18555 Jamboree Road) and will be open daily. Lunch is served Monday – Friday from 11 a.m. – 3 p.m., with a limited menu available during the hour between lunch and dinner. Dinner is served nightly, beginning at 4 p.m. and until 9 p.m. Sunday – Thursday and 10 p.m. Friday and Saturday. Brunch will be offered Sunday from 10:30 a.m. – 3 p.m. Ample validated parking is available on the ground floor of the structure behind the restaurant, and valet service will be available during lunch hours. For more information about Solstice, please visit www.SolsticeOC.com and connect with Solstice on Instagram and Facebook.