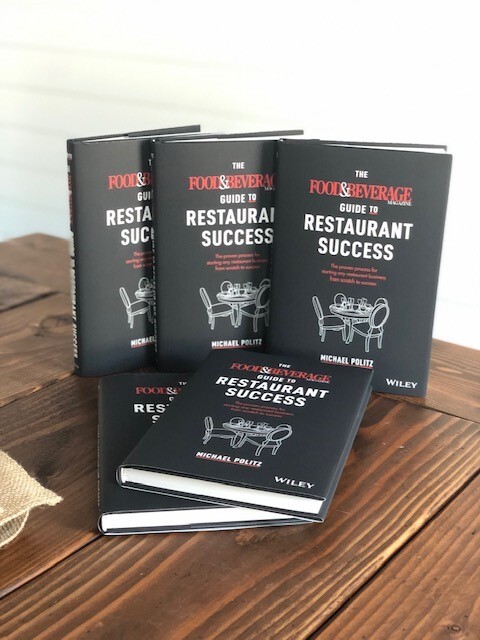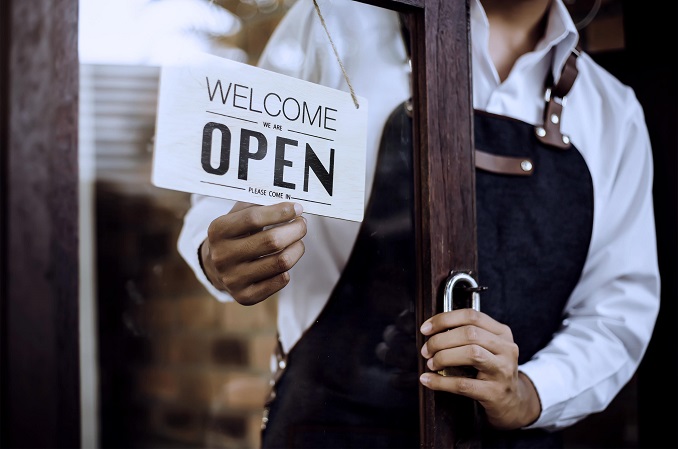 "Food & Beverage Magazine Guide to Restaurant Success" book to be released on June 30
By Debbie Hall
Many trends in the food and beverage industry have emerged during COVID-19, with one confirming that people love to eat at restaurants and will continue to do so. Helping those with a goal of opening (or reopening) a restaurant, Michael Politz, publisher of Food & Beverage Magazine, will be releasing his book in July, Food & Beverage Magazine Guide to Restaurant Success.
The tag line for the book reads, "Proven process for starting any restaurant business from scratch to success." Michael offers decades of expertise and real-life experience of creating phenomenally successful food and beverage ventures, as well as the pitfalls to avoid. As he admits, it has taken years and many failures to be able to write Food & Beverage Magazine Guide to Restaurant Success.
Anyone wanting to open a restaurant now (even during the pandemic) can ignite (or re-ignite) that spark, burning away all negative concerns and quieting the naysayers. The desire to open a restaurant before COVID-19 for many people was strong and should be even stronger now. Potential customers have demonstrated that they want to eat out, try new cuisines, enjoy different menu items, and socialize with others over a meal.
A dream deep in anyone's soul remains, despite what is happening in the outside world. Entrepreneurs (which includes restaurateurs) will persevere, make any necessary adjustments, and find a way to make their dreams happen. Anyone with a passion and goal to open a restaurant (or reopen one) will be guided by this book to become part of the food and beverage industry, regardless of what is changing day by day.
The food and beverage industry remained strong through many global changing events, including wars, recessions, inflation, terrorist attacks, crashing financial markets, and now the pandemic of 2020.
Food and Beverage Magazine's Guide to Restaurant Success combines several books, including how to start a business, succeed in the food and beverage industry, and achieve one's purpose and aspirations.
How will anyone know if they are ready, willing, and able to open a restaurant? Michael writes an entire chapter on how to determine if someone is prepared or should consider another business. He gives details on how to select the best location, menu, and staff. There is a step-by-step plan on how to open a restaurant, market it, and, ultimately, make smart decisions about how and where to invest money to grow the restaurant.
In 2019, Michael was approached by Wiley publishing company to write a book from his perspective on how to open a restaurant with a budget from $25,000 to $100,000. Wiley is known for instructional and how-to books, and Michael was thrilled beyond words.
Even with the dramatic changes, the food and beverage industry with survive, grow, and thrive. New products will be developed and implemented for safety, and new procedures will be put into place. The food and beverage industry is one of the cleanest in the world and will show the way for everyone else.
"While writing this book, I found myself flowing in many different directions. I can see that if I had taken a different path, there would be different solutions. That's how a stream flows; the water hits a rock, and flows in a different direction. I have become inspired to write a series of books about this subject," says Michael.

"I learned from being in kitchens with great chefs. All the places that I have been and all of the things that I've experienced has enabled me to write this book. As the process of writing this book became real, it became very challenging to make sure I gave the readers the right information that will help in their inspiration."
The bigger picture is to have entrepreneurs and restaurateurs succeed because of the lessons demonstrated in this book. To preorder "Food & Beverage Magazine Guide to Restaurant Success," visit favorite sites including wiley.com, barnesandnoble.com, amazon.com, and booksamillion.com.