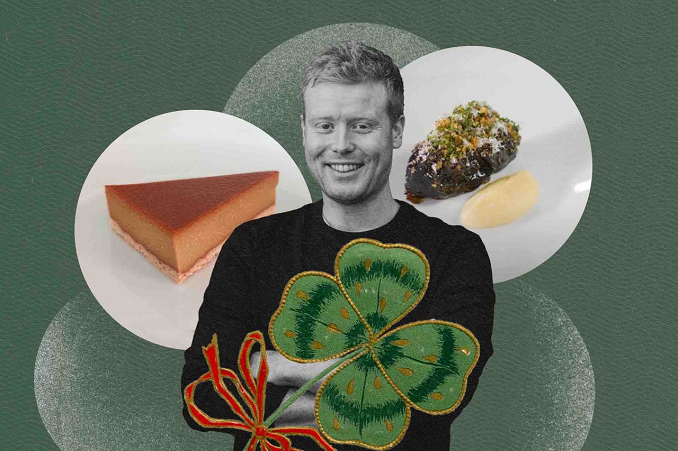 Main
Beef Cheeks Braised in Guinness with Potato Mousseline
Serves
2
Ingredients:
2 beef cheeks, trimmed and sinew removed
2 onions, halved
2 cloves garlic, crushed
1 carrot, roughly chopped
6 button mushrooms
1 sprig tarragon
20g butter
500ml Guinness
100ml fresh orange juice
1.5 litres reduced beef stock
For garnish:
20g crispy onions
20g chives, chopped
20g horseradish, grated
For mousseline:
6 large baking potatoes
100g rock salt
200ml Irish cream
200ml Irish milk
500g Irish butter
Method:
For the cheeks:
Preheat your oven at 130°C. Now heat a heavy based cast iron pot on your stove top, add oil and when hot place in beef cheeks. When browned on both sides add the onion, garlic, carrots and mushrooms, allow to colour before adding the butter. Tip: The more colour achieved here, the better the final flavour will be.
Remove any excess fat then add the Guinness and orange juice and reduce the liquid by half. Now add the beef stock and tarragon. Make sure the cheeks are completely covered, place a lid on the pot and cook in preheated oven at 130°C for at least two hours or until tender.
Remove the cheeks from the pan and sieve the liquid into a separate pan. Add the cheeks to this pan and reduce the stock over a high heat, basting the cheeks until a thick sticky glaze is achieved.To serve
Place on a warmed plate and topped a sprinkle of maldon salt, the crispy onions, chives and grated horseradish.
For the mousseline:
Place the potatoes on a bed of salt on a tray. Bake at 200°C for 1 hour in a preheated oven.
2. Add the milk and cream together and heat in a small saucepan.
3. Remove the potatoes from the oven, cut in half and press through a fine sieve or potato mouli, leaving the skins behind.
4. Place the potato pulp in a pot on the heat and add the cream/milk in stages. Finally, add the diced cold butter until a shiny mash is achieved.
5. Season and serve warm.
Dessert
Stout and Roasted Barley Caramel Custard Tart
Serves
8
Ingredients
Pastry:
450g flour
220g soft butter
150g icing sugar
2 eggs
pinch salt
Custard:
1 litre cream
200g caster sugar
12 egg yolks
50g icing sugar
1 litre Guinness, reduced to 100ml
2 tbsp aged balsamic vinegar
2 tbsp Irish whiskey
Pinch salt
Method:
Mix the flour, sugar and salt together in a mixer. Add the soft butter and mix to a crumb, bind with the eggs and rest (ideally overnight in fridge).
Roll the pastry thinly and line a tart case. Blind bake at 160°C for 25-30 mins until golden brown.
Roast the barley in an oven until dark in colour. Warm the cream over a low heat and add the roasted barley, season with the reduced Guinness and allow to infuse for 1 hour.
Heat the sugar until a dark caramel is formed, strain the barley and Guinness cream into this and bring to the boil, pass through a sieve.
Mix the egg yolks and icing sugar, blend this into the warm caramel cream, season with balsamic, salt and whiskey. Remove any air bubbles.
Pour the mixture into a pre-baked case and cook at 100°C for 40mins until just set, allow to cool to room temperature before cutting.