Studio McCormack Designs New Dining Spot In Newport Beach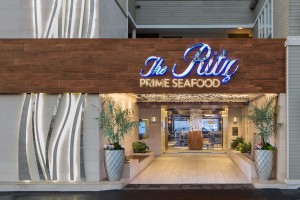 Newport Beach, California has undergone a revitalization and the new 7,000-square-foot Ritz Prime Seafood restaurant designed by Studio McCormack, a Southern California-based interior design firm, is playing a big part in the area's dining rejuvenation.
The design for the 180-seat restaurant centers around its prime waterfront location, as it sits on the Pacific Coast Highway. The firm sought to highlight the desirable nature of the site and employ a look that would embody the concept of both modern and sophisticated California seaside dining. Using the seaside locale as inspiration, a coastal theme prevails throughout the —a wall sculpture akin to a swimming school of fish and a three-spout, blue-tiled fountain welcome guests in the entry courtyard. A large sculpture and an art wall with a coral design continue the aquatic theme, while undulating metal canopies on the dining room ceiling mimic ocean waves.
Rick McCormack, founder of Studio McCormack, also sought to blur the lines between the indoors and out with floor-to-ceiling glass windows wrapping around the entire space, providing guests with unobstructed views that span from inside the restaurant out to the bay. For al fresco dining, the new eatery offers a cozy 40-seat patio, which features a unique, retractable overhead awning, wicker chairs, and a view of the marina.