Organic stevia drops add flavor to help consumers increase hydration, reduce sugar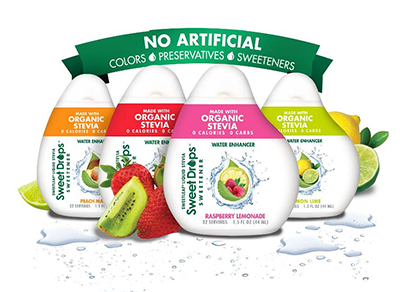 SweetLeaf Stevia Sweetener, the top-selling natural stevia sweetener, moves into stores this January with SweetLeaf Sweet Drops water enhancers. Made with organic stevia extract and plant-based flavors, with zero calories, zero carbs, the water enhancers come in 1.5 ounce "droplet" bottles, in four flavors.
Portable and convenient, the water enhancers add sweet flavor to the recommended daily glasses of water. Increased hydration, necessary for health, becomes delicious and fun – without added sugar or calories.
"Zero-calorie, zero-carb water enhancers are everywhere," says James May, CEO of Wisdom Natural Brands, maker of SweetLeaf. "But many brands contain ingredients you wouldn't want in your water. Made with stevia extract, which comes from a plant but contains no sugar, Sweet Drops water enhancers not only taste natural, they are natural. They're one sweet, simple change that we can all make to live healthier in 2014."
Known for its award-winning taste, SweetLeaf made taste a priority in blending the new product's flavors: Lemon Lime, Peach Mango, Raspberry Lemonade, and Strawberry Kiwi. The latter two were chosen as desired new flavors by votes from nearly 13,500 SweetLeaf Facebook fans.
The water enhancers help consumers reach two common health and wellness goals: increased hydration and reduced sugar. Added to sparkling water, they are a soda-busting treat. Consumers can also add as much or as little flavor as they like, depending on their taste.
The water enhancers are the latest in the full line of Sweet Drops: liquid stevia which can be added to foods or beverages for sweet, sugar-free flavor. The line includes more than 20 flavors, including award-winning versions of Vanilla Crème and Chocolate, and seasonally popular Peppermint Mocha and Pumpkin Spice.
Innovation is to be expected at SweetLeaf, which has developed more consumer stevia sweetener products than any other stevia company. Winner of 13 international awards for taste and sustainability, SweetLeaf is the most natural and best-tasting stevia in the marketplace. For more on the company and its products, visit SweetLeaf.com.
About Wisdom Natural Brands
Gilbert, Arizona-based Wisdom Natural Brands is the parent company of two highly respected consumer brands: SweetLeaf Stevia Sweetener and Wisdom of the Ancients herbal teas. The company was named a Top Wellness Company in the 2014 Grocery Headquarters Selling Wellness Trailblazer Awards.
SweetLeaf is the natural stevia sweetener with zero calories, zero carbohydrates and zero glycemic index. The only stevia brand to win 13 global taste awards, SweetLeaf is sold in boxes containing 35 or 70 packets, as well as in SweetLeaf Stevia Plus Shaker Bottles for easy home use and SweetLeaf SteviaTabs Dissolvable Tablets for on-the-go use. SugarLeaf, also by Wisdom, bonds stevia with cane sugar for a low-calorie sugar alternative perfect for baking and cooking. SweetLeaf Liquid Stevia Sweet Drops™ add flavor without calories or carbohydrates to favorite foods and beverages. For more information about SweetLeaf products, recipes and more, visit www.sweetleaf.com.
Wisdom of the Ancients herbal teas, from energizing Yerba Maté Royale to calming Rooibos, are available loose leaf or in bags and come in a variety of refreshing flavors. Select varieties are also available with a touch of calorie-free stevia sweetener.
SweetLeaf and Wisdom of the Ancients products can be purchased online at ShopSweetLeaf.com or at grocery and health food stores throughout the U.S. and Canada.