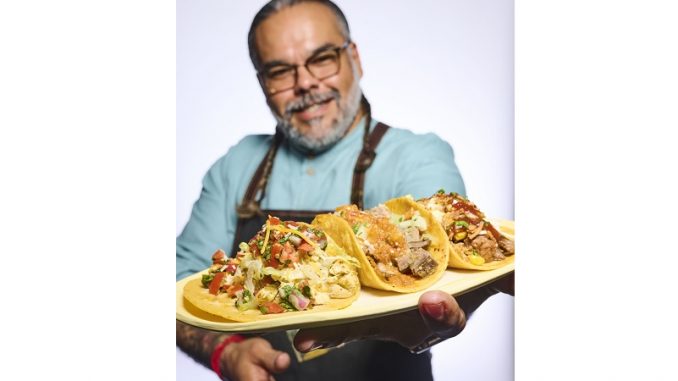 Modern media company, Tastemade, announces the opening of its first-ever US-based restaurant, Tastemade Me Tacos, expanding the food and lifestyle brand into into hybrid in-person and delivery dining experience in New York City from acclaimed Chef Wes Avila, founder of the popular food truck, Guerrilla Tacos, and the owner of and chef at Angry Egret Dinette in Los Angeles. The takeout and delivery restaurant at the Citizens New York food hall is brought to life in partnership with C3 (Creating Culinary Communities) by SBE, a fast-growing food tech platform.
Tastemade Me Tacos provides fans of Tastemade with a first-ever dining experience inspired by the modern media brand's millennial and Gen Z fan base and engaging approach to food content. The restaurant represents the next level of Tastemade's food and lifestyle offerings, strategically growing the company beyond content and into experiential hospitality to forge deeper relationships with the brand's highly engaged social and streaming audiences.
Chef Avila, a James Beard Award finalist, has partnered with Tastemade to create a selection of tacos inspired by the flavors of Mexico, the Mediterranean, Asia, and the American Southwest. Tastemade Me Tacos' menu highlights include a Carnityaki taco with teriyaki beef, a Chicken Shawarma taco with feta, sumac, and tahini; and a classic Queso Asado taco with carne asada. Tastemade Me Tacos marks the first time that Avila's food will be available in New York City. In 2019, Chef Wes' Guerrilla Tacos earned a Bib Gourmand by the Michelin Guide to California. In 2020, Chef Wes was voted by readers of Los Angeles Magazine as best local chef in Los Angeles. Chef Wes was a 2022 James Beard finalist for his restaurant Angry Egret Dinette.
"Our fans have embraced Tastemade as a go-to destination for global food trends, viral food recipes, and the food industry's most exciting storytelling," says Co-Founder & CEO Larry Fitzgibbon, Tastemade. We are excited to bring this passion and expertise to a new culinary experience, Tastemade Me Tacos, and give our fans a dining destination and delivery service to experience the best of Tastemade firsthand. We're thrilled to have best-in-class partners in C3 and to bring Chef Wes Avila to New York City for the first time."
"I am more than thrilled to have partnered with Tastemade, a platform that I've followed with the utmost appreciation and admiration," says Founder & CEO Sam Nazarian, SBE.
"I'm very excited to partner with two industry leaders to bring Tastemade Me Tacos to life," says Chef Wes Avila. "It has been a longtime dream of mine to enter the New York City marketplace, and I'm thrilled to be doing so with Tastemade and C3."
Tastemade and C3 have plans to expand Tastemade Me Tacos as a delivery concept in new markets across the US, and into additional food halls in New York City, Phoenix, Washington D.C., and Miami in March 2023. The partnership also includes the scope to create other restaurant and delivery concepts in the future, and new locations are planned for the Seattle, Los Angeles, Philadelphia, Atlanta, and Minneapolis metro areas later this Spring. Together, the companies will pair Tastemade's loyal global audience of over 300 million monthly viewers with C3's massive network of over 800 global brand locations including Umami Burger, Krispy Rice, and Sam's Crispy Chicken.
Tastemade Me Tacos is open Monday through Friday, 11:00a.m. – 4:00p.m. at Citizens New York Food Hall at Manhattan West (398 10th Ave, New York, NY 10001). The menu will be available for delivery on the GO by Citizens app, GrubHub, Uber Eats, DoorDash and delivery.com.
ABOUT TASTEMADE
Tastemade is a modern media company that engages a global audience of more than 300 million monthly viewers on all major digital, mobile, and streaming television platforms, garnering 700 million minutes watched each month. We create award-winning video content and original programming in the categories of Food, Travel, and Home & Design that we share with an engaged, passionate, and global community. Tastemade has won a host of awards and accolades for its innovation and original programming, including three James Beard Awards, two Emmy Awards, and was most recently recognized as one of Fast Company's "Most Innovative Companies" in 2021. For more information, visit Tastemade at: www.tastemade.com.
Connect with Tastemade on TikTok | Instagram | Pinterest | YouTube | Facebook | Twitter | LinkedIn
ABOUT C3
C3 (Creating Culinary Communities) is re-imagining the food service industry at a time when change is needed most. Founded and led by visionary Sam Nazarian with minority investors Simon, a global leader in the ownership of premier shopping, dining, entertainment and mixed-use destinations, and Accor, the world-leading augmented hospitality group, C3 is simultaneously, systematically and broadly bringing together technology, underutilized retail, hotel and kitchen spaces and world-class culinary talent. C3's array of culinary brands coexist to disrupt the food & beverage industry by capitalizing on rapidly evolving customer preferences through C3 established shared kitchens, mobile delivery with the next-gen Citizens Go app, and Citizens food halls. Current C3 brands include Umami Burger, Krispy Rice, Sam's Crispy Chicken, Sa'Moto, EllaMia, Cicci di Carne, El Pollo Verde, Kumi, Plant Nation, Citizens Pizza, Frankly by Snap-O-Razzo, partner brands Soom Soom Fresh Mediterranean, Cindy Lou's Cookies and Tastemade Me Tacos. The CITIZENS food hall opened in New York City at Manhattan West last fall. C3 operates 250 digital kitchens across the U.S. To learn more, visit c3sbe.com.