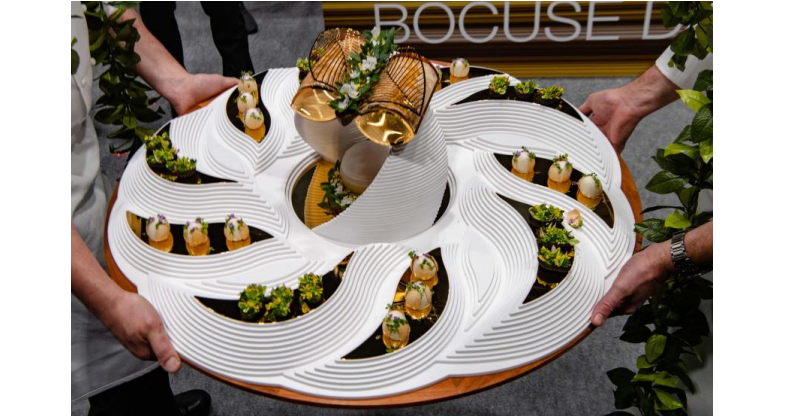 Earlier this week, teams of some of the most brilliant culinary minds from 24 countries across the world gathered in Lyon, France, where they competed in the most rigorous and celebrated cooking competition in the world.
Team USA competed on Monday, January 23rd and presented their platter "Postcard From
Hawaii," an homage to Chef Hayashi's home. Their platter presentation contained the mandatory
protein of monkfish, which was roasted and featured monkfish jus, ragout of mussels, hen egg custard
and avocado green goddess. The platter presentations were designed by Martin Kastner of Crucial
Detail, LLC. To further test each country's creative abilities, each team developed a "Feed the Kids"
menu, featuring a three-course meal highlighting pumpkin and egg as the main ingredients. Team
USA artfully presented their menu, drawing inspiration from childhood fairy tales of "Cinderella,"
"The Goose That Laid The Golden Eggs," and "Snow White."
Ment'or, the non-profit organization that is responsible for recruiting, training and
supporting Team USA, is incredibly proud of the Team's extraordinary dedication, effort and
commitment over the last year, and congratulates Teams Denmark, Norway and Hungary on their
respective 1st, 2nd and 3rd place wins.
Chef Thomas Keller, President of Ment'or, remarks, "I want to thank Chef Hayashi, Commis
Fugel, Coach Chef Sulatycky and all the supporters of Team USA who have been on this journey
with us. Monsieur Paul believed in the culinary talent we have in the United States. He wanted to
make sure that talent was nourished and developed. Without his belief and the tireless efforts of
Ment'or, I don't think Team USA would be here today. We owe it to Monsieur Paul. We owe it to
the talented, dedicated chefs and mentors of Team USA. And we owe it to all those who continue to
inspire, to push the boundaries and to raise the bar of culinary arts in the United States."
Former Team USA 2007 competitor and Team USA President, Chef Gavin Kaysen states,
"To see how far we have come from my days as a competitor is what Ment'or is all about. Ment'or,
the foundation behind Team USA, is building on Monsieur Paul's legacy, and the legacy of Team
USA is inspiring the next generation of young chefs. And we will continue to do so in years to come."
Head Chef Jeffery Hayashi says, "I am honored to have represented Team USA at this
esteemed global culinary competition. I would not be here without the support of all the members
of Team USA, but particularly that of my Commis, Franco Fugel and our Head Coach Robert
Sulatycky. This was an opportunity of a lifetime for a chef and I will treasure this experience
throughout my culinary journey."
Young Yun, Executive Director of Ment'or comments, "We congratulate all the winners and
every country that competed at the Bocuse d'Or. We know how rigorously they train and the
incredible amount of dedication and resources required to compete at this level. We are grateful
for all the chefs, coaches, supporters, mentors, and partners who have been integral to Team USA."
The Bocuse d'Or is among the most demanding cooking challenges, and every two years,
over 60 countries select one of their best chefs to represent their nation. The 24 countries that
continued to the finals cooked for five hours and 30 minutes in front of thousands of cheering fans.
Team USA is recruited, trained and funded by Ment'or, a leading nonprofit organization devoted
to inspiring culinary excellence in young professionals and preserving the traditions and quality of
cuisine in America. Ment'or was founded by Chefs Daniel Boulud, Thomas Keller, and Jérôme Bocuse.
Board members Chefs Boulud and Keller train Team USA, along with Team USA President, Gavin
Kaysen of Spoon and Stable in Minneapolis, MN, Head Coach Robert Sulatycky, Assistant Coaches
Devin Knell of The French Laundry and Mathew Peters, 2017 Bocuse d'Or Gold Medalist. For more
information about Ment'or, visit www.mentorbkb.org or find the organization on Facebook, Twitter,
and Instagram.
For media inquiries, or to arrange interviews, please contact Jaimie Chew at Ment'or:
Jaimie.chew@mentorbkb.org