National Retail Program to Provide Adults with Essential Elements for Outdoor Grilling Occasions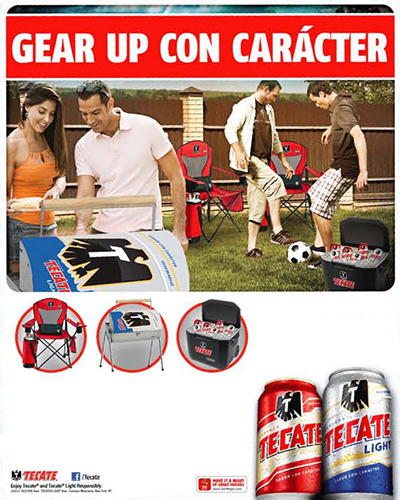 Tecate and Tecate Light, cervezas con carácter, kicked off a national shopper marketing program across thousands of retail locations aimed at giving hombres 21+ the essentials they need for a spring and summer full of carácter. The Spanish- and English-language "Gear Up" campaign, which includes a sweepstakes, cross-merchandising offers and thematic point-of-sale materials, will be in market through April 2014.
"Our consumers are men of carácter and are constantly looking for ways to make any experience a little bolder. With 75 percent of U.S. Hispanics believing that grilling will make a hangout with family and friends more fun[1], we saw a unique opportunity to help them create an authentic summer celebration," said Gustavo Guerra, brand director for Tecate. "By giving our consumers the opportunity to 'Gear Up' with grilling essentials, we're creating a relevant shopping destination at retail that will help increase basket rings during a key beer consumption period."
The "Gear Up" campaign is centered on an easy-to-enter text-to-win sweepstakes that gives consumers the chance to win everything they need to add carácter to their outdoor celebrations, including Tecate Light can-shaped grills, rolling coolers and Tecate Coleman® chairs featuring a detachable cooler and beer holders on its arms; there is no purchase necessary to enter or win. Bilingual POS, including tuck cards, pole toppers and floor decals, as well as the sweepstakes prizes themselves help delineate the attention-grabbing shopping area at large- and small-scale retailers across key U.S. markets.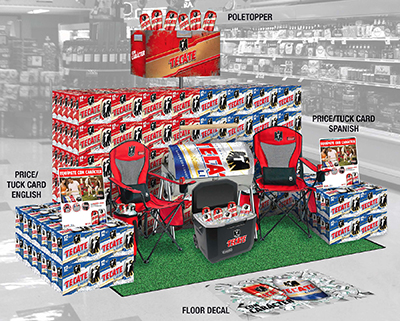 With the purchase of Tecate or Tecate Light bottles or cans, consumers of legal drinking age will also be able to take advantage of valuable cross-merchandising mail-in and instant rebate offers on items such as charcoal, meat, any brand of tequila, non-alcoholic beverages, disposable plates, cups and utensils that will help round-out their grilling occasion.
The "Gear Up" retail program was developed by Cultur8 for Tecate and Tecate Light. Please contact FORMULATIN at (212) 219-0321 if you would like to receive additional information or would like to interview a brand executive about Tecate's efforts to connect with U.S. Hispanics in 2014.
About HEINEKEN USA
HEINEKEN USA Inc., the nation's premier beer importer, is a subsidiary of Heineken International BV, which is the world's most international brewer. European brands imported into the U.S. include Heineken Lager, the world's most international beer brand; Heineken Light; Amstel Light, a leading imported light beer brand; Newcastle Brown Ale, the leading imported ale in the United States; and Buckler non-alcoholic brew. HEINEKEN USA is also the exclusive USA importer for the Tecate Franchise, Dos Equis Franchise, Sol, Indio, Carta Blanca and Bohemia brands from Mexico. For a safe ride home, download the HEINEKEN USA -sponsored Taxi Magic application from your smartphone at taximagic.heineken.com. Please visit www.EnjoyHeinekenResponsibly.com.