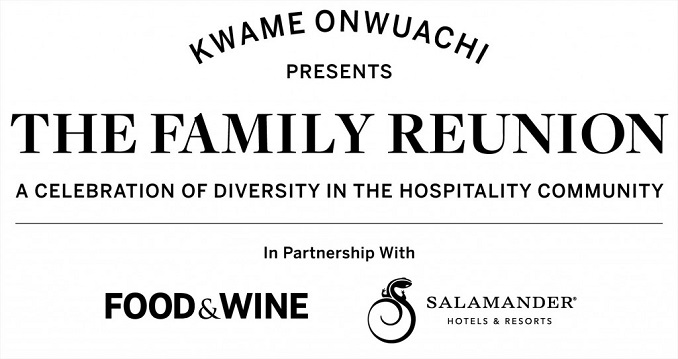 The Family Reunion, an immersive experience celebrating diversity in the hospitality community taking place this August, today announced a schedule filled with culturally enriching programming highlighted by some of the industry's top talent including Carlton McCoy, Carla Hall, Rodney Scott, Nina Compton, Padma Lakshmi, Gregory Gourdet, Mashama Bailey, Tavel Bristol-Joseph and Pierre Thiam.
Presented by Chef and Author Kwame Onwuachi in partnership with Meredith Corporation's FOOD & WINE and Sheila Johnson's Salamander Hotels & Resorts, the multi-day event will cross culinary boundaries and combine thought-provoking panel discussions, topical cooking demonstrations, inspiring recreational activities and daily "family" meals where attendees and celebrity participants can interact.
Co-hosted by Onwuachi and Salamander Hotels & Resorts Founder & CEO Sheila Johnson, The Family Reunion will take place August 19 – 22, 2021, at Johnson's Forbes Five-Star-rated Salamander Resort & Spa in Middleburg, Virginia, located in the heart of the state's wine country and just one hour from Washington, D.C. A limited number of overnight packages, as well as day and event passes, are now available at www.salamanderhotels.com/familyreunion or by calling 844-505-9235.
The Family Reunion will benefit Share our Strength's No Kid Hungry campaign to help end childhood hunger. The mission of the event is to nurture, develop and celebrate racial and ethnic diversity within the next generation of hospitality professionals. Speakers, chefs and sommeliers will delve into the Black cooking traditions that have shaped cuisine in America, share past lessons, and focus on building a better and more inclusive future. The Family Reunion will also help create a mentorship and scholarship program to foster diversity in the hospitality industry.
The event enjoys sponsorship support from Rémy Martin, Virginia Tourism Corporation, the Brett Johnson Collection, United Airlines, Williams-Sonoma and Visit Loudoun.
The Family Reunion begins on Thursday, August 19 with a Family Cookout hosted by Pitmasters Bryan Furman, Rodney Scott and Ben's Chili Bowl. Immediately following is a Town of Middleburg Restaurant Takeover featuring some of the Family Reunion's leading female chefs, including Tiana Gee, Dawn Burrel, Rashida Holmes and Ashleigh Shanti.
The morning of August 20 features several Grand Stage panels, including Old Guard to New Trope: Passing the Torch moderated by Alexander Smalls. The Family-Style lunch will be provided by Erick Williams, Tavel Bristol-Joseph and Vallery Lomas. The afternoon sees multiple breakout sessions, including Jerk: The Dish That Freed a Nation led by Andre Fowles and Peter Prime, as well as several recreational activities like ziplining, fishing and horseback riding led by celebrity participants. The evening's event, African Night Market, features food by Prime, Onwuachi, Pierre Thiam, Michael Elégbèdé and J.R. Robinson. Post event, Carlton McCoy will host Night-Cap: The Wine Down.
Saturday showcases further panel discussions, including The Things We Do for Love moderated by Padma Lakshmi. The Family-Style lunch will be provided by Mashama Bailey, Jonny Rhodes, Gregory Gourdet and Jason Reaves. The afternoon schedule features a performance from Grace: The Musical and a lifetime achievement award presented by Rémy Martin to Virginia Ali. The closing event is a Block Party featuring music by a special guest and food by Lakshmi, Fowles, Nina Compton and Tiffany Derry. McCoy will also host another late-night Wine Down.
The Family Reunion concludes on Sunday, August 22 with a Sunday Service highlighted by a Gospel Choir, along with additional brunch options on the resort's Middleburg Terrace.
Prior to The Family Reunion, Onwuachi will spend nine days in residency at Salamander Resort. In addition, on August 19, the Visit Loudoun Foundation is partnering with Salamander Resort to hold a Power of Diversity in Tourism and Hospitality Symposium, which is sponsored by the Town of Middleburg and Virginia Tourism Corporation.
The idea for the Family Reunion originated after Onwuachi, a 2019 FOOD & WINE Best New Chef and now a contributing executive producer for the media brand, connected with Johnson during a book talk in the Bahamas. The intent is for The Family Reunion to become an annual event, with future iterations hosted at other Salamander locations.
"The Family Reunion is a reflection of Black culture and Black excellence," said Onwuachi, who is also the author of the culinary memoir Notes from a Young Black Chef. "This is a new kind of event for our industry. The intimate nature of our inaugural year means there will never be another one quite like it."
The only African-American woman to wholly own a Forbes Five-Star resort, Sheila Johnson is renowned for co-founding Black Entertainment Television. The CEO and founder of Salamander Hotels & Resorts was recently named co-chair of the Greater Washington Partnership's new Inclusive Growth Strategy Council.
"This will be an inspiring event that prioritizes inclusivity and equity within the hospitality and culinary industries," said Johnson. "Discussion and action are both moral imperatives, and I'm thankful that I can provide a catalyst for conversation for such an amazingly talented and insightful group of people."
Experiences will take place throughout the 340-acre Salamander property, including its Culinary Garden and Library. There will also be an outdoor Grand Stage venue hosting a rotating lineup of presentations and panel discussions.
The Family Reunion is part of the expanding FOOD & WINE Classic network of events anchored by the celebrated FOOD & WINE Classic in Aspen, a mainstay in the culinary world for over three decades, as well as the recently launched FOOD & WINE Classic at Home virtual events, among others.