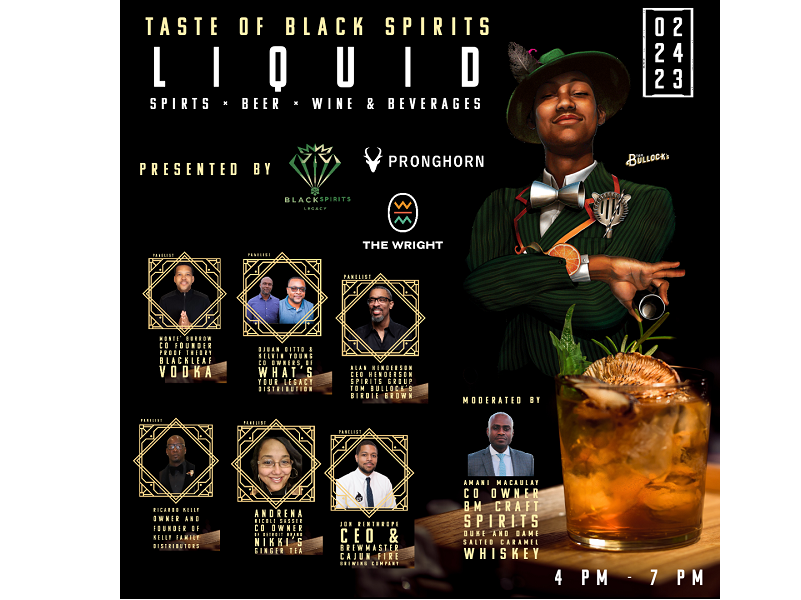 Black Spirits Legacy and Pronghorn present the Liquid Forum and the Taste of Black Spirits to highlight Black-owned brands and industry leaders, February 24-25. Many consumers are unaware of Black-owned spirit companies and their products. The Liquid Forum and TOBS will create more awareness and access to these underrepresented brands.
The Liquid Forum will gather a national panel of Black spirits business leaders. Panelists will reflect on their professional journeys and provide expert mentorship for entrepreneurs interested in the spirit industry. Tickets are $35 and will take place Thursday, February 24, 2023 4 p.m. at the Charles H. Wright Museum of African American History. Panelists include Pronghorn Ceo, Jomaree Pinkard , Tom Bullock's
owner Alan Henderson , Black Leaf Vodka owner Monte' Borrow and Cajun Fire Brewing Ceo Jon Renthrope.
The Taste of Black Spirits " The History " 6th Edition returns Saturday, February 25th at 6 p.m. Tickets start at $55 and will take place at the Garden Theatre. This will be a curated experience to increase equity for Black-owned spirit brands. The event will highlight the history and evolution of Black master distillers, distributors and trailblazers of the industry. Attendees will have a chance to sample products and meet the founders of those brands. (Elegant attire required ) This showcase will be filmed and documented.
"Underrepresentation and a lack of diversity has long been an issue in the spirits industry", says chief executive curator of Black Spirits Legacy –LAZAR Favors. "The Taste of Black Spirits continues to build on the remarkable legacy of African American master distillers and industry leaders to generate equity for Black entrepreneurs. I am motivated to give our audience a unique, high quality, experience and create access to capital for Black owned spirit brands".
For ticket information visit Liquid Forum and Taste of Black Spirits " The History "
The Taste of Black Spirits launched in May 2021, as a first of its kind event in Michigan and throughout the Midwest featuring all Black-owned beer, wine & spirit brands from across the nation. The TBS has featured more than 90 brands. In two years, this event will expand to 10 cities throughout the U.S.
About Black Spirits Legacy
The Black Spirits Legacy Initiative is focused on driving commerce in economic value and have been for 5+ years through investing in Black-owned founders. They are making sure there's more Black people reflected in the industry. They currently manage the Michigan Market for Duke and Dame Salted Caramel Whiskey, IslandJon Vodka, LS Cream Liqueur, Fort Mose' Bourbon, T Capri Tequila, Tom Bullock's Gin and Burnt Orange Bourbon to name a few. They are a team of Legacy Liaisons strategically working in this lucrative $353 billion industry of which we are currently grossly underrepresented. They help entrepreneurs with everything: distribution, supply chain, marketing, and eCommerce. Example, helping businesses find very hard to source materials like glass, and helping them understand how to market their brand.
They have built a library of information, training materials, and relationships just to level the playing field for a population that is starting from a deficit. They don't just want to get them up to a level playing field. They want get them up to plus 10, so that they can compete with other brands.
"Our Legacy revolves around infinite potential and how Black Spirits are going to make history—not competitively but collectively, because doing so will make a global impact." -LAZAR
A stand-alone business dedicated to cultivating the next generation of diverse founders, executive leaders and entrepreneurs in the beverage alcohol industry. Pronghorn is investing capital in Black owned brands spirits, which allows Black entrepreneurs to grow and sustain their businesses. Pronghorn is creating opportunities for the Black community, from internships to mentorships to careers, ranging from entry to executive level. Pronghorn's team of industry experts works with each founder to identify the primary areas of opportunity, and provides a blueprint to help them achieve their business goals.