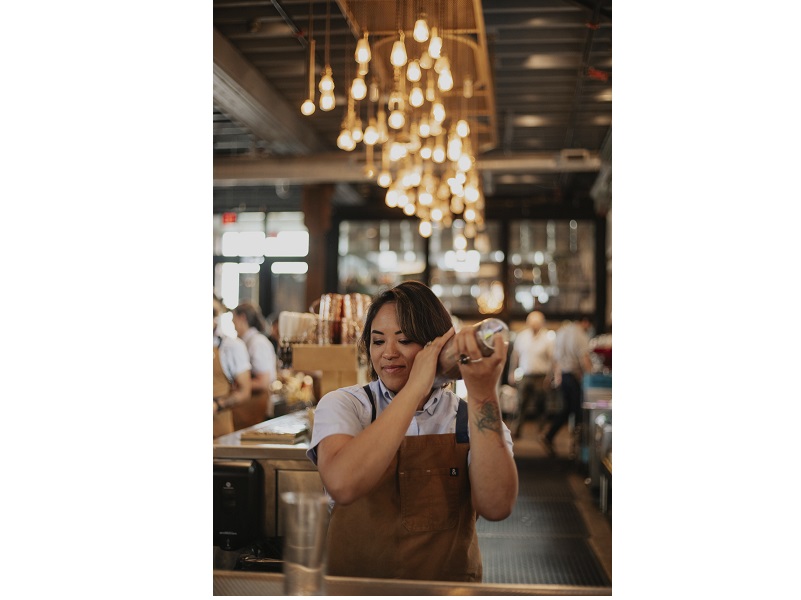 The Jones Assembly, Oklahoma City's premier destination for refined regional cuisine, stellar cocktails and live entertainment, is pleased to announce bartender Thumper Cooper is competing in the 2023 Speed Rack competition.
On Monday, February 13, Thumper will head to Denver, Colorado to compete against the industry's top female bartenders in a series of timed challenges. The competition is intended to not only test the bartenders' speed, but also their aptitude in making quality cocktails from a selection fifty classics. After participating in the qualifying round, Thumper will have the opportunity to compete in a 'Round Robin' elimination against the top eight bartenders. The swiftest and most skilled woman will be named winner and have an opportunity to join the Speed Rack team in New Orleans for Tales of the Cocktail.
"We are incredibly proud of Thumper and the tireless work she's put in to compete in this year's Speed Rack," said Scott Marsh, The Jones Assembly's director of operations. "Education and career growth are at the core of our bar program at The Jones so it's wonderful when you have the opportunity to see your team flourish and pursue recognition on a national scale. Thumper is a fierce competitor and stellar bartender who will succeed at anything she puts her heart into."
ABOUT SPEED RACK
Founded in 2011, Speed Rack is an exclusively woman high-speed bartending competition designed to highlight up-and-coming self-identifying females in the cocktail industry and give back to those impacted by breast cancer. The competition taps the top female bartenders across the globe and puts them head-to-head in timed challenges. Regional competitions whittle down the applicant pool to merely sixteen spots that will make it to the nationals. The Speed Rack winner will join the organization at Tales of the Cocktail in New Orleans for appearances. To date, Speed Rack has raised over $1,000,000 for charities supporting breast cancer research.
ABOUT THE JONES ASSEMBLY
The Jones Assembly, a 20,000 square-foot dining and entertainment destination in downtown Oklahoma City, opened in July 2017 at 901 W. Sheridan. Founded by The Social Order Dining Collective, The Jones Assembly pairs outstanding refined regional cuisine from executive chef David Gilbert with an innovative approach to live music, establishing a new standard for Oklahoma City's dining and nightlife. A 225-seat restaurant with separate downstairs and mezzanine bars and a 1,600-person capacity for live events, The Jones Assembly constitutes an adaptive re-use of two historic facilities that were formerly part of The Fred Jones Manufacturing Company complex. Collaborating with James Boswell Architect of Tulsa, known for the firm's wildly successful 2003 revitalization of Cain's Ballroom, principal partners Brian Bogert, Kirk and Fred Hall of Hall Capital and Graham Colton created a destination that revitalizes two century-old historic buildings while creating a new cornerstone for the burgeoning West Village area of downtown Oklahoma City.