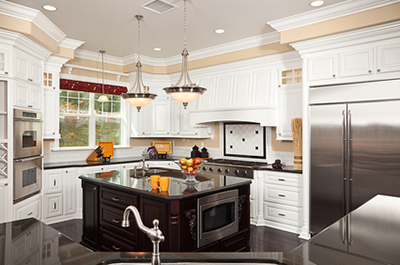 The average U.S. homeowner spends more than $28,000 per kitchen remodel, which often includes stainless steel appliances, granite countertops or custom cabinetry. But chances are the modern renovation they end up with doesn't feature all of the assets a professional chef or diligent foodie desires in his or her home. The best renovations, of course, are both functional and beautiful, so if you're dreaming of an innovative cuisine that excels in efficiency, skip the big box store showrooms and follow your gut.
Add Real Estate
The size of the kitchen isn't as important as the relative amount of work space that's available. Chefs place a premium on tidy countertops, whether they're made of hardwood butcher block or marble, as long as they are free of clutter and ready for action. Create your perfect workspace by incorporating extra surfaces using an island (with seating, so you can always entertain) or storing appliances on shelves rather than counters. You'll want every spare inch at your disposal when culinary inspiration strikes.
Create Mood Lighting
Cooking is as much about feeling as it is doing, and that's why it's your passion. Set the stage by installing roller shades from TheShadeStore. Instagram perfectly lit dishes of boeuf bourguignon at any time of day. Capture the subtle ombre cake you made for your food blog challenge. Or, enjoy never having to squint into the glare of the midday sun as you prep a Sunday roast for extended family. Shades are essential for privacy, décor and temperature control, but they're also fantastic at creating a softly illuminated room that makes cooking, eating and photographing a complete joy.
Bring the Fire Power
Chefs experience a full range of feelings when it comes to the stovetop, and what you need in your home kitchen depends on how, and what, you like to cook. The eternal debate is over gas or electric, but there's a newcomer in town (well, sort-of) that's causing even the most seasoned pro to take a second glance: the induction cooktop. Using an electromagnetic field, the induction cooktop is 90-95% energy efficient, safe and heats evenly. Yea, science! Parents love it, too, as the areas that aren't touching the pot stay cool to the touch.
Chill Out
A fancy walk-in pantry is nice, but a hardworking icebox is essential. The Sub-Zero brand has danced in the winner's circle for decades, and it's not surprising why when you look at their stats. Built to balance temperature, regulate humidity and cleanse ethylene and mold automatically, these fridges are pretty cool machines with premium controls. Pros swear by them, and any foodie with the spare cash should invest, since they can add to the value of the home. Of course, it looks cool, too.