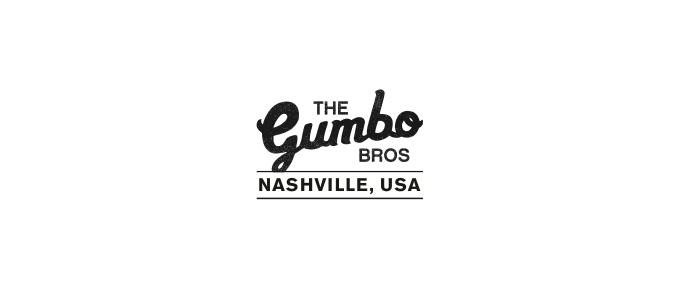 Highly anticipated New Orleans-style eatery, The Gumbo Bros, is now open for lunch and dinner service, at 505 12th Avenue South in The Gulch neighborhood of Nashvlle, Tennessee. Founders, and former roommates at Louisiana State University, Chef Adam Lathan and Clay Boulware weave the heart and soul of The Big Easy into the experience at The Gumbo Bros, serving up bona fide Cajun and Creole cuisine. A Mobile, Alabama native, Chef Lathan spent a great deal of his childhood traveling along the Gulf Coast to New Orleans, Louisiana, to visit family, eat delicious food, and soak in the city's unique culture. Committed to serving the and freshest, highest quality product, The Gumbo Bros regularly flies seafood to each restaurant straight from the Gulf.
"We couldn't be more excited to give Nashville a legit taste of Louisiana," says Lathan. "We scouted cities all across the South for expansion and at the end of the day, Nashville felt like the best choice for the business and for my family. We absolutely love it here and look forward to making Nashville our home for years to come."
Nashvillians can expect to experience the full spirit of Louisiana as The Gumbo Bros offers a gathering place for LSU and Saints fans on game days, hurricanes and daiquiris on tap, an oyster happy hour, and plans for crawfish boils and a jazz brunch starting in the spring. This is the second iteration of The Gumbo Bros, following a location in Brooklyn, NY, which opened in 2016 and has received praise from The New York Times, The Wall Street Journal, The Today Show, New York Magazine, Eater, and more.
MENU
Chef Lathan's journey to create the perfect pot of gumbo began after learning the "proper" technique from his great grandmother, Nanny. That very technique—cooking homemade gumbo for 14 hours—is used in The Gumbo Bros kitchen to this day, and serves as the basis for all three gumbos on the menu: Cajun Chicken & Sausage Gumbo (Cajun-style gumbo with dark roux with smoky andouille sausage, Cajun-spiced chicken, and chicken bone stock), Nanny's Seafood Gumbo (coastal-style gumbo with filé powder, fresh shrimp, and blue crab meat in crab stock), and Gumbo Z'Herbes (a vegan and gluten-free classic New Orleans-style gumbo with kale, collard, parsley and mustard greens, filé gumbo and roasted veggie stock).
The Gumbo Bros' po' boys start with fresh French bread from Leidenheimer Bakery in New Orleans and are dressed with lettuce, tomato, Duke's mayo and pickles. Classics like Fried Shrimp, Oyster, Mississippi Catfish, Roast Beef + Debris Gravy, and Fried Green Tomato + Remoulade are accompanied by "Fancy Pants" versions such as Benny's Special (fried green tomato, and chilled shrimp remoulade), Surf 'n' Turf (fried shrimp, roast beef, and debris gravy), and Peacemaker (fried shrimp, fried oyster, and pepper jack cheese). Additional standout menu items include Smoked Boudin Balls made with pork from none other than Peg Leg Porker, Fried Louisiana Aliigator Nuggets, Cajun Waffle Fries, Bananas (Foster) Pudding, and, of course, Louisiana-made Zapp's Chips.
The Gumbo Bros' beverage program pays homage to the restaurant's New Orleans roots, featuring Hurricanes made with homemade mix, Tabasco Margaritas on tap, and a variety of daiquiris, in addition to a rotating selection of local Nashville and New Orleans beers.
DESIGN
Occupying the former Bar Otaku space, The Gumbo Bros evokes a sense of nostalgia and familiarity for anyone who has spent time in The Big Easy. An atmosphere similar to the way a French bistro might mesh with a neighborhood bar, the restaurant aims to mimic some of Chef Lathan's fondest memories of New Orleans. An expansive bar is crafted from wood that Lathan's father, a contractor and preservationist, salvaged from the Port of New Orleans while globe light pendants adorned with hand-painted pelicans hang overhead. A mural features paintings of New Orleans greats such as Leah Chase, Tennessee Williams, and James Booker, and tabletops made of 150-year-old refurbished maple planks from a former textile mill in Alabama (also provided by Lathan's father) add character and bring the space to life.
Also partnering with locals like Pfeffer Torode Architecture and I Saw the Sign, the brand remains committed to integrating into its new community in addition to bringing a piece of Louisiana to Nashville.