Fresh Market American Brasserie Opens in New York City's West Chelsea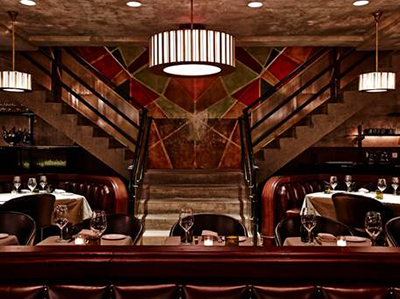 New York City hospitality innovators Eric Marx and Lisle Richards of The Metric unveiled their first restaurant endeavor, The Monarch Room, in New York City's West Chelsea this January. In collaboration with interior design firm Roman and Williams, a 1930s industrial era warehouse on West 15th Street has transformed into a sophisticated Fresh Market American dining experience with Chef Michael Citarella behind the menu.
The unassuming exterior reveals a glistening marble entryway as you enter the open, industrial space. Upon first foray into the room, patrons encounter a sprawling 20-foot mahogany bar on the right with plush leather railroad style seating down the middle. The main floor reveals a sea of dark wood and classic, upholstered banquettes and a grand poured-in-place concrete staircase that brings a formality, history and social energy to the once cold and hardened warehouse. This multi-level venue includes two private dining rooms secluded on the second floor, that can each accommodate up to 25 guests for a seated dinner or 100 guests for cocktails.
With a nod to the glamour of a Canard luxury cruise ship in the early 20th century, all aspects of The Monarch Room have been carefully considered, ranging from the expansive wine list that features over 500 labels comprised of both prominent producers and rare vintages, to the custom uniforms created by Lady & Butler and Odin, offering patrons an unparalleled dining experience in both cuisine and design.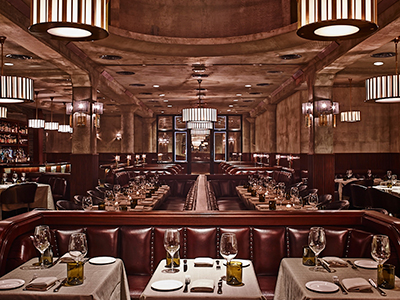 Chef Michael Citarella has created a menu with a fresh view on American cuisine, in-line with his belief that it's important to "experience the ingredients where they are sourced." The ideal chef for a space that is defined by New York's history, his love of simple applications elevated through the finest ingredients is evident in his signature dishes; fried hen of the woods with buttermilk and season salt, red pepper gnocchi with broccolini, stracciatella and toasted hazelnuts, and a halibut with golden beets, watercress and poblano chili. A 10-person oyster bar, situated in the main dining room, will feature a changing selection of oysters hand-selected by Chef Citarella. Award-winning mixologist Christian Sanders of Evelyn Drinkery spearheads the cocktail program, curating a menu that will consist of classic cocktails, as well as unique twists and new takes on various timeless recipes.
The Monarch Room aims to renew the prototypical Fresh Market American dining experience through the fresh and sophisticated design of both the menu and dining atmosphere.
The Monarch Room is located at 408 West 15th Street (between 9th Avenue and 10th Avenue). For Reservations call (646) 790-7070 or visit www.nymonarch.com and find them on Facebook and Twitter.
ABOUT THE METRIC
The Metric, a New York City based hospitality group, is headed by industry veterans Lisle Richards and Eric Marx. The expanding company, which owns multiple hospitality concepts including The Monarch Room and Gilded Lily in West Chelsea, also operates luxury hotel food and beverage programs. With various projects in the works that merge the spheres of art, culture and hospitality, The Metric is set to become a frontrunner on the hotel and restaurant scene.