Hospitality Innovators Eric Marx and Lisle Richards of The Metric and Jimmy Haber of ESquared Hospitality Opened Their First Joint Venture in Midtown Manhattan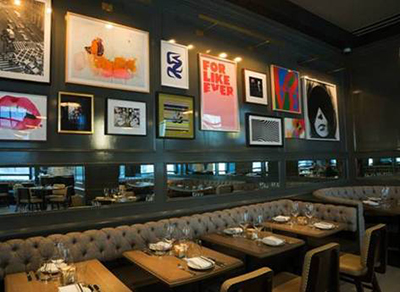 New York City hospitality innovators Eric Marx and Lisle Richards of The Metric and Jimmy Haber of ESquared Hospitality opened their highly anticipated restaurant, The Wayfarer at Quin on January 27, 2014.
"The Metric is extremely excited to start off the new year with the opening of The Wayfarer at the Quin," said The Metric's Eric Marx and Lisle Richards. "We are thrilled to bring a sophisticated restaurant and lounge to New York City's newest luxury lifestyle hotel, the Quin located in Midtown Manhattan. We look forward to The Wayfarer becoming the must-visit restaurant for locals and visitors alike."
"We are delighted to introduce The Wayfarer to the city of New York. It represents a new partnership between ESquared Hospitality and The Metric, and a shared commitment to delivering a personalized, exceptional experience for our guests," said Jimmy Haber, managing partner for ESquared Hospitality. "This is just the first of hopefully many successful joint ventures to come."
Featuring diverse artisanal American seafood and steak cuisine created by Executive Chef Braden Reardon, The Wayfarer's dinner menu will showcase fresh ocean specialties, locally sourced fish and a variety of savory steak options. Signature dishes will include Shellfish Cioppino, a tantalizing combination of Alaskan King Crab, lobster, shrimp and clams immersed in spicy tomato broth; Raw Hamachi laid atop bronzed fennel, hearts of palm and blood orange; and for the meat lover, Porterhouse, a 28 day dry aged Prime served with a natural jus. A number of fresh shellfish choices will be available at the Oyster Bar including East and West Coast oysters, jumbo shrimp cocktails, razor clams, and Alaskan King Crab as well as appetizing breakfast, brunch and lunch menus.
To add to the overall dining experience, award-winning mixologist Christian Sanders of Evelyn Drinkery created innovative custom craft cocktails including The Wayfarer Cocktail, a combination of Zubrowka Bison Grass Vodka, lime, agave, baked apple and celery bitters, and dusted black cardamom; Columbus Side Car, a mix of Afghan Raisin infused Louis Royer Force 53, apricot liqueur, fennel agave, black mission fig bitters, lemon and an egg white; and Man About Town, with Woodford Reserve, Green Chartreuse, Carpano Antica, Averna and smokey scotch rinse. The main bar and second floor lounge provide a perfect place for after work drinks or a gathering of close friends.
Designed by internationally acclaimed interior designer Meyer Davis Studio, Inc., The Wayfarer will complement the dazzling personality of the hotel's glamorous ambiance. With a mix of "old meets new" celebrating the high points of 1800's and 1970's, decadent details and surprising contemporary touches will be scattered throughout. Combining elements of grandeur and modern design, the 3,700 square-feet, 130 seat main dining room will evoke social clubs of the bygone era with comfortable dining and lounging areas that intermingle for an effortless flow of rich leathers and dark woods. Sure to please even the most discerning design aficionado, highlights include custom-designed mid-century inspired chairs; a custom serpentine banquette in the 1970's style; and the ceiling's decorative pattern, which was based on the design of a vintage theater marquee. The centerpiece of the restaurant will be one large main bar made of grand pewter and glazed brick. The mezzanine floor will attract social dining with its comfortable lounge seating, a 20-foot bar with ample additional seating and three private dining rooms for parties up to 25 seated and 40 cocktail in each.
The launch of The Wayfarer marks The Metric's first endeavor in partnership with ESquared Hospitality, and its first restaurant in New York City. The Wayfarer is part of the Quin, which debuted in November 2013. Beginning January 27, 2014, The Wayfarer will fully take over all food and beverage service at the Quin, featuring a new menu for breakfast, lunch, dinner, 24-hour in-room dining service and street-side cafe. The Wayfarer will embody the Quin's commitment to enhance the guests' experience, delivering an unrivaled level of thoughtful services and sophistication. It will promote a warm and luxuriant dining experience seven days a week from 6:30AM to 11:00PM (12:00am Thursday-Saturday) that resonates with the classic New York connoisseur, the adventurous foodie and everyone in between.
For more information about The Wayfarer at the Quin please visit www.thewayfarernyc.com and find them on Facebook and Twitter.
ABOUT THE METRIC
The Metric, a New York City based hospitality group, is headed by industry veterans Lisle Richards and Eric Marx. The expanding company, which owns multiple restaurant concepts, also operates luxury hotel food and beverage programs. With various projects in the works that merge the spheres of art, culture and hospitality, The Metric is set to become a frontrunner on the hotel and restaurant scene.
ABOUT ESQUARED HOSPITALITY
ESquared Hospitality is an international restaurant and hospitality group. Built on a commitment to "Exceeding Expectations" with extraordinary food and excellent customer service, ESquared Hospitality has grown into a diversified group of restaurant concepts, from the flagship BLT Steak New York which opened in 2004 to more than 26 restaurants on two continents. ESquared Hospitality properties include the BLT restaurants, comprised of BLT Steak in New York, NY (2004), Washington, DC (2006), San Juan, PR (2006), White Plains, NY (2007), Scottsdale, AZ (2008), Atlanta, GA (2009), Miami, FL (2009), Hong Kong (2009), Charlotte, NC (2009) and Waikiki, HI (2009); BLT Burger in New York, NY (2006), Las Vegas, NV (2008), Hong Kong (2009) and Taipei, Taiwan (2013); and BLT Fish (2005), BLT Fish Shack (2005), BLT Prime (2005) and BLT Bar & Grill (2010) in New York, NY. In addition, ESquared Hospitality operates two Italian concepts: Casa Nonna in New York, NY (2011), which became the official pizza vendor of Madison Square Garden in 2013, and The Florentine in Chicago, IL (2010); as well as GO Burger (2012) and the GO Burger Truck in New York, NY (2010). The newest addition to the ESquared Hospitality family is Juni in New York, NY (2013), in partnership with Michelin-starred Executive Chef Shaun Hergatt. Visit ESquared Hospitality online at www.E2Hospitality.com,
ABOUT THE QUIN
The Quin, New York City's newest luxury lifestyle hotel is located on the corner of 57th Street and 6th Avenue. At the intersection of art, music, and fashion, its privileged Midtown location provides effortless access to Lincoln Center, Carnegie Hall, The Museum of Modern Art, and Fifth Avenue couture. The Quin melds modern opulence with its rich artistic heritage in each of its 208 thoughtfully appointed guestrooms including 28 suites. Guests relish in urbane and intelligent services, from the Attaché, who curate a guest's New York experience, to distinguished amenities like an Executive Boardroom for 10, state-of-the-art Technogym fitness center, Apple equipped drawing room, Dux beds by Duxiana, Fresh Spa Products, and a two-story, 130-seat artisanal American grill, The Wayfarer, showcasing a menu of fresh regional seafood. Quin Arts is an interactive arts program that celebrates the property's rich artistic heritage and produces exciting new platforms for contemporary artists. Renowned architecture and interior design firm, Perkins Eastman, has transposed a contemporary masterpiece on the classical foundation that was once home to cultural icons like pianist Ignacy Jan Paderewski and artist Georgia O'Keeffe. Resonating with refined repose, the Quin is the Quintessential New York Hotel.