Three Olives Vodka Honors 'The King of Rock and Roll' With the Launch Of 'Elvis Presley' Coconut Water Flavored Vodka
One of the U.S.'s Fastest Growing, Imported Vodka Brands Pays Tribute to Elvis Presley's Love Affair with Hawaii, His Legendary Style and Unforgettable Performances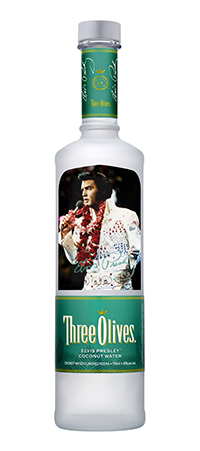 In honor of Elvis Presley's long-standing love affair with Hawaii, Three Olives, a super-premium vodka brand, introduced today its first-ever coconut water flavored vodka. The new flavor offers fans a chance to pay tribute to the King of Rock and Roll's supreme talent, charisma and good humor that endeared him to millions worldwide. Combining delicious, imported vodka from England with the tropical taste of coconut water, the new flavor is both refreshing and unique.
American singer, musician and actor known the world over by his first name, Elvis is regarded as one of the most influential figures of twentieth century pop culture. From his first visit in 1957 to his final vacation in 1977, he travelled to the Islands of Hawaii on numerous occasions to make movies and perform live musical shows. Featuring white sandy beaches, surfing and beautiful sunsets, Elvis instantly fell in love with the beauty of these tropical islands, as well as the hospitality of the people of Hawaii.
"Fans of Elvis Presley know how much his 'Hawaii' years molded him into the superstar icon he is today," said a spokesperson for Proximo Spirits, the brand's owner. "More relevant today than ever before, Elvis left a legacy that continues to excite fans all over the world. We are excited to join other industry trades and brands to honor this superstar icon with a flavor that celebrates his absolute love of Hawaii. Three Olives Vodka's new 'Elvis PresleyTM' Coconut Water Flavored Vodka is a perfect addition to our brand's existing premium vodka flavor portfolio."
Three Olives 'Elvis Presley' Coconut Water Flavored Vodka will be introduced in March 2014, with nationwide distribution available in all sizes and priced at $21 per 750 ml. In addition to 'Elvis Presley' Coconut Water Flavored Vodka, the Three Olives Vodka portfolio currently includes a variety of more than 22 flavors. For more information, visit www.threeolives.com.
Quadruple distilled from English Winter Wheat, Three Olives Vodka delivers an exceptionally smooth, superior tasting vodka perfect for the ultimate martini or cocktail.
"The Elvis"
Ingredients:
2 parts Three Olives Elvis Presley Coconut Water Vodka
2 parts pineapple juice
Splash of club soda
Directions:
Mix all ingredients in a rocks glass filled with ice.
Stir & garnish with a slice of pineapple.
About Three Olives Vodka
Launched in 1998, Three Olives Vodka is the ultimate expression of an imported luxury brand. Inspired by the classic vodka martini served garnished with olives, Three Olives is made from the finest wheat harvested in England and undergoes quadruple distillation and filtration to produce a smooth and elegant taste. Three Olives offers a classic, unflavored vodka as well as over 22 distinctly flavored vodkas. Visit threeolives.com for more information.
About Authentic Brands Group
Authentic Brands Group, in partnership with Leonard Green & Partners, is an intellectual property corporation with a mandate to acquire, manage and build long-term value in prominent consumer brands. Headquartered in New York City, ABG's mission is to further enhance brand equity through partnering with the best-in-class licensees and direct-to-retail partnerships. ABG brands include Marilyn Monroe, Muhammad Ali, Elvis Presley, Juicy Couture, Judith Leiber, Adrienne Vittadini, Taryn Rose, Hickey Freeman, Hart Schaffner Marx, Palm Beach, Misook, Prince, Spyder, Ektelon, Viking, Bobby Jones, TapouT, Sportcraft.Visit www.abg-nyc.com for more information.
Elvis Presley is a trademark of ABG EPE IP LLC. Rights of Publicity and Persona Rights are used with permission of ABG EPE IP LLC. elvis.com
Save