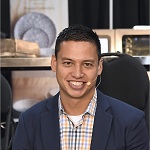 by Debbie Hall
Cover photo by Drew Beamer
Food & Beverage Magazine stands with everyone during this trying time in the world, especially in the hospitality industry. In a series of articles both in the magazine and online, industry insiders will offer information, resources, and tips to get through and remain in business while serving food and beverage.
Food & Beverage Magazine spoke with Jeremiah Batucan, Conference Director and Industry Relations | Bar & Restaurant | Nightclub & Bar Show. Batucan leads digital and content for the Nightclub & Bar Conference and Media Group. He offers 10 years of experience in the media and events industry along with 12 years working full-time and moonlighting in restaurants and bars. Batucan shares his insights and thoughts as well as helping those in the industry.
States have closed down restaurant businesses as non-essential. What advice would you give a restaurateur with a brick and mortar business?
Jeremiah Batucan: First and foremost is to pursue every option available for your staff. While we all wish we were Mark Cuban and could foot the bill, many small business owners themselves are looking at a bleak few weeks. Over-communicate options for securing unemployment, grants, and other services your state/city may be offering as relief. This will go a long way for when bringing them back on. Some bars are having a sell-off day donating all of the profits to the staff.
From a business perspective, delivery and take-out can still generate good revenue, especially when your competition doesn't have sit-down either. Grubhub is waiving the first $100 million in delivery fees to make it more economical. When marketing, you are still open for delivery and take-out, make sure to take advantage of your most loyal customers. If there was ever a time to leverage your database, this is it. Your most loyal customers are the ones that like your food, your service, and have a vested interest in seeing your business succeed.
If your operation has to close because you cannot serve food or the operational cost is too high, consider selling gift cards and asking your loyal customers to purchase them as a way to help you stay in business. Look for SBA loans and city programs to help bridge you until stores start to reopen.
A suggestion has been made instead of using a third party delivery service; to keep staff working, have them deliver. What do you think of this idea?
Jeremiah Batucan: It's a great idea, but there are a few things to consider.
Does your insurance policy cover your own delivery drivers?
Consumers are getting used to third party services. How will you get them to come to you directly? If you do it right, it might even be a long-term strategy for your operation to limit the reliance on the third-party folks and their commissions.
Make sure you are paying these employees properly in accordance with state and federal laws.
If you haven't done delivery before, make sure you consider food safety. Make sure to consult all of these points with your attorney and local jurisdictions. You can even look to share drivers/employees with nearby businesses, but with many third-party platforms waiving fees, the least path of resistance lies with them.
What about using videos to showcase transparency on cleanness?
Jeremiah Batucan: Videos are great communications tools, especially in times like these, but be careful. Most consumers are not familiar with back-of-the-house operations, and while clean, every surface and piece of cooking equipment may not still be sparkling and shiny. Make sure that everything you are filming is something that, to the layman, looks clean and safe. According to research by Dataessential, the number one factor that would put guests more comfortable to dine out was "regularly/visibly wiping down tables, kiosks, and other items people touch." Play into this by highlighting checklists, timed wipe downs, and/or video of surfaces being cleaned.
Or focus on the fact you have extra staff to provide them a wage during these times and is used to support extra cleaning. It's great PR and marketing in one.
Should operators re-negotiate their leases now with anticipation that they will need 3 to 6 months to recoup losses?
Jeremiah Batucan: Absolutely, and the worst your landlord can say is "no." Many landlords know this is likely temporary, and they don't want to lose you because they know it will be very hard to replace any food and beverage business right now. However, if you happen to have a great lease in a location that has vastly improved, be very careful not to lose your operation by being late. Review your lease twice to see there are no clauses that can trigger an early termination by late payments. While your landlord may be your friend, any reduction in rent or payment forgiveness needs to be in writing and signed by both parties to protect yourself. Always seek the advice of a real estate broker and/or an attorney that you trust on this matter.
Do any states allow the delivery of mixed cocktails? Is this even an option?
Jeremiah Batucan: Even if your state doesn't allow delivery of alcohol, create an everything-but-the-booze mix where all they have to do is add their favorite spirit. This gets around many of the laws that are in place. New York is interesting as they passed a special measure to allow cocktails to go. PDT is a great example of providing their most popular cocktails in to-go packages.
What about catering box lunches or box dinners if the operator has not incorporated that aspect into his business before?
Jeremiah Batucan: This makes sense as long as doing that kind of catering isn't antithetical to your brand. For example, a fancy French restaurant might not be the right company to do boxed sandwiches and chips. However, if it's a matter of survival, then do what necessary to bring revenue in the door. If you've never done this kind of work, don't sacrifice the reputation of the business with a shabby product or poor execution. Make sure your food travels and sits well since many of those orders won't be eaten right away. Keep in mind; there might be fewer opportunities here since many offices are now closed for the time being.
What other tips can you give?
Jeremiah Batucan: Take care of yourself. Take care of your staff. And take care of your business. This is going to be an incredibly stressful time for everyone, especially restaurant owners and operators. Make sure you are still exercising, getting enough sleep, and other steps so that you are ready to go when everything gets back to normal. No one knows how long this will take to resolve, but whenever that is, you want to be in a good position to take advantage quickly. Try to surround yourself with positive mentors, colleagues, and teammates. This may require taking a break from the news and social media. Stay vigilant and resilient; this industry is made of the best of them.
Nightclub & Bar Convention and Trade Show is celebrating 35 years as the largest three-day trade conference showcasing the tactics, products, and people changing face of the hospitality industry. Nightclub & Bar has been providing the specific tools bar and restaurant owners, operators, and managers need to grow their businesses, compete, and succeed in this hyper-competitive and dynamic industry. Nightclub & Bar Show is part of the Bar & Restaurant Group, a division of the Questex Hospitality Group. The show has been rescheduled for June 23-24 in Las Vegas.
For more information on the 2020 Nightclub & Bar Convention and Trade Show, visit www.ncbshow.com.