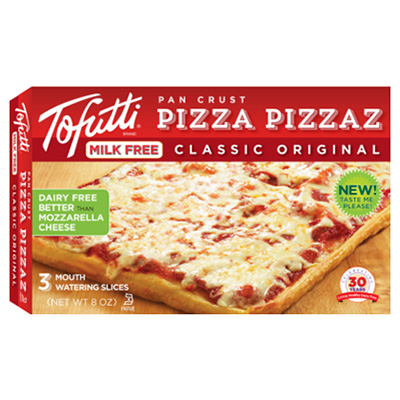 Millions of lactose intolerant and vegan consumers are now free to enjoy the taste of pizza.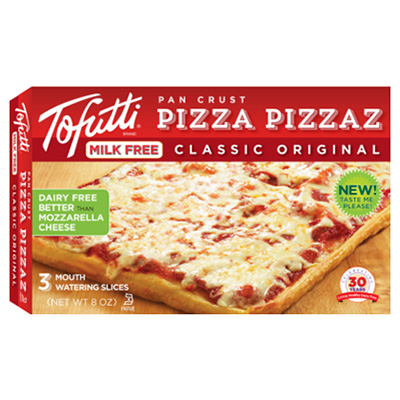 Tofutti Brands, the company that has pioneered a premium line of dairy-free cheeses and desserts, is expanding its frozen food line with the introduction of a new line of dairy-free pizzas, named Pizza Pizzaz. The new Tofutti frozen pizzas will be available in stores throughout the US this month. Classic and four-cheese pizza will debut in stores immediately.
Using Tofutti's dairy-free mozzarella cheese, combined with a delicious pan crust, Tofutti Pizza Pizzaz offers an authentic yet healthy pizza. Great for adults and children who love the taste of pizza but are allergic or looking for a healthier alternative, Tofutti Pizza Pizzaz is sold three squared slices to a package. In addition to being vegan, Tofutti's Pizza Pizzaz frozen pizzas are cholesterol-free, butterfat- free and dairy-free.
"There are an estimated 100 million Americans who are either lactose intolerant or lactose sensitive. The Vegan population in our country continues to grow. The launch of the Tofutti Pizza Pizzaz line will give those who previously were unable to eat cheese pizza the freedom to enjoy the delicious taste of pizza in different varieties," said David Mintz, Founder and President of Tofutti Brands.
Pizza Pizzaz Classic Cheese Pizza offers a delicious dairy-free mozzarella cheese topping and Tofutti Pizza Pizzaz Four- Cheese pizza is deliciously topped with dairy-free Mozzarella, Cheddar, Feta and Ricotta cheeses. Tofutti is currently developing additional flavors to the Pizza Pizzaz line and will announce them in early 2014.
About Tofutti Brands
Founded by restaurant owner David Mintz, Tofutti Brands, Inc. is a proven innovator in the food industry and has developed a full line of delicious and healthy dairy-free foods. Tofutti sells more than 80 milk-free foods including frozen desserts, cheese products and prepared dishes. Available throughout the United States and in more than 30 countries, Tofutti Brands answers the call of millions of people who are allergic or intolerant to dairy, diabetic, kosher or vegan and gives them the freedom to enjoy a healthier low-fat diet. Tofutti's product line includes dairy-free ice cream pints, Tofutti Cutie sandwiches and novelty bars. Tofutti also has a growing array of prepared foods including Mintz's Blintzes, and a Cheese Ravioli line, all made with Tofutti's milk-free cheeses such as Better Than Cream Cheese, Sour Supreme and Veggie Cheese Slices. For more information, visit www.tofutti.com.