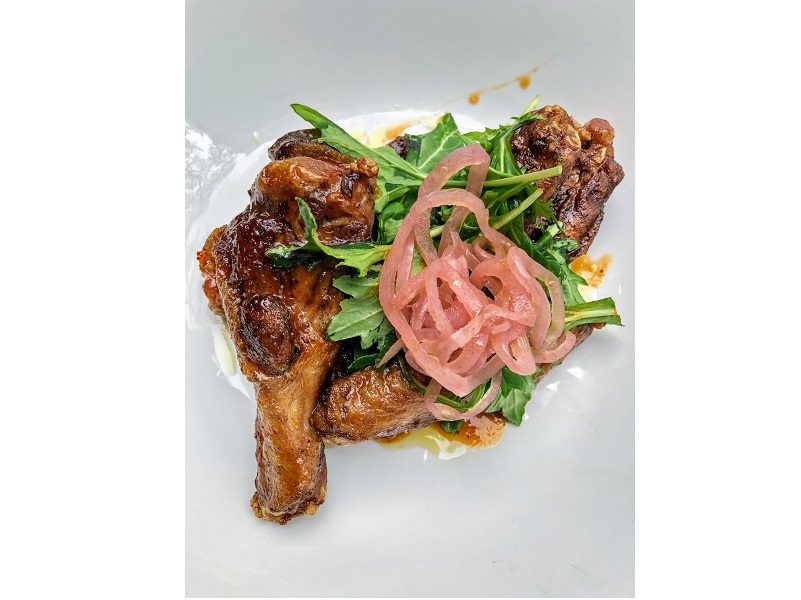 Bayou Bar | Duck Wings (New Orleans, LA)
Host the ultimate Game Day gathering with Chef Brian Landry's succulent Duck Wings with homemade white BBQ sauce. These flavorful wings rose to fame at Bayou Bar, New Orleans' tavern-style bar that once served as a drinking den for both Sinatra and Capote.
Compère Lapin| Hot Fire Chicken & Biscuit Sliders (New Orleans, LA)
James Beard: Best Chef South Nina Compton cheers on her New Orleans Saints with these bite-size sliders that offer up the perfect amount of heat. Serve with some B+B pickles and a beer for the perfect tailgating party.
Wild Fork Foods (Multiple Locations)
Wild Fork Foods are offering pre-seasoned meats in the Tailgate Bundle just in time for football pre-season including classic tailgate items such as ribs, steaks, burgers and finger foods perfect for game-day gatherings. Patrons should take advantage of the Ultimate Tailgate Bundle Giveaway to win a $250 value of products perfect for the season. Launching in early-September, the giveaway will last 5-weeks with one bundle giveaway per week. More details about the giveaway will be available online at their website www.wildforkfoods.com.
Toups Meatery | Boudin Balls & G.D. Michelada Cocktail (New Orleans, LA)
Chef Isaac Toups, James Beard Finalist, Bravo TV's "Top Chef" season 13 "Fan Favorite" and owner of Toups Meatery in New Orleans, loves making boudin balls for game day tailgating. These little bites of heaven are easy to eat and go great with some pickle slices and a beer or michelada. Toups Meatery Beverage Director Kenny Watson stirs up a tart and spicy G.D. Michelada Cocktail recipe that is sure to enhance the game. Pickled jalapeno juice will no doubt start the fire, while a cool splash of lime juice will help balance it out.
Matchbox | Mini Burgers (Fort Lauderdale, FL)
Executive Chef Cesar Fernandez of Matchbox has shared an easy, quick and delicious recipe just in time for tailgating season. These mini burgers are perfect for sharing with a group of people and will elevate your tailgate to the next level!

Mister Mao | Mexican Corn Dip (New Orleans, LA)
Chef Sophina Uong, owner of Mister Mao in New Orleans, joins the game with her bubbly hot Mexican Corn Dip appetizer. This dish can be heated on a grill or in the oven and eaten with a ton of tortilla chips or Takis.
L.A. Jackson | More Life & Riot Punch (Nashville, TN)
Take your pick of game day cocktails between More Life or Riot Punch. More Life is a twist on a spicy margarita and Riot Punch is a boozy variation of a classic rum punch. Either one is sure to quench your thirst on game day.

The Bower | Whipped Feta Spread (New Orleans, LA)
The Bower's Executive Chef Marcus Woodham loves serving Whipped Feta as an elevated Game Day treat. Smooth and creamy served with pita bread, chips or sliced cucumbers; guaranteed to impress your guests.
The Bower Bar| Wrong Way Home (New Orleans, LA)
Drink enough of this cocktail on game day you WILL be going the wrong way home! This cocktail offers a fresh taste with Giffard Passionfruit, lemon juice, Sazerac Rye and a sprig of thyme.
Virgin Hotels New Orleans| Peach Picked (New Orleans, LA)
Just a stone's throw from the New Orleans Superdome where the Saints play, Commons Club and The Pool Club offer an array of pre- and post-game day festivities. Enjoy the winning cocktail, Peach Picked – a creative combination of George Dickel Tennessee Whiskey, Peach Puree, Lemon Juice, Simple Syrup and a splash of Iced Tea.