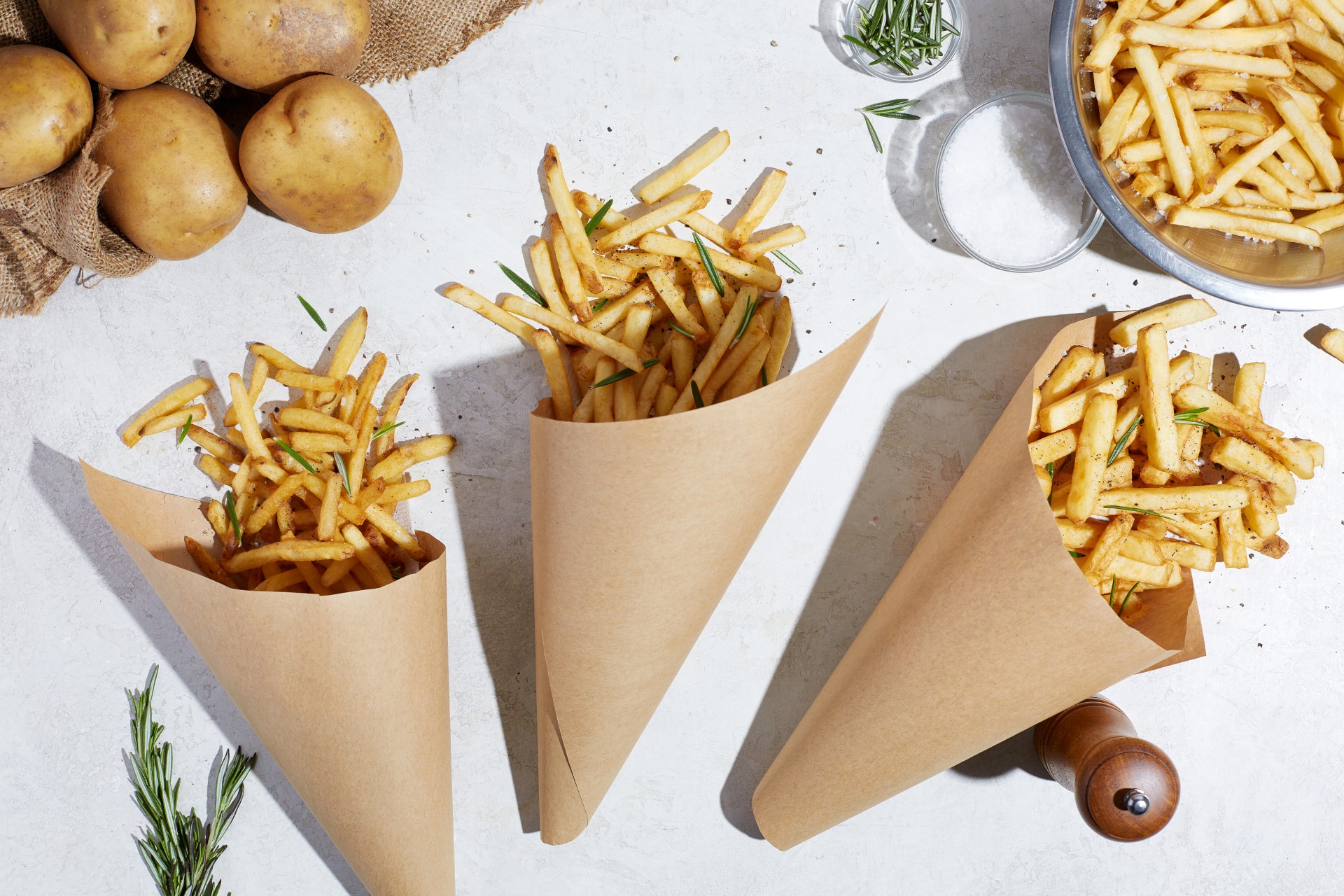 The Chipperbec potato branded concept was developed about 15 years ago as a prospective program developed from restaurant roundtables and input from chefs. Matt Hornbuckle, one of the creators and Director of Food Service, Sales and Marketing for Chipper Inc, an Allied Potato Inc Company, then dreamed of providing quality frying potatoes as the ultimate farm-to-table experience. The Kirschenmann Family created the concept of using the potato for restaurants in Bakersfield, California, circa 1980, supplying In-N-Out Burger. In 2015, with the help of Chicago restauranteurs, Hornbuckle coined and gave birth to the world-class Chipperbec branded potato.
One of Chipperbec's clients, Baldor Specialty Foods, is known as the east coast food distributor of choice for premium restaurants and food service partners.
"We have four distribution centers with our headquarters based in the Hunts Point area just outside New York City," explains Emily Murphy, Director of Specialty, Grocery and Dairy Merchandising for Baldor Specialty Foods. Their other facilities are located in Boston, Philadelphia, and Washington, D.C. "We are fielding demand solutions from several markets across a broad customer base, our eyes and ears are always open to new product lines, and we are now expanding what we offer to our customers with new growing demands and solutions needed with a changing restaurant scene."
There are many reasons Baldor and Chipperbec have evolved the partnership, working together for a number of years, including shared core values.
Baldor's sales team works hand in hand with the kitchen teams of clients. When a customer reaches out looking for a value premium French fry, Baldor's sourcing team turned to Chipperbec to start curating a lineup of cuts and formats.
Fresh Chipperbec potatoes were the first food product sourced and sold to Baldor, followed by a produce fresh house. "Our two companies, grower and consumer, have grown into an exceptional relationship," says Hornbuckle. "We offer innovation, supply chain solutions, and develop products desired by Baldor's customers."
Chipperbec and Baldor have evolved to meet customers' demands as trends grow and tastes change. The food industry in New York City usually leads the country in trends which gives Baldor a "finger on the pulse" for upcoming demands. Baldor considers itself the "to" in the farm-to-table concept.
"Chipperbec helps us with our role and responsibility to deliver what the customer wants, needs, or even doesn't know they need it until we deliver it," says Murphy.
When Hornbuckle and Murphy connected in December 2021, Chipperbec highlighted its frozen fries products to Baldor, which in turn sold to its clients.
"The frozen fry took off, and we are so pleased with the results," states Hornbuckle. The newest trend is sweet potato fries, and consumers request Chipperbec's sweet potato product.
Convenience, retention of vitamins and minerals, and longer shelf life are some of the reasons restaurants and chefs purchase frozen foods. Chipperbec Potatoes, the gold standard of frying potatoes, offers a line of frozen frying potatoes with its newest offering, sweet potato fries.
Chipperbec's line of frozen potatoes is full of flavor and can add profits, value, availability, and usability. Fresh-cut potatoes would be perfectly sustainable for restaurants serving about 50 daily. However, for more traffic (the number of customers served), the solution is their frozen potato products. They can offer fries while being efficient, reducing waste, and increasing the bottom line without sacrificing quality or taste.
An innovative think tank approach allows Chipperbec to develop innovative products to serve their clients, such as Baldor. A partnership with a manufacturer, grower, processor, and packager such as Chipperbec can offer a unique craft-style model for every client.
"We provide a very personal touch," says Hornbuckle. "The larger, main-stream companies don't have the bandwidth or capacity to do these types of projects on a small scale."
"Our relationship with Chipperbec is just shy of being vertically integrated with a lot less risk," adds Murphy. "They [Chipperbec] are so in tune with our clients and us, listen to their demands, and are able to do research and development quicker than some of the larger entities held up on efficiencies rather than innovation."
Chipperbec can process and craft frozen-fried products efficiently while following clients' requirements. As a one-stop shop from growing to packaging the final product, the personal relationship developed increases the success of the product developed.
Other trends currently evolving include avocado toast which is now being prepared using a vegetable or root base instead of bread. This would include sweet potato planks topped with various avocado blends.
"We would love to introduce a true European bistro fry, ultra-lux fried in duck fat. Chefs would go nuts for this option; I just know it," says Murphy.
"There are also tallow-fried French fries that are delicious," adds Hornbuckle. "We are exploring the possibility of developing a duck fat or tallow frozen French fry."
The founders' vision is that Chipperbec Potato is globally the No. 1 frying potato.
For more information, visit chipperbec.com and follow on Facebook @ Chipperbecpotatoes, Instagram @ chipperbec_potatoes, and Twitter @chipperbec.