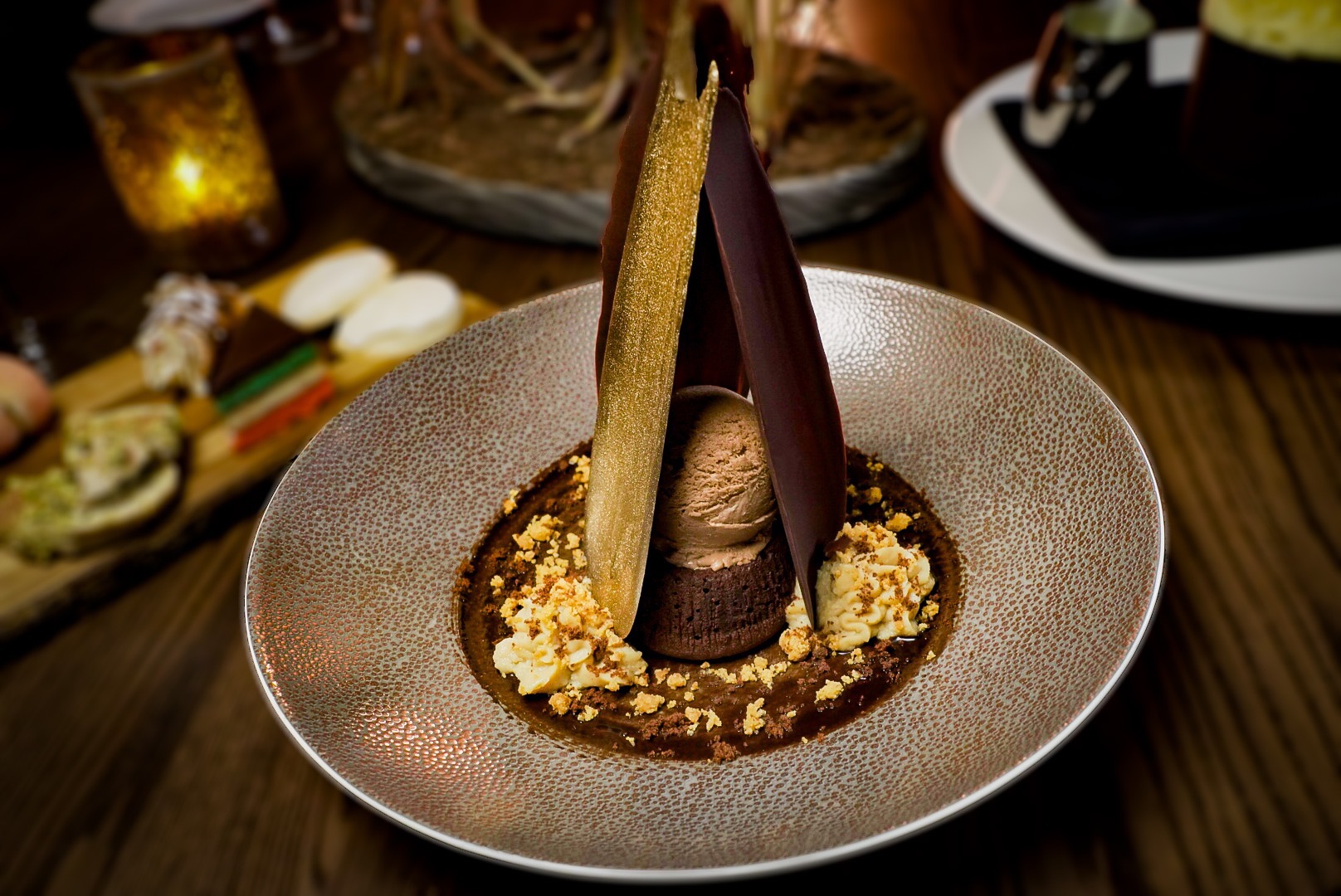 The four-time James Beard award winner Chef Todd English is genuinely a renaissance man, intensifying the culinary landscape while expanding his reach in the food and beverage industry. He calls Las Vegas home, moving to Southern Nevada during the heart of the pandemic. He loves the Strip and surrounding areas as he prepares to launch four big projects incorporating his adopted city as part of his international base.
"As the famous quote says, 'The Show Must Go On,' and I had three projects in the works, and I was also building a house. I had been doing business in Las Vegas for a long time, opening Olives at the Bellagio Resort in 1998. In 2020, business was on pause. As the world opened back up, it made sense for me to move to Las Vegas. I have discovered there is so much more to Vegas than the Strip," says Chef English.
His current Las Vegas restaurants include The Beast at Area 15 and Olives at Virgin Hotels Las Vegas (Curio Collection by Hilton). Part of his commitment to the Las Vegas community is the opening of The English Hotel (theenglishhotel.com) in the Arts District as part of the renaissance of downtown Las Vegas. Guests can enjoy world-class restaurants, The Pepper Club, and Olives at his new establishment.
The English Hotel combines a 74-room boutique resort with a swimming pool, and courtyard lounge, incorporating hospitality, lodging, dining, and beverages. The rooms are cozy, stylish, and pet-friendly, with patios and cocktail carts with recipes by Chef English. The Pepper Club features Japanese-influenced cuisine. As for the name The Pepper Club, "Food was my inspiration when we named our beloved dog Pepper. When it came time to name the restaurant, Pepper became the focal point of inspiration."
"I have always wanted to open a boutique hotel and almost closed on a deal 10 years ago," he explains. "I like all aspects of the hospitality industry, so this is a natural fit for me."
He incorporates his philosophy of excellence in service, food, rooms, and delivery in all aspects to create an excellent experience for the guests.
Chef English enjoys the challenge and fun of leaving his comfort zone and creating new experiences, which explains the differences in all his restaurants. He wants to develop new concepts, themes, and experiences while staying true to his vision.
This would explain the longevity of Figs, celebrating 30 years of serving guests in the Boston area with other locations in Charlestown, Massachusetts; Queens, New York; and Aventura, Florida.
Todd English's Figs is a casual bistro serving comfort food, including his specialties of the traditional and eclectic thin-crusted, free-form pizzas topped with a variety of ingredients and baked in wood-fired ovens. Handmade pasta using the finest ingredients is also featured on the menu, as well as salads and homemade desserts.
"I love all of my restaurants like my children, but I have to admit that I have a near and dear spot for Figs," Chef English says. "Boston has a long history with pizza with its strong Italian community and its own pizza culture that we respect and introduced around the world."
With his long relationship in the food industry in New England, Chef English has collaborated with Nutré Meal Plans (gonutre.com/todd-english) as its first celebrity chef as a partner. Now households in New England will be able to order delectable meals from Chef Todd for home delivery through Nutré Meal Plans.
"Frozen food offers convenience and better choices when people are hungry but need to eat on the run or just don't feel like preparing a meal. We are focusing on 'Blue Zone' meals that offer qualities of healthy eating and are nutritionally sound. Coming out of the pandemic, people are now focusing more on health and wellness."
Chef English appreciates the opportunities to continue his legacy in the hospitality industry with restaurants in Las Vegas and the Bahamas with Olives, Todd English Pub in Birmingham, Figs in Boston, BlueZoo in Orlando, Tuscany in Connecticut, and MXDC in Washington, D.C. He is developing a Greek restaurant that he is excited about as he collaborates with a partner whose grandfather opened a Greek restaurant in New York City in 1910. Chef English is also working on developing The Pepper Club in Miami and other new restaurants in cities including Memphis, Philadelphia, and Washington D.C., as well as a burger popup in Dubai.
He gives back, including his foundation, the Wendy English Cancer Research Foundation LTD, honoring his sister, who passed from cancer. Chef Todd also supports No Kids Hungry and Meals on Wheels and others focusing on food insecurity.
Chef English continues redefining the hospitality industry while growing his universe of curated food, recipes, concepts, and cocktails. To become part of his world, visit toddenglish.com and follow on Facebook @ ChefToddEnglish, Instagram @ cheftoddenglish, and Twitter @ cheftoddenglish.