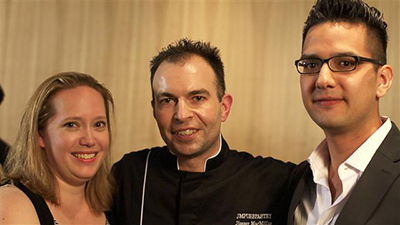 Meg Galus of Chicago and Jim Hutchison of Connecticut tie for the top spot in finale episode released Monday, April 21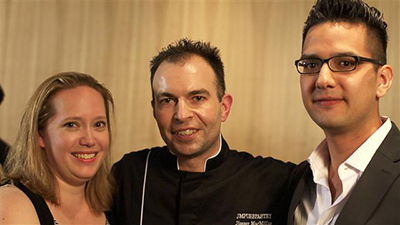 Pastry chefs Meg Galus of NoMI Restaurant at Park Hyatt Chicago in Chicago and Jim Hutchison of Winvian Relais & Chateaux in Morris, Conn., tied for first place in Season Three of the Emmy-award-winning Chicago Restaurant Pastry Competition (CRPC). The fourth and final episode of Season Three was released Monday, April 21 at midnight CST.
"This was our closest finale ever, as all four contestants have a very high level of skill and there was not a clear winner," said event organizer and Dessert Professional Top Ten Pastry Chef Jimmy MacMillan. "There was a lot of emotion and the judges had differing opinions on who had the best dish in each category. It really came down to the Signature Dessert being the deciding factor. Meg and Jim really stood out for the overall design, look and taste of their signature desserts. Less than one point separated their final scores, which led us to call our first-ever tie."
MacMillan added, "The purpose of this competition is to spread the word about high-quality pastry and Meg and Jim truly embodied that spirit in how they dealt with the challenges and effectively used the ingredients. They put their heart on a plate."
"I'm honored to be a winner," says Galus. "As a pastry chef, you do competitions because it's uncomfortable. You don't do it for the recognition or accolades, but to get out of your comfort zone and push yourself."
Hutchison says he is proud of himself and excited to be a winner this season. "I'm really happy I participated in this competition because I was able to showcase my work and how I like to present flavors and textures."
Galus and Hutchison's competitors were pastry chef Sean Pera of The Umstead Hotel & Spa in Cary, N.C., and pastry chef Michaela Hapak of Splendido Restaurant in Toronto, Ontario.
The final episode features:
Scenes from a gelato garden party at The Chicago School of Mold Making
A final look at the chef finalists putting finishing touches on their Signature Desserts
The competition closing at Grace restaurant in Chicago with:

A interview discussing the importance of the CRPC with Curtis Duffy, chef and owner of Grace
Preparation of sweet and savory hors d'oeuvres by Chef Curtis Duffy's team from Grace
Pastry industry VIPs enjoying cocktails and bites to the music beats by DJ Kwest_on from Freedom Dance Party Chicago

The winner announcement by the CRPC creator and executive producer, Chef Jimmy MacMillan
This year's celebrity judges were superlative Pastry Chef Antonio Bachour from St. Regis Bal Harbour in Miami, Curtis Duffy from acclaimed restaurant Grace in Chicago, and avant garde globe-trotter Will Goldfarb representing Ku De Ta in Bali.
The CRPC is a weekend-long event featuring three pastry challenges that was filmed live in September 2013 at The Chicago School of Mold Making's creative center in Oak Park, Ill. Dubbed CRPC3 "International," this season is the first year the competition was open to chefs from around the world.
Season Three of the CRPC is made possible with the support of more than 10 sponsors including: Nielsen-Massey Vanillas, a manufacturer of the finest vanilla products and flavor extracts; Waring Commercial, a manufacturer of professional-quality appliances for the home, foodservice and laboratory industries; Steelite International, a manufacturer and supplier of tabletop ranges for the international hospitality industry; Wholesome Sweeteners, a leading provider of sustainable, environmentally and ethically responsible, great tasting sweeteners; PreGel AMERICA, a specialty dessert ingredients company; Midwest Foods, a specialty produce food distribution company; Will Powder, a producer of technical food ingredients; Frigomat, a company that manufactures ice cream machines; deZaan Gourmet, a producer of premium chocolate, cocoa powders, cocoa butter, chocolate batons, pralines; and CliftonLarsenAllen, a professional services and accountancy firm; and more.
About The Chicago Restaurant Pastry Competition
The Chicago Restaurant Pastry Competition (CRPC) is a two-time Emmy award-winning pastry competition that is aired in a series of online videos. The competition asks four chef finalists to make an original, unique, plated dessert and compete in two mystery challenges. All episodes of the Chicago Restaurant Pastry Competition are filmed at The Chicago School of Mold Making's creative center in Oak Park, Ill.
The Chicago Restaurant Pastry Competition has received a number of accolades for its content and film style, including two Chicago Midwest Emmy Awards, a Telly Award, two Communicator Awards and two Hermes Awards. The videos were nominated for a 2013 James Beard Media Award. The video series has received over 50,000 views worldwide.
JMPurePastry, the Executive Producers of the series, is a Chicago-based pastry solutions group specializing in high quality, well-designed media products for the restaurant, baking and hospitality industry.
For more information and updates on the Chicago Restaurant Pastry Competition, visit www.JMPurePastry.com