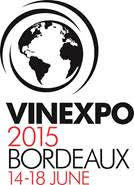 The world's leading show for wine and spirits professionals, Vinexpo 2015 has designated the U.S. as its first-ever Country of Honor – a distinction that will give the American wine industry maximum exposure throughout the show. Themed "Taste the Unexpected," Vinexpo 2015 will be held June 14-18 at Bordeaux's Parc des Expositions, overlooking a scenic lake and just minutes from the historic town center and some of the world's most storied vineyards.
Special events throughout Vinexpo 2015 will shine a spotlight on the U.S. wine industry. American wineries will be showcased in the center of the exhibition area, which will feature as many as 2,400 exhibitors from 44 wine- and spirits-producing countries around the world.
The Country of Honor designation acknowledges the U.S.'s ascendancy as the world's top wine-consuming nation. A 2014 Vinexpo-commissioned study by International Wine and Spirit Research revealed that in 2011 the U.S. surpassed France and Italy to lead the world in wine consumption in both volume and value. The study, which analyzed results from 2007-2012 to forecast market trends through 2017, also reported the following:
The U.S is the third largest wine importer worldwide, including still, light and sparkling wines.
The U.S. is the fourth largest wine producer in the world and the sixth largest exporter.
Between 2012 and 2016, American annual wine consumption is projected to grow by more than 12 percent, or 40.5 million cases.
Consumption of spirits in the U.S. reached 190.87 million cases in 2011 (up 7.6% from 2007), and should increase by another 8.7% by 2016. Vodka, rum and bourbon are the top-selling spirits in the U.S. market.
The U.S. is the world's largest market for tequila, well ahead of Mexico.
A prominent U.S. presence among buyers and exhibitors
Held in Bordeaux every odd-numbered year, Vinexpo drew 48,000 professional visitors in 2013, of which Americans represented the second largest segment of international attendees. The U.S. continues to rank among the top 10 exhibiting countries, and the 2013 show was no exception with wineries from California, Washington, Oregon, Arizona, Texas, New York, and Connecticut well-represented on the exhibition floor.
An American in "Little Paris"
Apart from a full schedule of workshops, conferences, and networking events, Vinexpo participants can spend their leisure time exploring this lively riverside city, nicknamed "Little Paris" for its classic stone architecture and cosmopolitan flair. The UNESCO World Heritage List has singled out Bordeaux's historic center as "an outstanding urban and architectural ensemble," whose myriad attractions include the 17-arch Pont de Pierre bridge, Public Gardens, the neoclassical Grand Theatre, a wealth of museums, and shop-lined Rue Sainte-Catherine – Europe's longest pedestrian street. Venturing outside the historic center, visitors can tour the world's second-largest wine-growing region, whose prestigious vineyards include, among others, Canon Fronsac, Saint Emilion, Médoc, Graves and Sauternes.
About Vinexpo
Founded in 1981, Vinexpo has evolved into the world's leading show for wine and spirits professionals and a partner for the wine and spirits industry worldwide. Vinexpo is held in Bordeaux in odd-numbered years; since 2006, Vinexpo Asia-Pacific has taken place in Hong Kong in even-numbered years and has become the key exhibition of the industry in Asia. Before each exhibition, Vinexpo commissions studies on industry-specific issues and presents the findings in conferences around the world. Since 1999, it has produced a world market study with a five-year outlook, as well as a variety of trend reports. For more information, visit www.vinexpo.com.