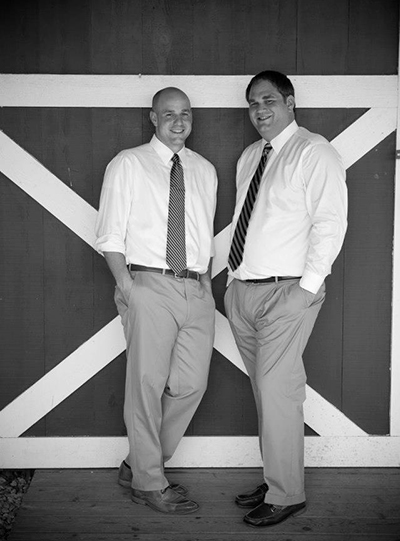 "You're going to do what?" That's how Mom responded to the news that her two nice Jewish boys from Short Hills, NJ, were going into business with a family of rednecks from Yazoo City, MS. Don't get me wrong Mom & Dad had grown to love the Ubons BBQ Family over the past 7 years. In fact, we had become one big family, but this news took them by surprise. David & Adam Rosen had been Members of the New York Mercantile Exchange for years. They owned a brokerage business, Rose Trading Corp., and were market-makers in the crude oil & natural gas options trading pits. Prior to that, David was an associate at Sullivan & Cromwell LLP after having graduated NYU Law & PSU undergrad. Adam had graduated from American University and went straight to the NYMEX. So, to find out that the Rosen Boys were leaving finance, the fast-paced action packed life of an open-outcry trader, to go into the slow & low BBQ and Bloody Mary business was a total shock to our parents.
The wheels were set in motion back in 2005 when the Rosen's met the Ubons BBQ Family at the Big Apple BBQ Block Party in Madison Square Park, NYC. It was a purely chance meeting that resulted from the "notorious hospitality" of Ubons. It was the day that would remap the Rosen Boys' path through life.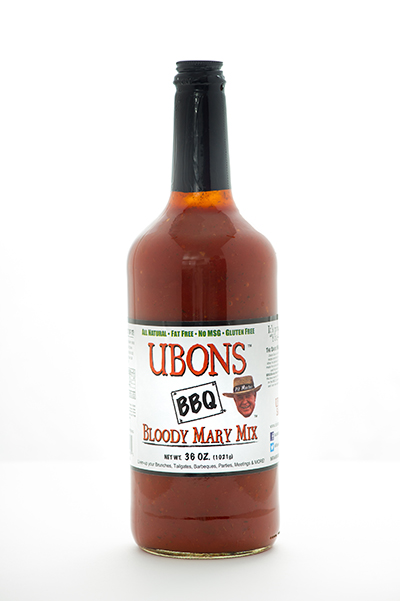 Ubons has been competing and winning BBQ Championships since 1989. Ubons has won 1st Place in the Shoulder Division at the Memphis in May World BBQ Championship as well as hundreds of other contests and has been the "BBQ Team of the Year" many times. The Ubons Bloody Mary concept was first developed by Legendary PitMaster Garry Roark, in Yazoo City, MS approximately 20+ years ago. It began as a way for Garry to extend hospitality to our BBQ Friends & Family at BBQ competitions & events. Over the years, it has become somewhat of an institution. Ubons always welcomes other competitors and event attendees who stop by our competition booth to enjoy a Ubons Bloody Mary.
After forming Ubons Sauce LLC in 2012, and a brief stint trying to sell Ubons 5th Generation BBQ Sauce in an extremely saturated market, in January 2013 we launched Ubons BBQ Bloody Mary Mix followed by Ubons PitMaster's Hot & Spicy Bloody Mary Mix this past January. Before launching our Bloody Mary mix we knew that our biggest obstacle was separating our mix from all the others on the market. We knew that our brand, Ubons, was already a Championship name and very well known in the BBQ world. We quickly developed a plan to build the best Bloody Mary ever. Our simple plan proved to be effective: build a brand of 100% All Natural & Gluten Free Bloody Mary Mixes that are the thickest available and packed layers of flavor with fresh, bold taste. People continually ask us how we get our mix so thick without any thickening agents, we tell them the answer is simple, we cook it and let it reduce-down.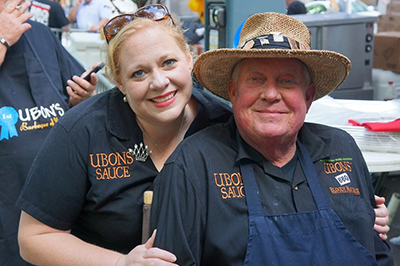 Both varieties of our mix, Ubons BBQ Bloody Mary Mix & Ubons PitMaster's Hot & Spicy Bloody Mary Mix incorporate traditional Bloody Mary flavors with bits of garlic & onion flake, celery seed, cayenne pepper and flavors of our 5th generation, World Championship Ubons Sauce and the flavors of fresh dill pickles. They are both, 100% All Natural, Gluten Free, No MSG, No Chemicals, No Colorings, No Corn and No Soy based ingredients. They are priced competitively against the mass produced, garbage laden watery mixes and packaged in a true 1 Liter (33.814 FL OZ) glass bottle UBONS BBQ Bloody Mary Mix is packaged in a true 1 Liter (33.814 FL OZ) glass bottle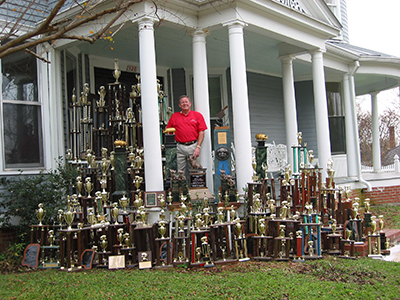 Ubons Bloody Mary Mix has been authorized at the Bellagio in Vegas, Hard Rock Hotel in Vegas, the Tropicana in Evansville, IN, the Westgate Resorts in central FL, Trump National Golf Club in Coltsneck, NJ, Guy Fieri's American Kitchen & Bar in NYC, the Bareburger chain and several more hotels/restaurants/concepts. Ubons Bloody Mary Mix is available for retail sale in such markets as Zabars, Fairway, Wegmans, Kings Markets, ShopRite, Central Markets, Arlans Markets, Rouse's Markets, Market of Choice, New Season Markets and several other chains and independent grocers.
For more information please visit www.ubons.net and find them on Facebook, Twitter & Instragram.