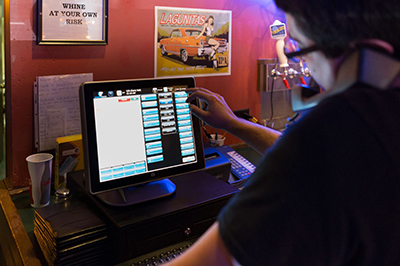 As Gino's East grows and expands, the famous Chicago eatery required a complete, 'end to end,' point-of-sale (POS) solution that featured greater functionality and allowed the restaurant to optimize processes.
Solution:
Harbortouch's revolutionary POS solution, which combines innovative software with top-of-the-line hardware, delivers a high-quality POS system unmatched in both reliability and usability.
Key Results:
Utilization of Harbortouch's powerful, yet user-friendly POS system allows for increased daily operational efficiency, as well as a streamlined approach to tracking inventory, reviewing detailed reports/sales history and managing employees.
By leveraging Harbortouch's robust POS system, Gino's East stays on schedule, saving both time and money, without sacrificing customer service or food quality.
Customer Background: Established in 1966, the family-friendly Gino's East began its deep-dish pizza adventure with customers so attached to its atmosphere that they began scribbling their names on the wall to remember their visit. With a wide array of menu options, Gino's is most famous for its patty-style sausage and flaky, buttery crust pizza. Considered a true pizza "legend" by many loyal customers, Gino's East has been featured on the Travel Channel, the Food Network, Man Vs. Food, Pizza Wars and more.
The Challenge:
Gino's East has been in business for nearly 50 years, with few changes in its daily operations process. The famous eatery has been working toward revamping its overall operations, with a goal of freeing up management's time to help improve day-to-day tasks, as well as save money.
Gino's needed a powerful POS solution that would help optimize processes, reduce employee errors in order taking, track inventory better to reduce waste and use customer data in order to create effective marketing campaigns. Handling these tasks manually was not a cost-effective or realistic option.
A new POS system also would have to be cost effective, seamlessly transition into the restaurant's current environment and be easy for staff members to learn and use.
"With our previous system, a lot of my time was taken up manually collecting data and running countless reports," Dolan said. "It was not efficient, and it simply didn't work for our needs. We realized we required a cost-effective technology solution that that would give us the custom functionality we needed, without slowing us down."
The Solution:
While saving time and reducing costs were factors in selecting a solution, additional benefits, including eliminating tedious tasks, reducing human error and accomplishing more in fewer steps, played a big role.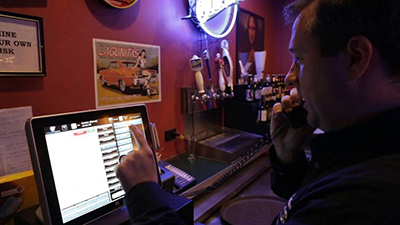 Gino's East researched POS options that would help improve all areas of its restaurant. The most compelling criteria for choosing Harbortouch was ease-of-use, performance and excellent customer service.
As one of the largest and most reputable payment processors in the U.S., Harbortouch offers a full range of merchant services, supplying POS systems, electronic cash registers and credit card processing terminals. Harbortouch handles the merchant accounts for more than 110,000 business locations and processes in excess of $9 billion annually, with those numbers continually increasing.
Harbortouch's unique POS solution offers a wide range of robust features, including ticket splitting, item sharing, discounting and the ability to easily update menus. Harbortouch's advanced reporting features provide owners and managers with an accurate, top-level picture of their restaurant's operations. With dozens of reports available that can provide insight to the "big picture," Harbortouch's software also allows users to monitor detailed financial and sales breakdowns, track inventory, identify sales trends and monitor employee performance, payroll and scheduling.
As the company does with each of its customers, the Harbortouch team custom built a POS system tailored to Gino's unique operations. Harbortouch transformed Gino's operations into a custom business management system, allowing Dolan to efficiently optimize daily business. After Harbortouch installed the POS system and quickly trained restaurant staff members, Gino's East Owner James Dolan said he was able to easily conduct real-time management of the restaurant, with simple access to everything going on in the restaurant from one convenient location.
"From one simple vantage point in front of our new POS system, I'm now able to check and see what orders have gone back, what's on time, how late things are, what deliveries are out and more," he said. "With Harbortouch, I get a universal picture of the entire system, all available right at my fingertips."
The Results:
Since it has teamed up with Harbortouch, the popular pizzeria has dramatically improved its daily workflows and kept costs down.
By leveraging Harbortouch's innovative software, Dolan said he has been able to manage multiple operations through the new POS system, including accepting cash, checks, credit and debit; placing orders; accessing reports; tracking inventory; and, managing employees. In addition, the eatery has been able to minimize ordering errors, as well as decrease accounting and bookkeeping expenses via user-friendly reporting capabilities.
"With Harbortouch's POS system, we are now efficiently managing our business which gives us more time to spend interacting with and servicing our customers," Dolan said. "We have been impressed at how the Harbortouch POS system simplifies many of our daily responsibilities.
With the Harbortouch POS system, Gino's East is now achieving its revenue goals and streamlining its daily operational processes.
Dolan said Harbortouch's team of POS experts has been there for every step. "It was amazing how smooth and fast their experts initially deployed our system … it was truly a seamless transition."
The customer service staff at Harbortouch has been very helpful, according to Dolan, "and always exceeds my expectations."
"The bottom line: Harbortouch's POS solutions are simple and efficient, ensuring that valuable time is spent on customer service and preparing fantastic food, rather than dealing with tedious, manual processes," Dolan said. "I would recommend Harbortouch to any restaurant, and will continue to use the system. It has delivered a very positive return on our investment."
About Harbortouch
Harbortouch is a leading national supplier of point of sale (POS) systems, serving tens of thousands of businesses across the nation. The company offers an unparalleled "free" program that supplies a full-featured POS system to restaurants and retail businesses with no up-front costs. Custom programming, professional installation and onsite training are included with every order and award winning customer service and technical support are available 24 hours a day, seven days a week. In addition to offering state-of-the-art POS systems, Harbortouch also delivers a full range of merchant services such as credit/debit and gift card processing. For additional information, visit www.harbortouch.com.