Islay Distillery Honored as Top Whisky Destination In the World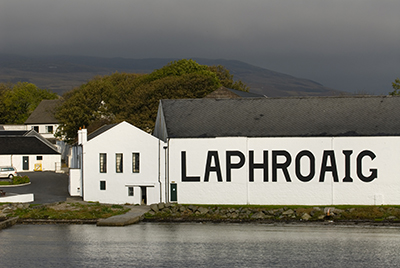 Beam Inc. is pleased to announce that the Laphroaig Distillery was awarded the Whisky Visitor Attraction of the Year in Whisky Magazine's global Icons of Whisky 2014 competition. This esteemed honor follows the Laphroaig Distillery's win in the Icons of Whisky Scotland, where the brand took home the Whisky Visitor Attraction of the Year award for that region.
"We are thrilled to be recognized as one of Whisky Magazine's prestigious global Icons of Whisky," said John Campbell, Laphroaig Master Distiller. "For nearly 200 years, we've worked hard to ensure that the distillery reflects the same distinctiveness one would find in a bottle of Laphroaig. From guided tours to our Friends of Laphroaig loyalty program, we welcome visitors into the family by gifting a plot of Islay land they can call their own while offering a truly memorable experience."
The Whisky Magazine editorial panel noted that the Laphroaig Distillery "offers a warm welcome to visitors from across the world. From a walk through tour to owning your piece of Islay, Laphroaig has stamped its mark on the visitor center experience." This is the first win for Laphroaig in the Icons of Whisky.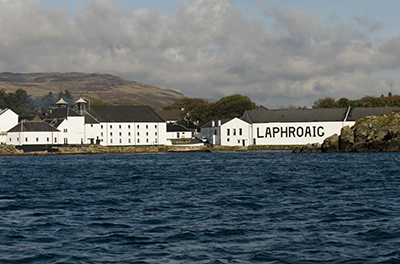 The Icons of Whisky are held to commend the people and places behind the world's greatest whiskies. The Whisky Magazine editorial panel votes in two stages, the first being a regional voting round conducted for companies based in the U.S., Scotland and the "Rest of the World," then the panel votes on the regional winners to select the global Icons of Whisky.
To learn more about Laphroaig Scotch Whisky or how to become a Friend of Laphroaig, visit www.Laphroaig.com, LIKE us on Facebook, or follow us on Twitter.
About Laphroaig
Laphroaig (La-'froyg) literally means "the beautiful hollow by the broad bay." Born from the streams and blue peat smoke of Islay, Laphroaig is a Single Malt Scotch Whisky with a distinct taste and story in every bottle. The secret to Laphroaig is that it benefits from the happy circumstances of where it is produced—next to ocean water and on land that gives Laphroaig a unique peaty taste. It is one of only a few distilleries that still uses traditional malting floors and dries and infuses its own malt with the thick blue smoke from old peat-fired kilns. It's also the only Single Malt Scotch Whisky to bear a Royal Warrant bestowed by HRH Prince Charles.
About Friends of Laphroaig
Each bottle of Laphroaig Scotch Whisky comes with a gift of friendship. Created by Laphroaig Master Distiller John Campbell, Friends of Laphroaig is a distinguished loyalty group, which today boasts over 600,000 members from more than 150 countries. Each Friend of Laphroaig is given a lifetime lease on a numbered, one square foot plot of land in Islay that runs alongside the important Laphroaig water source – the Killbride stream. The plot is registered and can be visited in person or via video on the Friends of Laphroaig website –www.Laphroaig.com/Friends. Throughout the year, Friends of Laphroaig from all over the world get together and share photos, tasting notes, Scottish history and more.
About Beam Inc.
As one of the world's leading premium spirits companies, Beam is Crafting the Spirits that Stir the World. Consumers from all corners of the globe call for the company's brands, including Jim Beam Bourbon, Maker's Mark Bourbon, Sauza Tequila, Pinnacle Vodka, Canadian Club Whisky, Courvoisier Cognac, Teacher's Scotch Whisky, Skinnygirl Cocktails, Cruzan Rum, Hornitos Tequila, Knob Creek Bourbon, Laphroaig Scotch Whisky, Kilbeggan Irish Whiskey, Larios Gin, Whisky DYC and DeKuyper Cordials. Beam is focused on delivering superior performance with its unique combination of scale with agility and a strategy of Creating Famous Brands, Building Winning Markets and Fueling Our Growth. Beam and its 3,200 passionate associates worldwide generated 2013 sales of $2.55 billion (excluding excise taxes), volume of 37 million 9-liter equivalent cases and some of the industry's fastest growing innovations.
Headquartered in Deerfield, Illinois, Beam is traded on the New York Stock Exchange under the ticker symbol BEAM and is included in the S&P 500 Index and the MSCI World Index. For more information on Beam, its brands, and its commitment to social responsibility, please visit www.beamglobal.com and www.drinksmart.com.