With the National Retail Foundation (NRF) determining that American consumers spent a whopping $21.8 billion on Valentine's Day in 2021 on gifts for partners, friends, pets and more, one can surmise the tens of billions will again be spent on this lovely holiday in 2022. This as we collectively turn to retailers to represent our adoration for others. While chocolate, flowers and perfume are indelibly idolized as quintessential Valentine's Day endowments (and rightfully so), one can also think well outside of the candy box to aptly express affections. Here are a few tried-and-true Valentine's Day gift items well-suited for the foodies in your life.

2018 Proprietary Blend from BRAND Napa Valley Wine (https://brandnapavalley.com)
Whether enjoying a romantic evening for two, entertaining a group or enjoying a night of self-care at home, a great bottle of red wine is the perfect accoutrement. One great option is the 2018 Proprietary Blend from BRAND—a Napa Valley Wine that is sure to impress. This hallmark wine, hailing from the company's estate vineyard and winery on famed Pritchard Hill, displays great depth, purity and focus. This fine varietal features individual barrels of Cabernet Sauvignon added to the blend for lift and energy, resulting in a wine of great finesse and with a smooth flavor. The 2018 vintage is 63% Cabernet Franc and 37% Cabernet Sauvignon. Aromatic notes of pomegranate, dried roses and allspice give way to a palate brimming with flavors, suggesting dark red fruit, milk chocolate, green tea and sandalwood. The wine, and proprietary blend, possesses the structure and intensity to support extended aging, along with the grace and silky texture for pleasurable drinking. Brand Napa Valley has cultivated three distinct estate vineyards ranging from 1,200-1,400 feet in elevation, with a total of 11.58 planted acres organically farmed and thoughtfully cultivated. There are a total of 17 individual vineyard blocks curated to 13 different rootstock and clonal combinations of Cabernet Sauvignon, Cabernet Franc and Petit Verdot. The low-yielding vines are farmed to express the power and beauty of this distinctive hillside property. In 2019, the estate was acquired by longtime Napa Valley grape growers and former Apple executives Jim Bean and Christine O'Sullivan.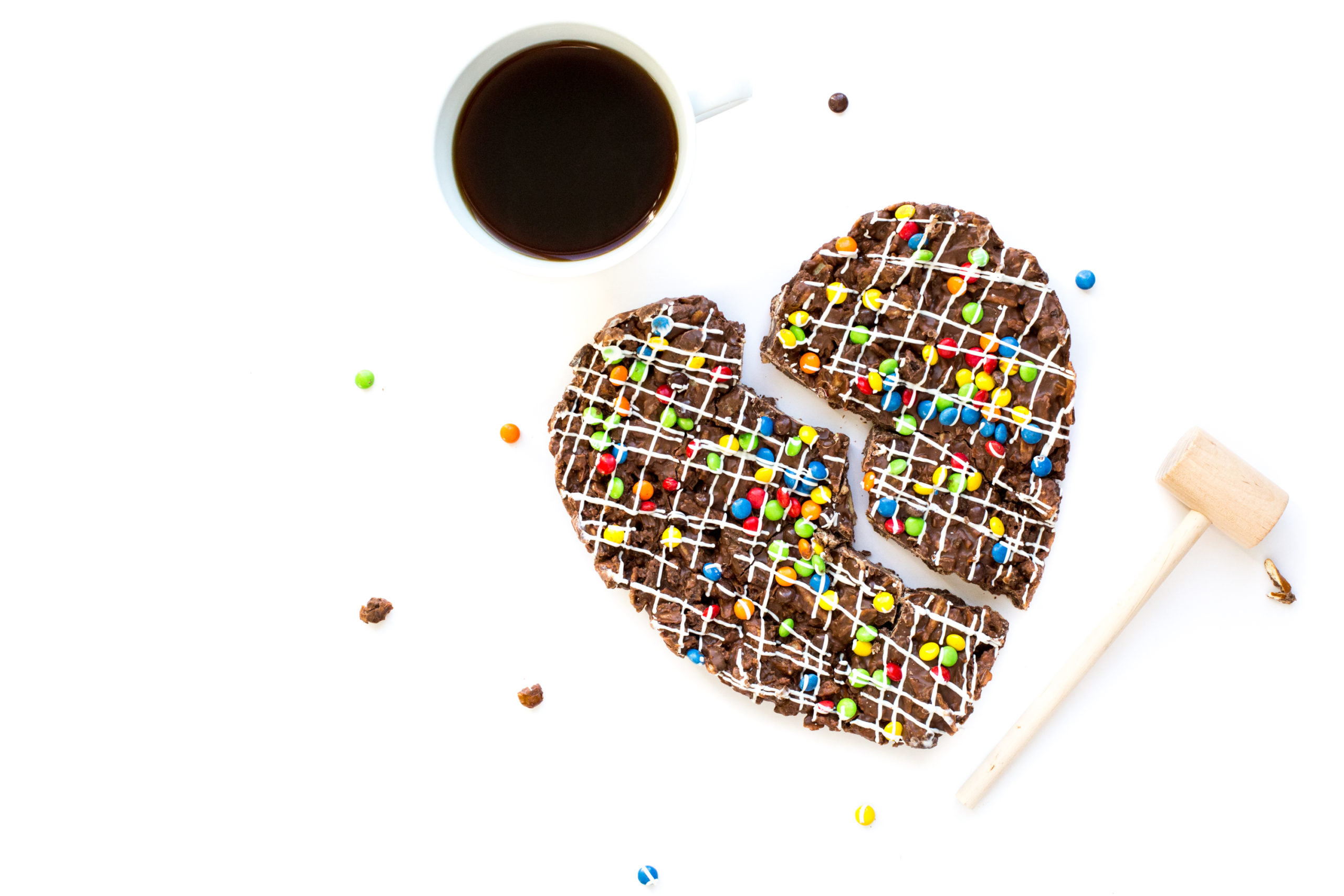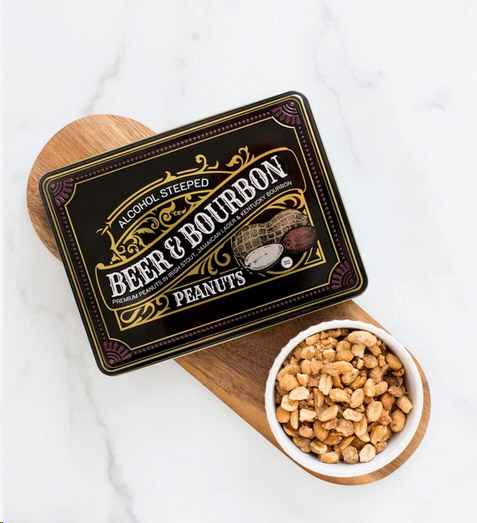 Chocolate Heart Pizza from Sugar Plum Chocolates (www.sugar-plum.com)
For a gift that is as beautiful as it is tasty, look no further than Sugar Plum's Chocolate Heart Pizza. It is a unique treat that your Valentine is simply bound to fall head over heels for. It even comes with a wooden mallet, so they can feel free to break this heart into bite-sized bits knowing it'll never return the favor! Sugar Plum tops its 12-ounce milk chocolate "pizza" with crushed pretzels, cookies, potato chips, candied chocolate gems, and a drizzle of white chocolate. It's sure to be the most delicious broken heart you've ever tasted! To satisfy the non-chocolate lovers in your life, Sugar Plum also has a savory Beer and Bourbon Liquor Nut Tin. Say goodbye to the old boring snacks of the past and introduce your taste buds to these boozy flavored peanuts. They are so potent that you'd swear you just had a drink of the real thing! Available in Irish Stout, Rum, and Whiskey, these all-naturally flavored peanuts round out this three-nut sampler that's sure to turn even the most indifferent average Joe into a serious nut head. Sugar Plum is known for its exquisite, decadent gourmet gifts, which also include delectable truffles in a wine-shaped box, an epicurean nut collection featuring spices from around the world, mouthwatering chocolate-covered cookies and more. All of their delicious gourmet treats are lovingly handcrafted and made from their bakery and kitchen in Kingston, PA, by mother and son team Fran and Neil Edley.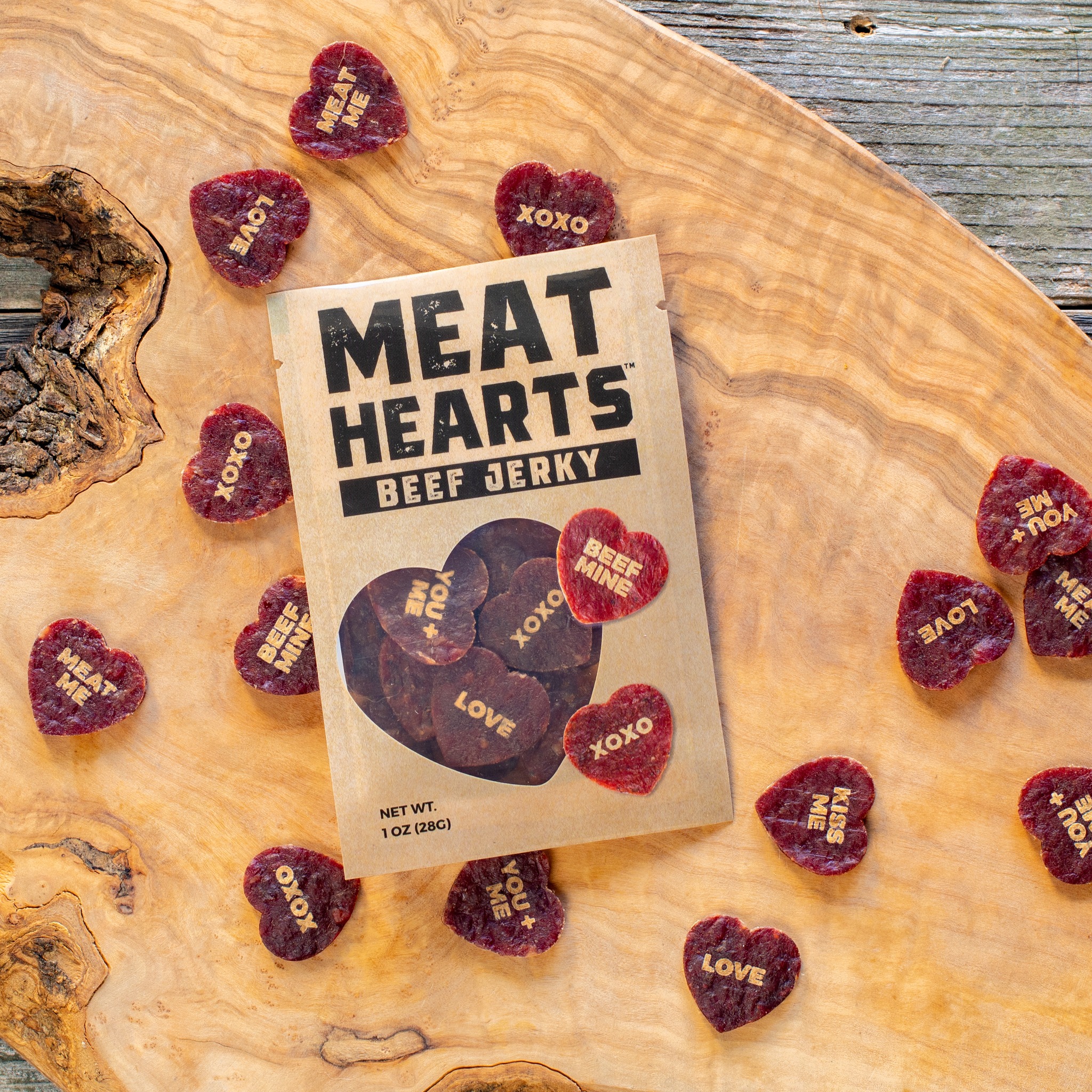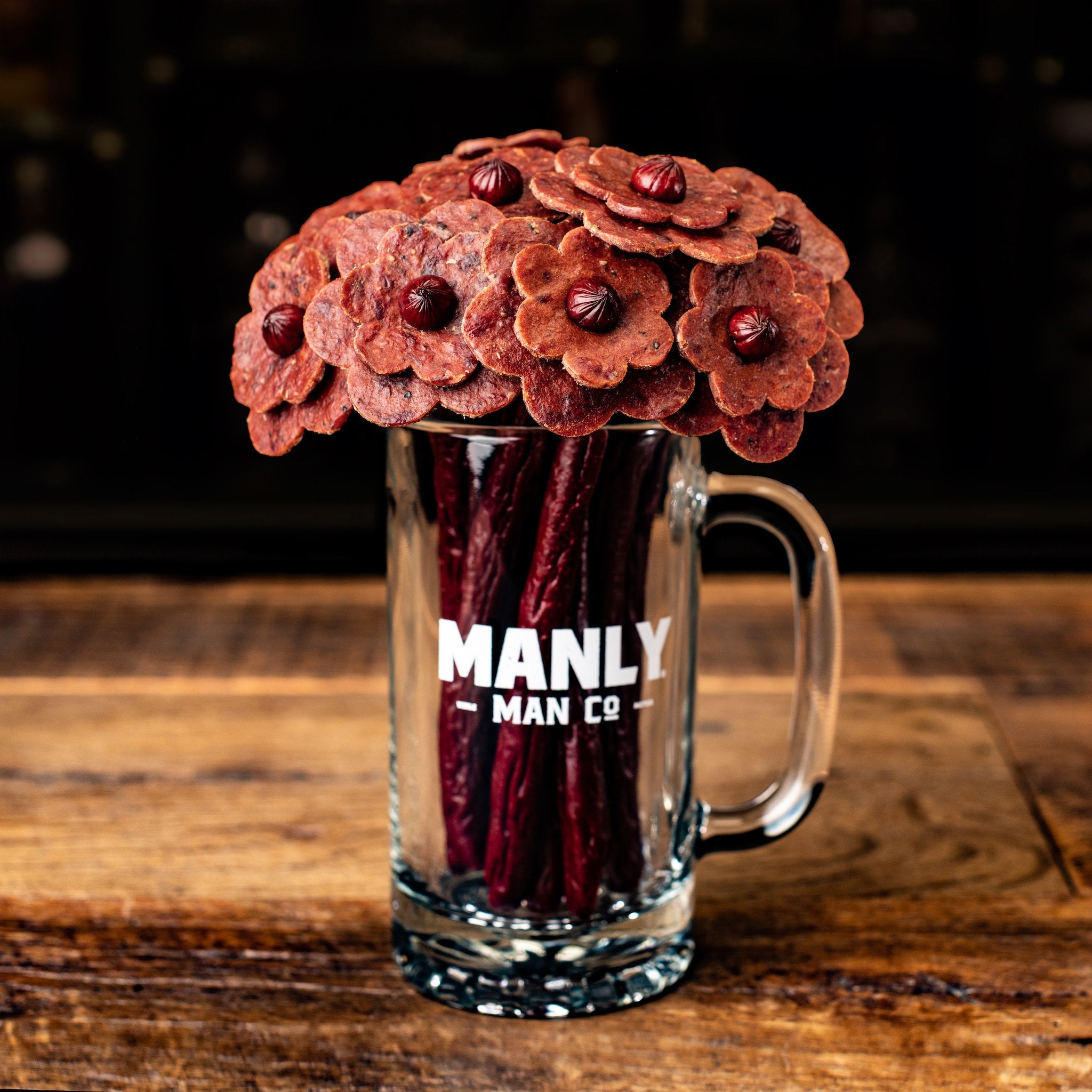 Beef Jerky Flower Bouquet and 'Meathearts' Snacks from Manly Man Company (https://manlymanco.com)
It's often said that the way to a man's heart is through his stomach, and the Manly Man Company understands that. For the special man in your life that enjoys delectable meats, the Manly Man Company has your perfect gift covered. For one, the company's Meathearts Beef Jerky set is a savory way to replace gifting chocolates for that carnivore in your life. Guys (and meat-loving gals) will enjoy packs of mini, laser-etched, delicious beef jerky hearts engraved with romantic-themed sayings such as "Beef Mine," "Meat Me" and "XOXO." Each beef Jerky Valentine's Day heart is made in the USA at Manly Man Co.'s Southern California headquarters. For the man in your life that enjoys a wider variety of meat treats, the company's Beef Jerky Flower Bouquet and Beer Mug is the perfect gift for him. Each bouquet's "vase" is a Manly Man beer mug and is pre-arranged, sealed and packaged fresh with oxygen absorbers in a stylish branded box. The custom package design allows the bouquet to be delivered fully assembled and easily slide out to provide the ultimate gifting experience. This Jerky Bouquet comes in four delicious flavors: original; teriyaki; hot; and mixed. Plus, the beer mug allows him to pair it with his favorite beer selection.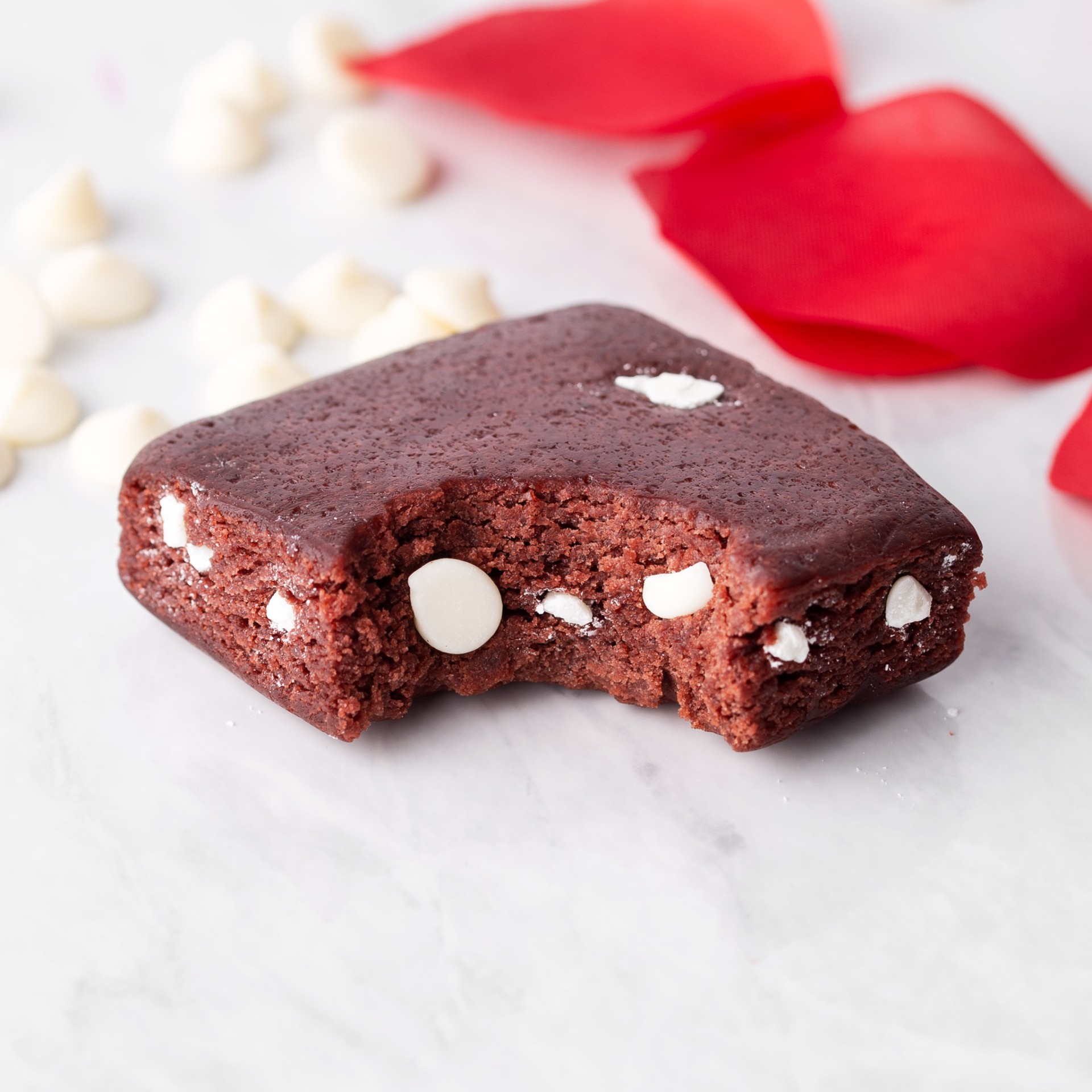 Low Carb Brownies from Eat Me Guilt Free (www.eatmeguiltfree.com)
Created by Cuban American Cristie Besu, a Registered Nurse and Certified Sports Nutritionist-turned-mompreneur, Eat Me Guilt Free is a delectable line of brownies, bread and tortilla wraps offering a protein-packed, low carbohydrate ratio, making them a healthier alternative to traditional snacks. Their Red Velvet Cake may be smooth like velvet on the outside, but it's the inside that matters—and she's got it all! This red velvet brownie is filled with sexy white chocolate chips, is non-GMO, free of preservatives, protein-packed and low-carb. Celebrate good times with a party in your mouth. The Birthday Cake Protein Brownie is so nostalgic, it'll bring you back to your favorite childhood memories with every bite. This blondie, filled with everyone's favorite sprinkles, is similarly non-GMO, free of preservatives, protein-packed and low-carb. The Tuxedo Brownie is a decadent chocolate brownie filled with white chocolate chips is the whole package, plus it's also—stop me if you've heard this before—non-GMO, free of preservatives, protein-packed and low-carb. Eat Me Guilt Free has worked hard to help consumers feel less restricted and more open to being able to enjoy the everyday foods they love, without sacrificing taste. Their core belief is that freedom should not have limitations and that every human should have the freedom to choose better-for-you foods, while simultaneously experiencing something that tastes delicious.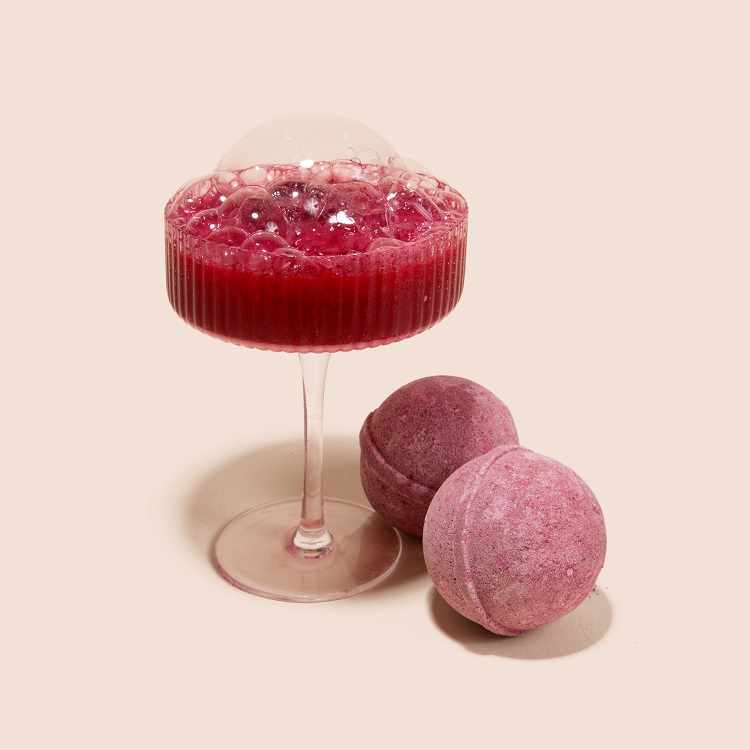 Tub Therapy CBD Bath Bombs from Tub Therapy (https://www.tub-therapy.com)
There's perhaps nothing more romantic—and relaxing—than soaking in a warm tub, and here's a great way to ramp up the relaxation. Tub Therapy CBD bath bombs are a great quick fix not only for those romance-oriented soaks, but also for general self-care and deep relaxation—especially when the stress meter has gone into the red. These little balls of bliss contain up to 100mg of full spectrum CBD oil with less than 0.3% THC, which means you get to enjoy a luxe cleanse in CBD goodness without the angst or negatives of potent side effects. Tub Therapy has carefully selected other natural ingredients infused into the formula to create a special blend of CBD bath bombs that are nutrient-rich, skin-nourishing, sustainably produced and cruelty-free. What makes Tub Therapy stand out in a sea of equally amazing CBD bath bombs? The scents are fun, unique, playful and refreshing, bringing to life memories of your favorite celebrations and adventures, both past and present. For instance, the exquisitely divine Merlot Wine CBD bath bomb triggers nostalgic sips in Bordeaux, soft lit alleys and even airplanes. It'll turn your bath water into a luxurious merlot-colored oasis of skin-softening blends. They make excellent pick-me-up gifts for the simplest reason: Thoughtful presents that show how much you care for your loved ones' wellness and advocate for their self-care and relaxation. I'll toast to that!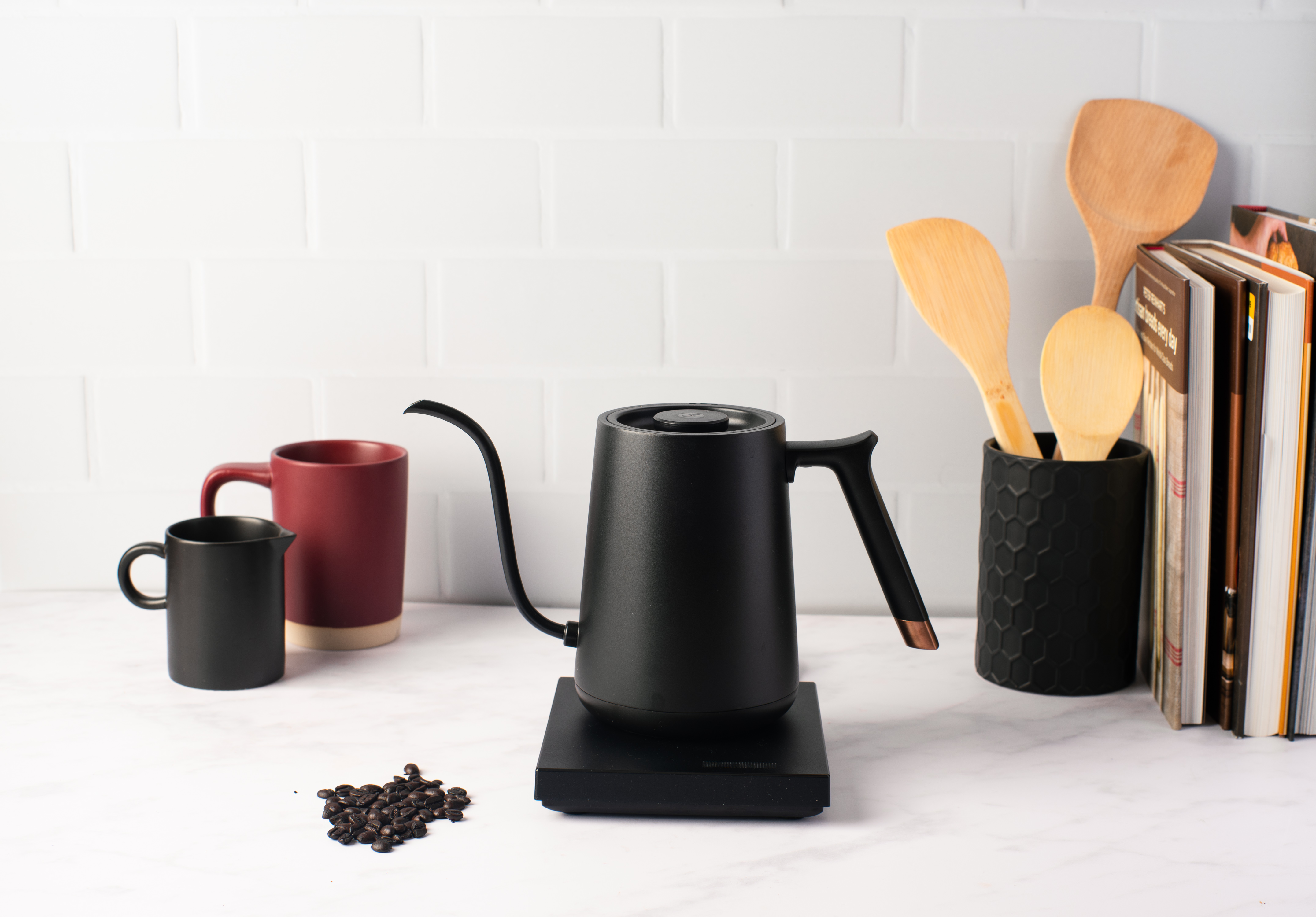 Smart Electric Kettle from Ladera (www.lardera.com)
To keep your loved ones running, give them the gift of easy caffeine with this Smart Electric Kettle from Ladera. This Smart Kettle is the fastest, most accurate electric coffee and tea kettle on the market, capable of boiling 16-ounces of water in under 100 seconds. But, speed is just one of its many desirable features. It also has an insulated and stylish stainless-steel body and no-drip gooseneck spout that allows for precision pouring. An easy-grip handle and anti-scalding lid keeps your loved ones safe while crafting their perfect brew. Elegant touch-sensitive controls bring convenience and ease to the brewing process, whether for your morning pour-over coffee or tea, or afternoon pick-me-up. Simply slide your finger to select the desired temperature and the kettle will stop automatically and, if you desire, maintain its warmth for 30 minutes. The kettle is a beautiful addition to your kitchen counter and a blessing to your early morning routine. Ladera Coffee Roasters' newest launch of its new electric water kettle will not only accelerate that morning brew routine but will add enjoyment and ease to the entire experience through its superior form and function. Each use of the Smart Electric Kettle is something to look forward to, while saving time and effort.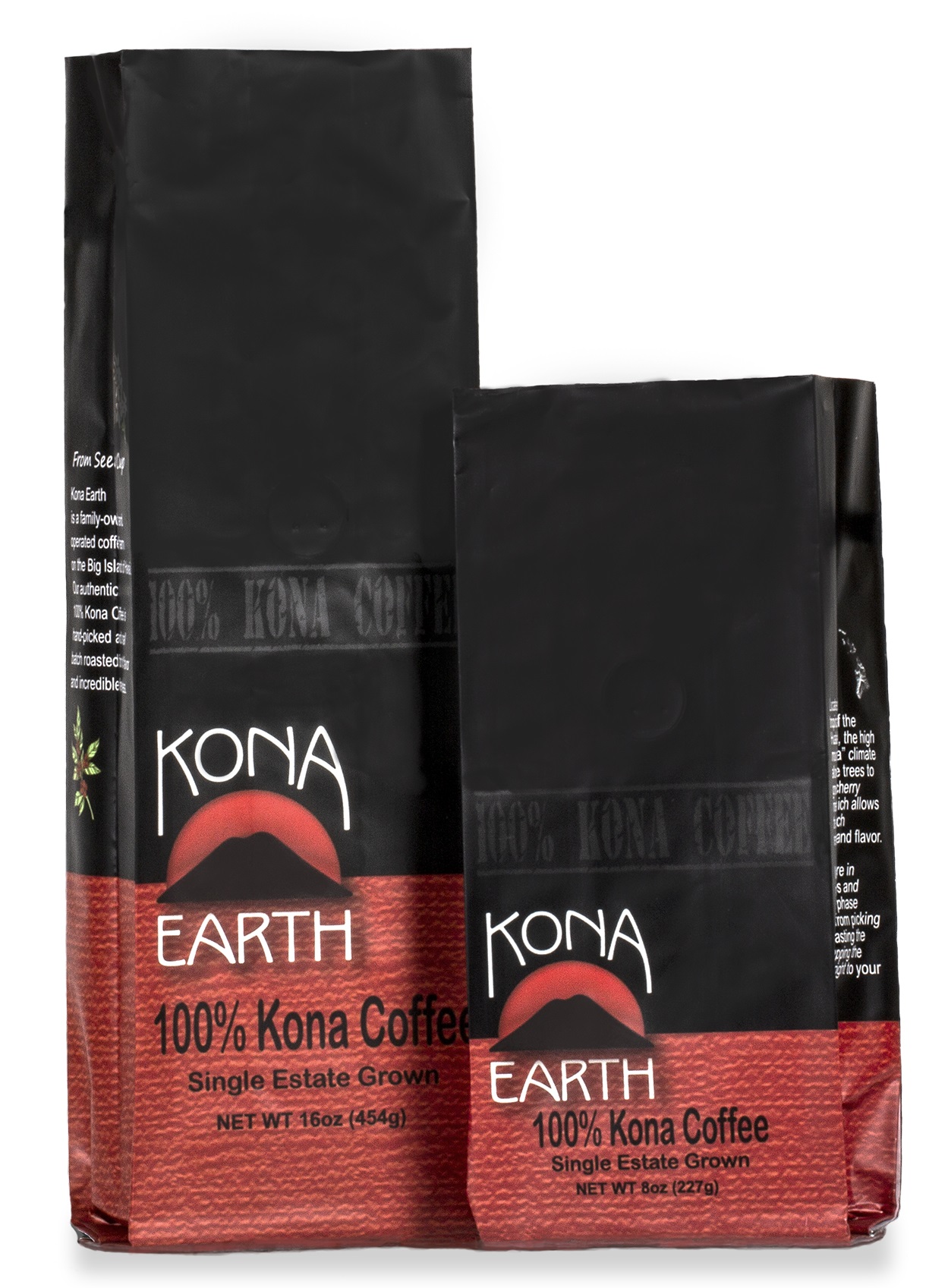 Kona Earth Coffee from Kona Earth (https://konaearth.com)
Speaking of Coffee, Kona Earth offers single-estate grown, small-batch roasted, 100 percent Kona coffee and gifts shipped farm-direct to coffee lovers everywhere. Produced on a family-run farm on the Big Island of Hawaii, this gourmet coffee is renowned for its quality and flavor. What makes Kona Earth coffee so special? One hundred percent Kona Coffee is internationally known and commands some of the highest prices in the world. The Kona Coffee Belt is a tiny strip of land on the western side of the Big Island. Just a few miles wide and about 30 miles long, the area has "Goldilocks" conditions for growing exceptionally fine Arabica coffee. Kona Earth is situated at 2,000-feet on the tropical slopes of the Hualalai volcano. The high mountain climate allows the coffee trees to grow lush. Cooler temperatures and ample rainfall make for ideal growing conditions. The fruit matures slowly, resulting in coffee beans of remarkable size and quality. Kona Earth gives back with their Care in Every Cup program, donating a percentage of proceeds to local non-profits. Their complete line of coffee and gifts is sold farm-direct exclusively via their e-commerce store. Unique and memorable, Kona Earth is sure to please the avid coffee lovers in your life.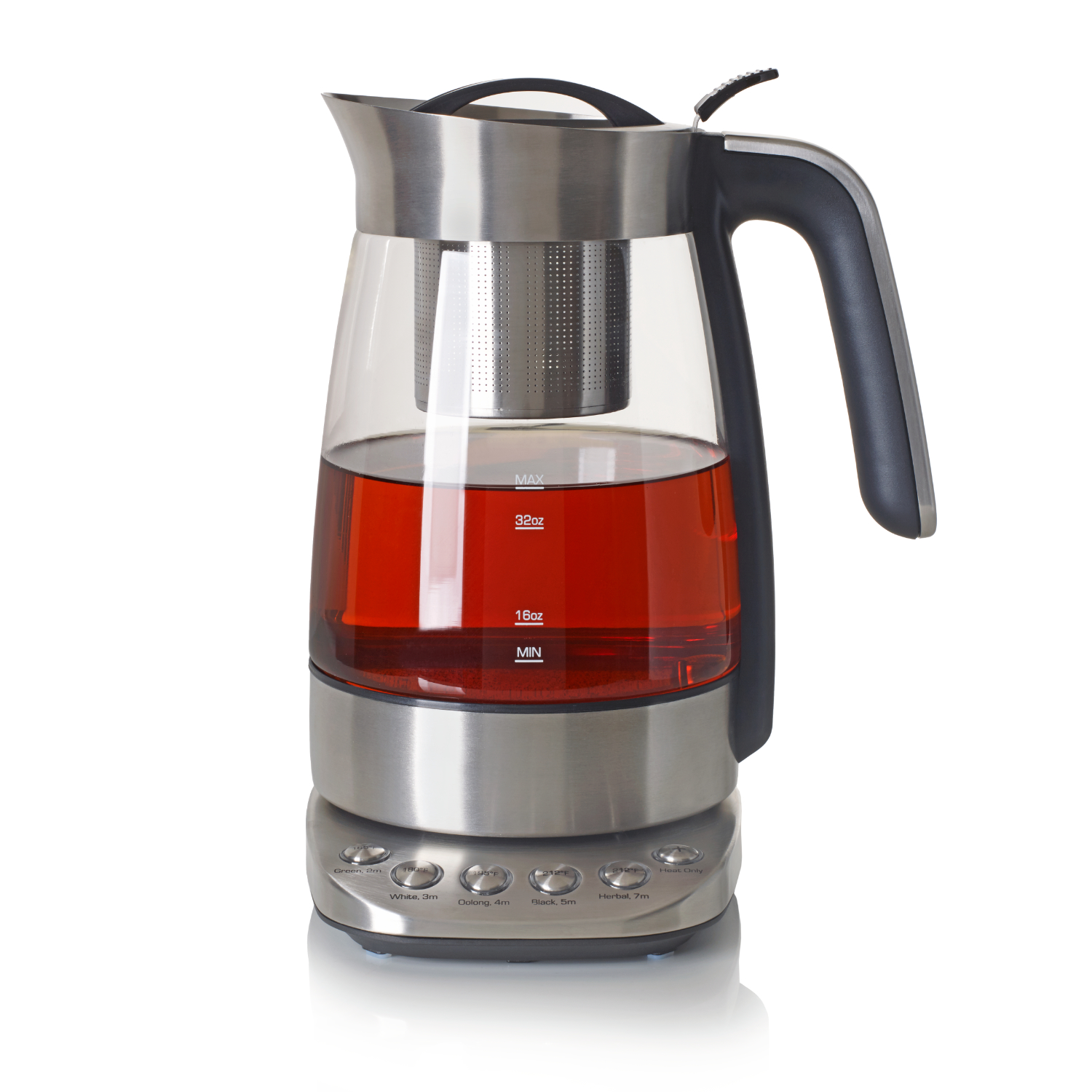 velociTEA Tea Maker from Adagio Teas (https://www.adagio.com)
For hot beverage fiend like me, a no-fuss tea maker has finally arrived in the form of Adagio Teas' revolutionary velociTEA Tea Maker. This innovative device heats water and prepares tea at the push of a button. Its ingenious design pumps water from the base into the infuser basket, steeping tea leaves to perfection as it circulates. No matter what your favorite variety is, ideal time and temperature settings for each type of tea ensures that a perfect strength for a chosen variety is delivered. When the tea is ready, the kettle will keep it warm for a full 60 minutes. This is to ensure that it is ready whenever you're ready to drink and that the last cup tastes as good as the first. Simply need hot water? This tea maker includes a "heat only" button to produce water that comes out to your desired temperature. The water will heat, but not circulate. The infuser basket element is dishwasher-safe and easy-to-clean, so you can easily try different teas with each new brew. This tea maker is the first to combine the convenience of a one-button operation and the versatility of variable-temperature control.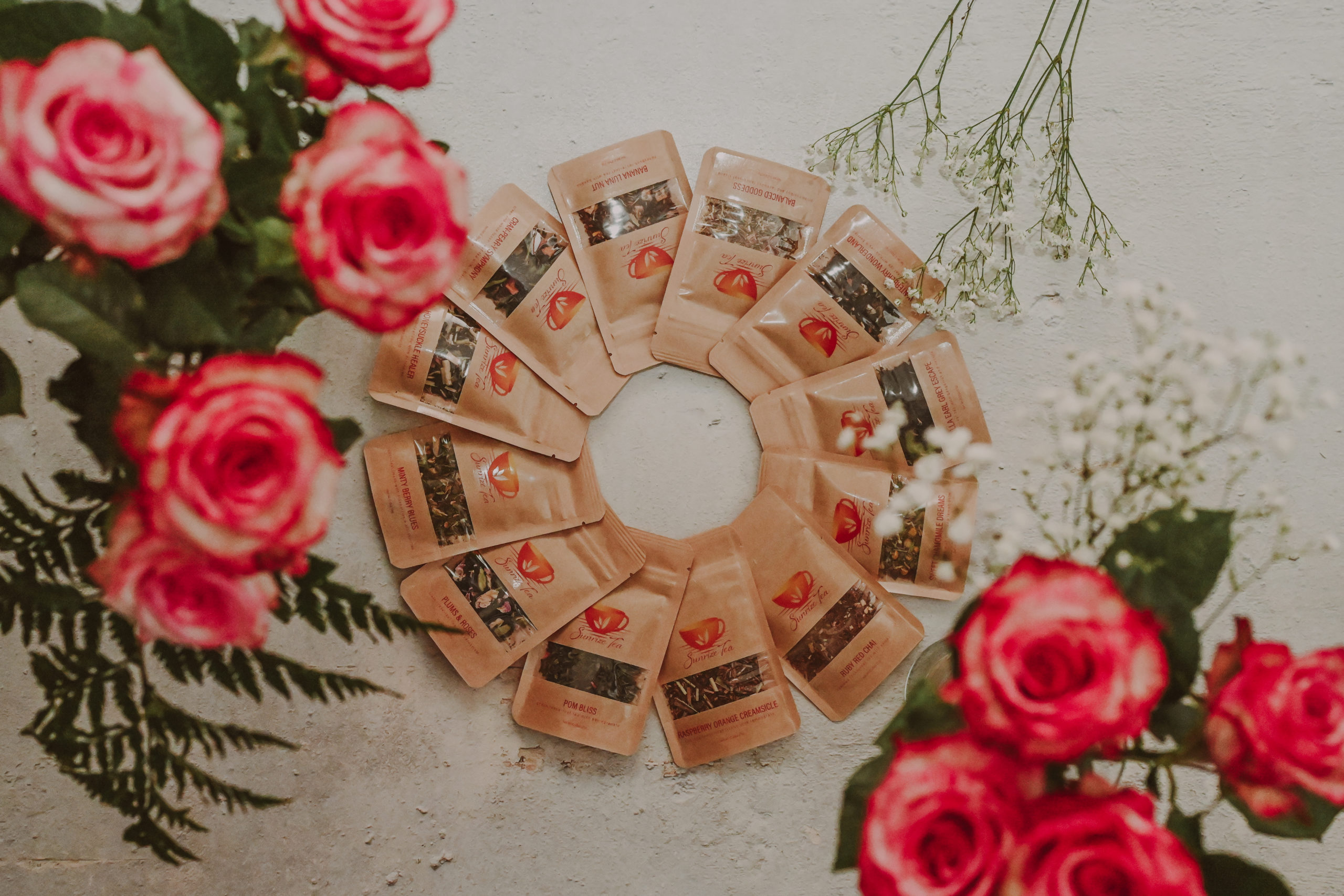 Loose-Leaf Tea Sampler from Sunrize (https://sunrizetea.com/)
Gifting flowers on Valentine's Day is always nice, but why not opt for something that not only smells just as good, but also tastes great? Sunrize Tea's hand-crafted Loose-Leaf Tea Samplers make a great gifts for both existing tea drinkers and those just getting into the satisfying concoction. If you're feeling adventurous, you can build your own tea sampler and choose a variety of blends to try out. Each tea sample brews three cups, so you'll be able to brew several before deciding on a favorite. Or, you can opt to grab a full-size pouch of a best-sellers like Balanced Goddess, a sweet and creamy herbal blend with floral notes of hibiscus, chrysanthemum, rose and lavender; or Vanilla Earl Grey Escape, which is a creamy and citrusy black tea blend. Even caffeine-free tea drinkers have plentiful options, ranging from Raspberry Orange Creamsicle, a light and refreshing rooibos blend; to Sweet Chamomile Dreams, which is the company's signature sleepy-time selection. New to loose leaf tea? No worries! Sunrize Tea makes it easy with their complete guide on brewing loose leaf tea, so you and your loved one can venture into this flavor-filled world with confidence. Whether you're looking for a new favorite black tea or an evening chamomile blend, you're sure to find your cuppa.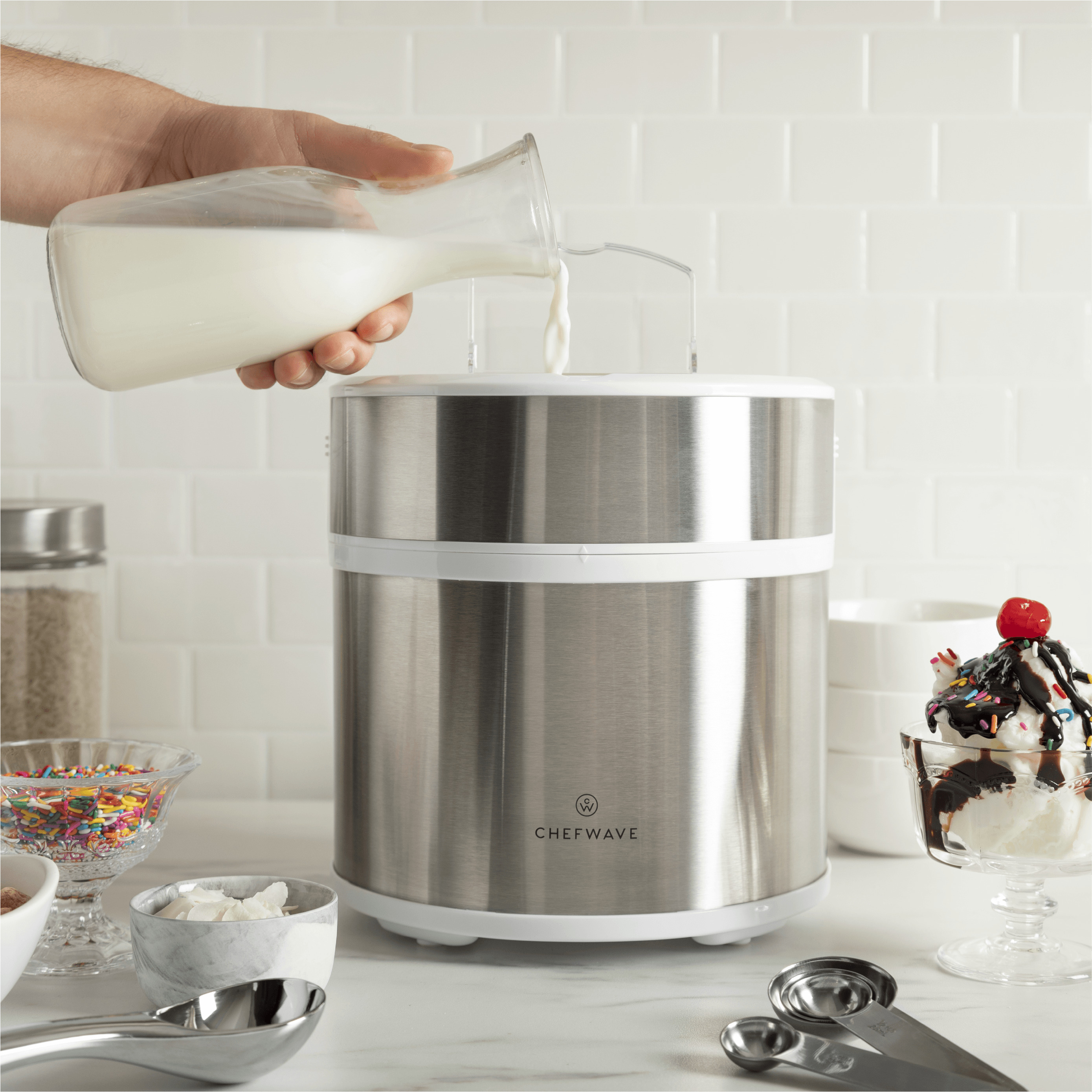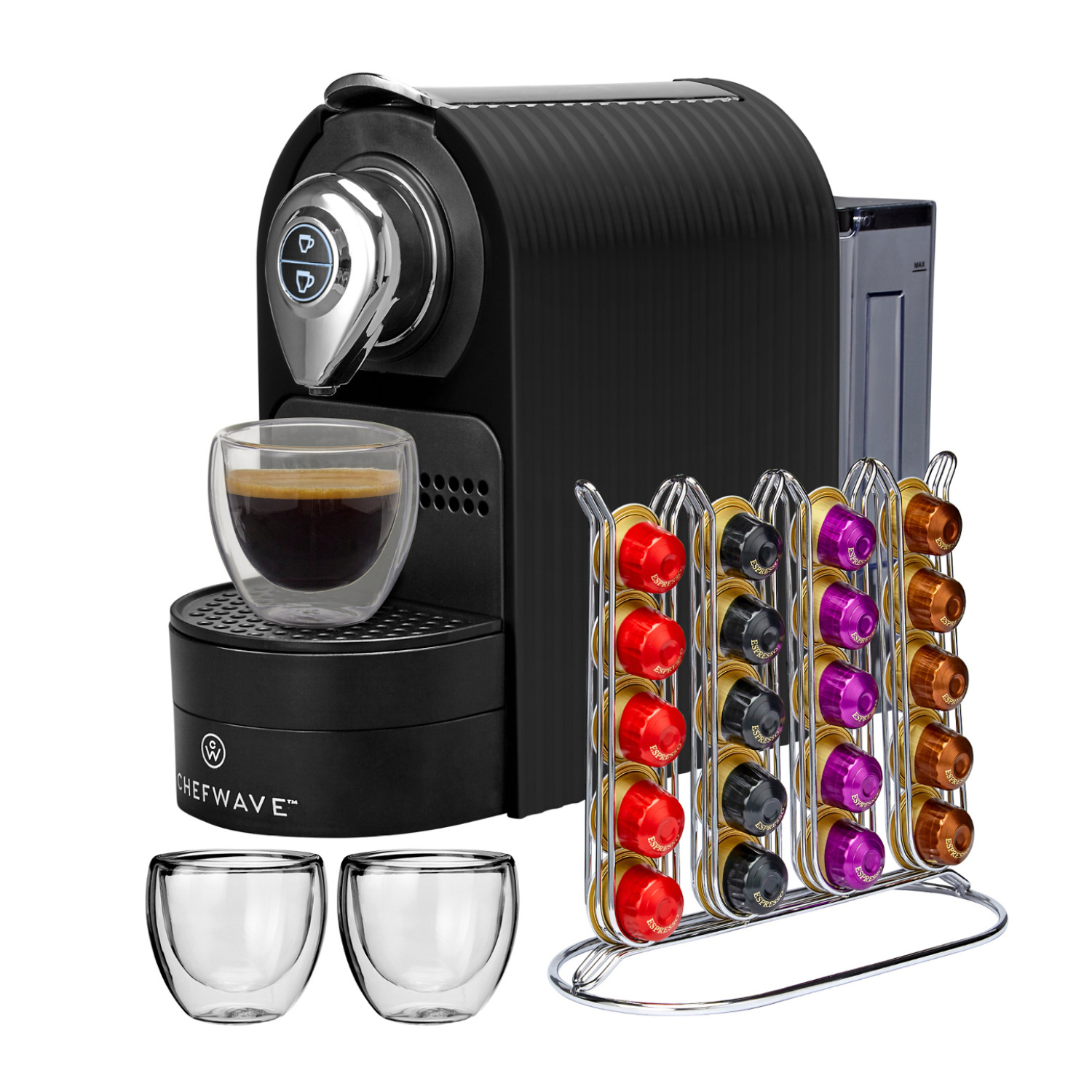 Kitchen Appliances from ChefWave (https://mychefwave.com)
ChefWave is a leading brand for small kitchen appliances that are available at major retail outlets. This season, I'm loving ChefWave's Elado Ice Cream Maker that creates fro-yo, sorbet, gelato and ice cream all from the convenience of your own kitchen. It's perfect for thrilling that special someone in your life with easy-to-make at-home treats. This two-quart capacity machine makes a batch of ice cream in just 20 minutes and offers an adjustable timer for custom results. The double-insulated freeze bowl has an easy-to-use control panel with a built-in LED digital display. An easy-lock lid prevents messes and accidents. This Ice Cream Maker is made of BPA-free plastic and stainless steel. To enjoy your sweets, simply mix and cool the ingredients, pour them in, churn and freeze. The recipient will be absolutely elated with the sweet results. For another kind of pick-me-up, ChefWave also offers a handy Kava Mini Espresso Machine that is designed to be compatible with the Nespresso Original Line Capsules. The sleek and compact machine warms up in just 30 seconds, with a powerful 20-bar pressure. It accommodates Espresso and Lungo preset sizes, as well as customizable brew options. The design offers energy-saving, two-hour auto-off and standby mode and has a dishwasher-safe water reservoir. The capsule container conveniently stores used capsules until you throw them away. You can rely on the performance of this little machine to deliver a delicious cup of espresso every time.

'Tasteful Gent' Bundle from Walton Wood Farm (https://waltonwoodfarm.com)
Here's a gift box a dapper man will surely enjoy. Every proper gent appreciates the finer things in life, so cater to his high standards with the Tasteful Gent Bundle of foodie products and personal care essentials from Walton Wood Farm. This gift set features South Pond's Silo Stout Barbeque Sauce and Chipotle Hot Sauce, Garlic & Parmesan Beer Bread Mix and Walton Wood Farm's Cocktails for 22 (since they know he loves a civilized gathering). It also includes Walton Wood Farm's The Gentleman Power Shower citrus and mahogany scented body wash so he can always feel fresh, as well as The Gentleman Hand Rescue; vanilla whisky scented Handsome Chap Lip Balm; and a This is Two Bottles of Shampoo Bar made with Argan & Coconut Oils that leave hair soft, silky an smooth. Each of these products are cruelty-free, vegan, gluten-free and free of harsh ingredients like SLS, parabens, phthalate and dyes. So, you can feel confident in the quality of your gift while he's busy enjoying it. Walton Wood Farm was founded in 2019 and is committed to making high-quality products made with sustainable ingredients, helping to protect both history and the environment for future generations.
~~~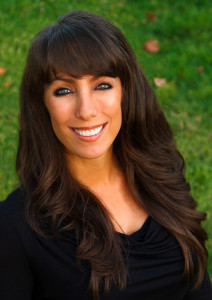 Forbes Business Council, Newsweek Expert Forum and Rolling Stone Culture Council Member Merilee Kern, MBA is an internationally-regarded brand strategist and analyst who reports on cultural shifts and trends as well as noteworthy industry change makers, movers, shakers and innovators across all categories, both B2C and B2B. This includes field experts and thought leaders, brands, products, services, destinations and events. Merilee is Founder, Executive Editor and Producer of "The Luxe List" as well as Host of the "Savvy Living" lifestyle TV show that airs in New York, Los Angeles, San Francisco, Miami, Atlanta and other major markets on CBS, FOX and other top networks; as well as the "Savvy Ventures" business TV show that airs nationally on FOX Business TV and Bloomberg TV. As a prolific lifestyle, travel, dining and leisure industry voice of authority and tastemaker, Merilee keeps her finger on the pulse of the marketplace in search of new and innovative must-haves and exemplary experiences at all price points, from the affordable to the extreme. Her work reaches multi-millions worldwide via broadcast TV (her own shows and copious others on which she appears) as well as a myriad of print and online publications. Connect with her at www.TheLuxeList.com and www.SavvyLiving.tv / Instagram www.Instagram.com/LuxeListReports / Twitter www.Twitter.com/LuxeListReports / Facebook www.Facebook.com/LuxeListReports / LinkedIN www.LinkedIn.com/in/MerileeKern.
***Some or all of the accommodations(s), experience(s), item(s) and/or service(s) detailed above may have been provided or arranged at no cost to accommodate if this is review editorial, but all opinions expressed are entirely those of Merilee Kern and have not been influenced in any way.***
Source:
https://nrf.com/topics/holiday-and-seasonal-trends/valentines-day