Arts District Lip Smacking (self-guided) Tour mesmerizes with epicurean creativity.
By Debbie Hall
Lead photo by Pablo Merchán Montes
The neighborhood known as 18b reemerged as the colorful arts district with murals, galleries, sculptures, and antique stores. Amazing chefs have now opened restaurants in this space as people flock to experience its creativity and color. The award-winning Lip Smacking Foodie Tours offers the eclectic Arts District Lip Smacking Tour, self-guided, including three food stops and one in an art gallery.
Each restaurant presents various distinctive dishes as guests relax while being treated as VIPs, whisked to the best seats in the house at each venue, and never waiting in line. Best of all, everyone has time to relax and enjoy. Being the arts district, it an international excursion into art and dining embracing each culture.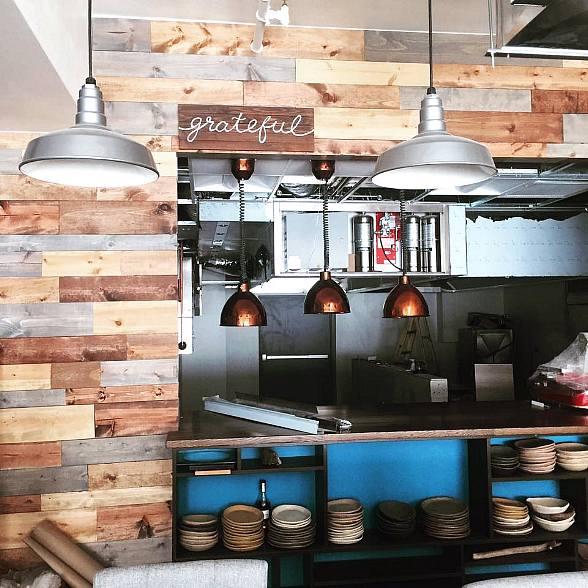 The first stop is Esther's Kitchen, owned and operated by Las Vegas native Chef James Trees. He specializes in seasonal Italian cuisine offering made-from-scratch pasta, pizzas, and breads served on handmade tableware fashioned at a downtown pottery studio. The vibe is one of casual and relaxed, where eating is an art and meant to be savored.
Travel by walking into Asian cuisine, Yu-Or-Mi Sushi Bar, featuring the delights of tempura, sashimi, sushi, noodles, and rice. Its industrial design and open spaces beckon for authentic delights of the Far East.
Along the walking travels, guests take time to appreciate iconic artwork by stopping at Recycled Propaganda to view Chain Migration by artist Izaac Zevalking. While walking to the next destination, guests can admire the "Paintbrush Gateway," by artist Dennis Oppenheim—two 45-foot tall steel paintbrushes that emit beams of rainbow-colored LED light 2,000 feet skyward.
A sweet taste of history concludes the tour. At Cornish Pasty Co., Cornwall, England, native Dean Thomas makes English hand-held pies that originated in the 1200s. Classic British desserts include Banoffee Pie made with house-made caramel, fresh bananas, and a fluff of whipped cream. There is also Sticky Toffee Pudding and Chocolate Bread & Butter Pudding featuring warm, house-baked bread soaked in a creamy chocolate-brandy sauce and served crisp on the outside with custard filling.
For an elevated experience, guests may add an optional beverage package that includes a pre-selected signature cocktail at each stop. This is the way to appreciate different cultures and cuisines. For more information, visit LipSmackingFoodieTours.com.