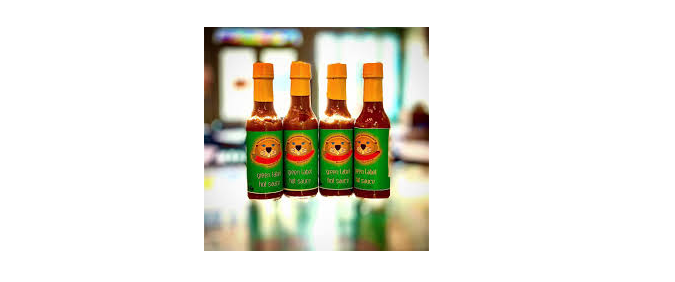 On Monday, February 15, Wallowing Whistlepig Sauce Co. will officially release its new 'Rainbow Line' of creative hot sauces to the public with eight unique sauces ranging from a 'Red Label' made with jalapeño and beets to a 'Violet Label' made with grapes. The new line of hot sauces also features an updated recipe for the company's first and original hot sauce, a fan favorite formerly called the 'Green Label', rolling out under a new name 'La Primera.'
Wallowing Whistlepig Sauce Co. Owner Bradley Griffin, who is also the Executive Chef of Sarah Jean's Eatery in Glade Spring, was inspired to develop a new line of hot sauces during the COVID-19 pandemic while his restaurant was forced to temporarily shutter due to local dining restrictions. During the pandemic, Griffin was able to use his restaurant for the research and development of the new 'Rainbow Line' – which offers Red, Orange, Yellow, Green, Blue, Indigo and Violet hot sauces each highlighting creative ingredients (which ultimately make the sauce its designated label color) from sweet potatoes to collard greens.
"Wallowing Whistlepig hot sauces are different than anything else out there because they are all created with a specific use in mind, but they all also have a place as your everyday all purpose hot sauce," Griffin says. "I focus more on balanced and rounded out flavor profiles instead of just heat. This also allows all of the sauces the ability to be used as a seasoning agent when cooking which adds more depth to what you are cooking."
Griffin's background, and reputation, as a talented and boundary pushing chef has aided him in the success of Wallowing Whistlepig Sauce Co. which he founded about three years ago while working at Harvest Table. "The inspiration behind launching Wallowing Whistlepig was mostly because I just really like hot sauce, and I felt like I could make some really interesting sauces using my unique approach to menu design as a chef and applying that to recipe development," Griffin says.
Wallowing Whistlepig's 'Rainbow Line' features:
LA PRIMERA- An improved recipe of what is currently called Green Label, our first and original hot sauce. This is a hot, jalapeño based sauce with a kiss of cider vinegar and warm tropical spices. Starts mild and builds to a hot smokey finish.
RED LABEL- Medium jalapeño based sauce that is flavored with beets. It is spiced with floral spices that really round out the flavor of this sauce. This sauce is a great sauce for vegetables.
ORANGE LABEL- Medium jalapeño based sauce flavored with sweet potato. This is a perfect all purpose hot sauce.
YELLOW LABEL- Extra hot habanero sauce. Sweet and spicy with a fast burn. Perfect for a spicy dessert.
GREEN LABEL- Very hot habanero sauce flavored with miso. It has a lingering heat that gets hotter the more that you eat.
BLUE LABEL- A medium heat jalapeño sauce with collard greens. This is also a good all purpose sauce – particularly great for flavoring greens and beans.
INDIGO LABEL- An extra hot sweet and spicy sauce made with Apple and Habanero. It can be used to flavor a variety of things while cooking, and great if you are looking for a sweet and spicy wing sauce.
VIOLET LABEL- A mild jalapeño base flavored with grapes. The sauce you didn't know you needed!
Wallowing Whistlepig's new 'Rainbow Line' of hot sauces, so good you'll want to wallow in it, are now available for purchase in select stores and online through Wallowing Whistlepig's website here.
For more information about the Rainbow Line, visit www.wallowingwhistlepig.com