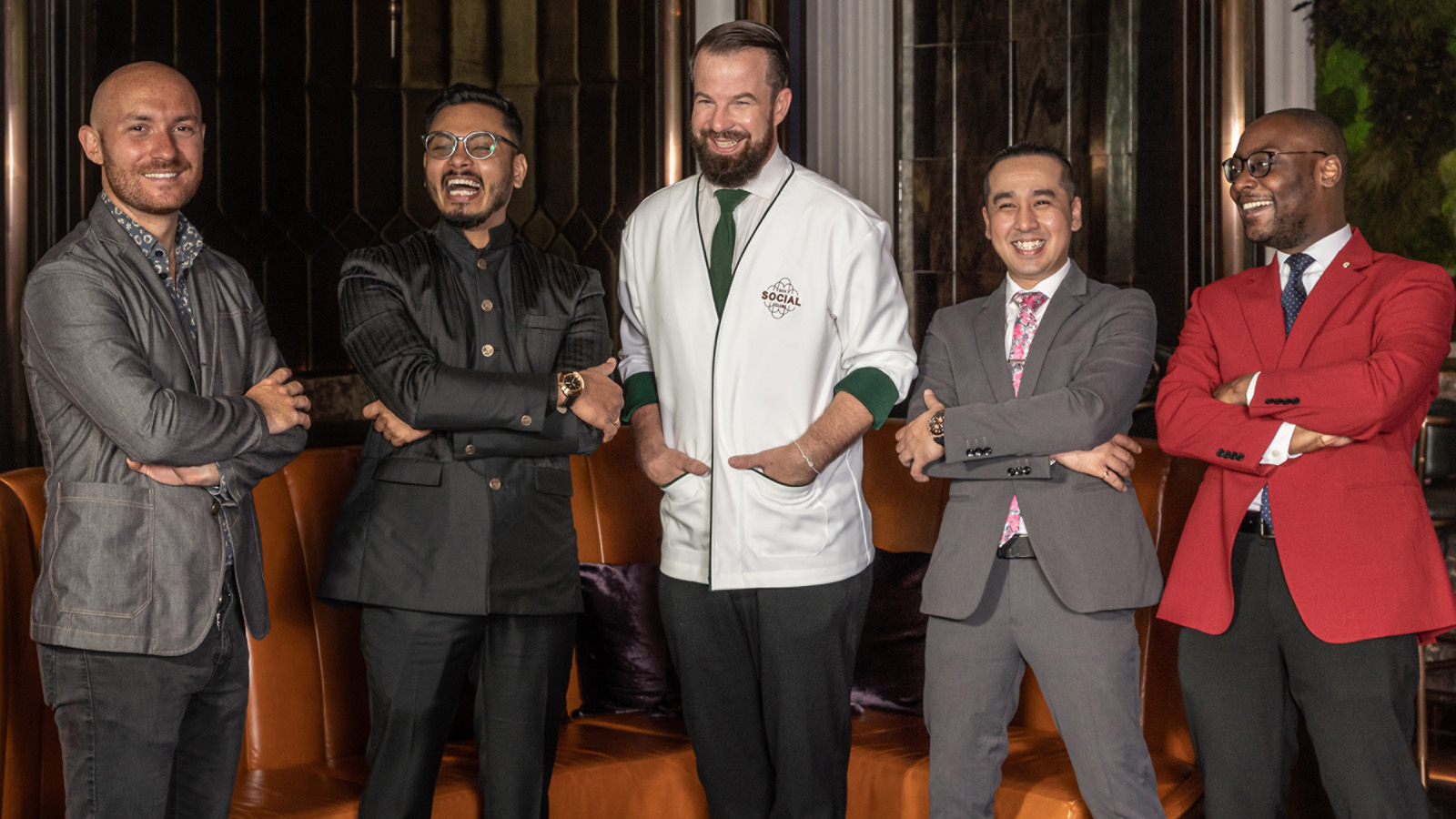 Before the pandemic, restaurants, bars, and nightclubs in the food and beverage industry could make a plan for maintaining and growing their business. Then 2020 happened, and the F&B business model totally changed and transformed. Trends predicted to take years suddenly became a reality in the industry. Kimberly Grant, Global Head of Restaurants and Bars at Four Seasons Hotels and Resorts, brings her expertise from working in the independent restaurant world for nearly 30 years. Grant oversees nearly 600 restaurants, bars, and food and beverage venues for Four Seasons with a goal to offer category-defining concepts in each market and become the preferred luxury operator worldwide. She travels extensively and, from her recent experience, shares her forecast and predictions about the top dining trends for 2023.
What about the trend of restaurant workers seeking a global career with prestigious hospitality brands?
Kimberly Grant: Traditionally in our industry, if you took a career track in a particular format, whether it was fast casual, full service, polished casual or fine dining, you would remain on that track. If you became a hospitality professional through the hotel track versus the independent restaurant track, you would generally stay on the track.
Those lines are quite blurred now and the goal for my team is to expand our reach when looking for talent. At Four Seasons, we are looking for the best craftspeople, no matter their background. We focus on professionals who care deeply about their craft.
Does this include chefs?
Kimberly Grant: Chefs have the same goals as other restaurant workers. I started in the industry as a server, so my view on talent is on all positions, whether utility position, back waiters, chefs, or sous chefs. Each has a craft in their particular role or position. I was recently in Vail [Colorado] speaking with an executive chef and his team that we are collaborating with from the independent restaurant world, and their chefs have absolutely loved the restaurant in a hotel experience. They never considered it as an opportunity to cross over, and after having this collaboration, it opened their eyes that there are other opportunities beyond the independent restaurant world.
What about trends for evolving menus that fuse local ingredients and local sourcing into traditional recipes?
Kimberly Grant: I get to travel the entire world, and I find, for example, avocado toast on every breakfast menu. I also find negronis and espresso martinis on domestic and international menus. Certain items are universal.
As for trends, there are two things. First, the term local means different things to different regions. Restauranteurs are starting to redefine the term "zero kilometer," which is about sourcing the highest quality ingredients as close as possible to the location. Due in part to the pandemic, our chefs began growing vegetables, fruit, and harvesting honey onsite at their properties. This innovative sourcing approach is rapidly expanding our portfolio.
Historically, there were separate menus presented to cater to certain lifestyle preferences. So, if a guest wanted a vegetarian, vegan, or gluten-free menu, most food and beverage outlets would give main and supplemental menus. Mocktails, alcohol-free, were also separate offerings. The major trend I'm seeing is that everything is blurring together on menus. There can be a long list of cocktails, some with spirits and others alcohol-free. Starter and entrée categories will combine offers with an indication if it is vegan, gluten-free, or vegetarian, and all items are intermingled. While these choices might have been for a particular lifestyle previously, people are now selecting different items they want to eat, not necessarily to fit a way of life. The industry is embracing this concept.
What about the secret menu that gained popularity and traction?
Kimberly Grant: This trend is more important than ever. Many restaurants downsized their menus through the pandemic due to supply chain issues or a lack of staff to execute a menu that might have offered over 60 items. Some of the dishes guests loved might not have made it to the new menu, but if a restaurant has the ingredients and can make it of the best quality, they will prepare it at the customer's request as a secret, off-menu dish.
We have a venue, Half Shell Beach Bar at our resort in Anguilla (fourseasons.com/anguilla/dining/restaurants/half-shell), a little beach shack and bar that does not list tacos on the menu, but it is the best item to order there. The guests love that they know about the tacos but not the "general public" who come there, and this secret menu item adds excitement to the experience and brand affinity to the concept.
What are the trends for new technology in the food and beverage industry?
Kimberly Grant: We are excited about the advances and adoption of technology that came out of the pandemic. QR codes are an example of creating efficiencies with technology. However, at Four Seasons, we do not necessarily believe that the use of QR codes should replace menus but instead should enhance the guest experience. For example, guests could download the playlist of music being played in the restaurant, or stay informed about upcoming events. QR codes are more of a communication tool.
Another area we are exploring is to use of technology into support our Environmental, Social and Governance (ESG) efforts. Many properties in our portfolio are using technology to manage food waste, being able to identify waste, and finding ways to minimize this.
The independent restaurant world uses kitchen display systems as a tool to increase efficiency and output. However, many hotels have been slow to embrace this technology, in my opinion. We are exploring ways to bring technology into the kitchen to help the chef be able to prepare food faster, time courses together, and other areas to enhance the overall guest experience.
In our environment, we are leveraging technology for mobile ordering, whether it ordering in-room dining or requesting pool or beach service. Through the Four Seasons App and Chat, or an iPad located in their guest room, guests can order dining at the touch of a button. This is about personalizing and making the service more accurate.
Four Seasons App and Chat have been popular platforms since launch—even more so during the pandemic. Chat adoption has grown nearly 300 percent since 2019. Four Seasons App and Chat are a true extension of the brand, demonstrating Four Seasons commitment to innovation while enhancing the guest experience, always with a distinctly human touch. The App and Chat are perfect examples of the company's approach to technology. Four Seasons is not interested in technology for technology's sake but rather in ensuring a distinctly EI element within the technology that still allows the company's people to shine. It is the only Chat offering that is not a chatbot—it is real Four Seasons people on the property. While there may be AI innovations in the future that help enhance this offering, it will always be ultimately powered by people. Here is a link with more information:
What other trends are you forecasting for 2023?
Kimberly Grant: There are many challenges in the industry when it comes to finding talent. We know that people are looking for a career pathway, and so as an employer of choice, we want to demonstrate to the potential talent that they can grow their career in food and beverage with limitless possibilities around the globe and always with the same brand. Our industry is starting to embrace this more, we can get cross-pollination where chefs are exposed to front of house, and leadership teams are exposed to the kitchen. Front of house managers can move to a career through the food and beverage leadership ranks and not have to leave to advance. This is the key to the success of our industry to give these career pathways to our hospitality talent and ultimately reduce turnover.
Grant entered the food and beverage industry as a server in the 1990s and worked her way to assistant manager, trainer, and then general manager. She was inspired by the company's founder, Sandy Bell, for over 21 years. He provided her education in the hospitality industry and "was a great mentor. I learned the balance between how to take care of our team, take care of our guests, and how to take care of our shareholders. Under his leadership, I developed a passion for all things food and beverage. He taught me that magic of hospitality, treating others how you would like to be treated during those years. At Four Seasons, we are guided by the Golden Rule, and this approach is why this industry has become my life-long passion.
"I started out in casual dining and then moved to a celebrity chef company working as a CEO, managing everything from a food truck to Michelin 2-star venues. At Four Seasons, we operate nearly 600 outlets globally that encompass food trucks to Michelin 3-star venues. I am just as inspired by those food trucks as by any 10-plus course dining experience offered at the Michelin 3-star outlet. I simply love it all."
For more information, visit fourseasons.com and follow Facebook @FourSeasons, Instagram
@fourseasons, and Twitter @FourSeasons.