Wine Enthusiast Reveals America's 100 Best Wine Restaurants of 2016
The Leading Publication in Wine Lifestyle Announces Their Sixth Annual Issue of the Best Places to Drink Up In While Dining Out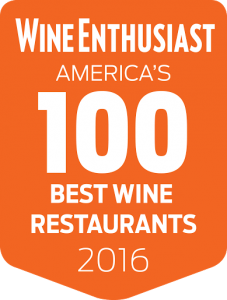 Wine Enthusiast Magazine announces its highly anticipated annual America's 100 Best Wine Restaurant list online today and in its annual August Restaurant issue that hits newsstands this week. Each year, the magazine's team of editors combs the nation in search of restaurants that they feel reflect the best, brightest and most progressive wine and food experiences available today.
This is not a list of "the best wine programs" but rather a list of restaurants where wine, food, service and atmosphere are all integral to the overall experience – with an emphasis on discovery – much like the magazine itself. See this year's full list below and online here.

"This is a highly subjective list reflecting Wine Enthusiast's dedication to not only legendary wine establishments but also those that are reflecting or pushing new and exciting trends in the market," explains Susan Kostrzewa, Executive Editor of Wine Enthusiast. "There's an incredible amount of diversity and experimentation happening with wine in the restaurant space right now and our list reflects this variety – from small lists that are redrawn every day, to massive tomes that reflect decades of cellaring – and similarly, the food ranges from an upscale hot dog hangout in New York wine country to the peak of fine dining."
Categorized by special features and trends rather than by a ranking system, this year's 100 Best Wine Restaurant List includes 24 "Classics," restaurants at least a decade old that continue to be on the forefront of the national wine and food conversation as well as 17 "Grand Openings". Open since the beginning of 2015, these spots are already enriching their communities and influencing the national scene.
Other categories include "Tasting Menus" (restaurants that exclusively offer a chef's choice tasting menu); "Great Glass Programs" (restaurants with exceptional by-the-glass lists); "Laser Focus" (eateries whose wine lists are narrow in focus, and whose staff has deep knowledge and expertise in those areas); "Steakhouse 2.0" (innovative steakhouses challenging conventional dogma around wine-and-meat pairing); and lastly "Not to Be Missed," restaurants who simply defy category.
Additional editorial highlights include joint Chef and Sommelier Q&A's, exclusive recipes, observations and passions of several influential wine directors, a separate stand alone story highlighting "Under the Radar Food Cities," and exclusively for online, restaurants' "riot dishes" — dishes that could cause a riot if they dared take them off the menu.
To commemorate the release of America's 100 Best Wine Restaurants List and the annual August Restaurant issue the entire Wine Enthusiast team will gather on Monday June 27th at Marta Restaurant (a 2016 Best Wine Restaurant) in Manhattan for an invite-only party from
7:00pm-9:00pm
. The party will toast and honor recipients of this year's prestigious awards and celebrate the exciting era of wine, dining and hospitality taking place in America today.
Prior to the party, for the second year, Wine Enthusiast will host a 45-minute press panel, also at Marta starting at
6:00pm
. The panel will engage a lively conversation between three of the nation's most esteemed wine and food professionals (all are recipients of a 2016 American's 100 Best Wine Restaurant Award). Panelists include Eric Zeibold (chef/owner, Kinship), Jordan Salcito (Beverage Director, Momofuku Group) and Jack Mason (Wine Director, Marta).
America's 100 Best Wine Restaurants of 2016 (in alphabetical order):
610 Magnolia (Louisville, KY)
A.kitchen+bar (Philadelphia, PA)
A16 Restaurant & Wine Bar (San Francisco, CA)
Acre (Auburn, AL)
Addison at The Grand Del Mar (San Diego, CA)
Alter (Miami, FL)
Artisan (Paso Robles, CA)
Ava Gene's (Portland, OR)
Barolo Grill (Denver, CO)
Bateau (Seattle, WA)
Bern's Steak House (Tampa, FL)
Bisq (Boston, MA)
Blue Hill at Stone Barns (Pocantico Hills, NY)
Bracero (San Diego, CA)
Brennan's (New Orleans, LA)
Canlis (Seattle, WA)
Capa (Orlando, FL)
Chada Thai & Wine (Las Vegas, NV)
Charlie Bird (New York, NY)
Cliff's Edge (Los Angeles, CA)
Coi (San Francisco, CA)
Commander's Palace (New Orleans, LA)
Coquine (Portland, OR)
Craigie on Main (Boston, MA)
DANIEL (New York, NY)
db Bistro Moderne (Miami, FL)
Element 47 at The Little Nell (Aspen, CO)
Eleven Madison Park (New York, NY)
Eloisa (Santa Fe, NM)
Empire State South (Atlanta, GA)
FIG Restaurant (Charleston, SC)
Fiola di Fabio Trabocchi (Washington, DC)
Fish & Game (Hudson, NY)
Five & Ten (Athens, GA)
FLX Wienery (Dundee, NY)
Four Horsemen (Brooklyn, NY)
Frasca Food and Wine (Boulder, CO)
FT33 (Dallas, TX)
Gabriel Kreuther (New York, NY)
Gramercy Tavern (New York, NY)
Hearth (New York, NY)
Intro (Chicago, IL)
Iron Gate (Washington, DC)
JORY (Newberg, OR)
Kindred (Davidson, NC)
Kinship (Washington, DC)
L'Etoile Restaurant (Madison, WI)
La Cuchara (Baltimore, MD)
Le Bernardin (New York, NY)
Le Pigeon (Portland, OR)
Liholiho Yacht Club (San Francisco, CA)
Manresa (Los Gatos, CA)
Maple and Ash (Chicago, IL)
Marta (New York, NY)
McCrady's (Charleston, SC)
Melisse (Santa Monica, CA)
Miller Union (Atlanta, GA)
Molyvos (New York, NY)
Momofuku Ko (New York, NY)
Niche (St. Louis, MO)
NINEBARK (Napa, CA)
Osteria Langhe (Chicago, IL)
Otium (Los Angeles, CA)
Pappas Bros (Dallas, TX)
Parachute (Chicago, IL)
Picasso (Las Vegas, NV)
Plumed Horse (Saratoga, CA)
PRESS Napa Valley (St. Helena, CA)
Prima (Nashville, TN)
Rebelle (New York, NY)
Redbird (Los Angeles, CA)
Reeds American Table (St Louis, MO)
Reef (Houston, TX)
Republique (Los Angeles, CA)
Restaurant Eugene (Atlanta, GA)
Restaurant Latour (Hamburg, NJ)
RN74 (San Francisco, CA)
Rustic Canyon (Santa Monica, CA)
Sage (Las Vegas, NV)
Sepia (Chicago, IL)
Spiaggia Restaurant and Lounge (Chicago, IL)
Spoon and Stable (Minneapolis, MN)
Studio (Laguna Beach, CA)
Taberna de Haro (Brookline, MA)
The Catbird Seat (Nashville, TN)
The French Laundry (Yountville, CA)
The Grey (Savannah, GA)
The Kitchen (Sacramento, CA)
The Lark (Santa Barbara, CA)
The Pass & Provisions (Houston, TX)
The Progress (San Francisco, CA)
The Restaurant at Meadowood (St Helena, CA)
Trentina (Cleveland, OH)
Troquet (Boston, MA)
Underbelly (Houston, TX)
Vedge (Philadelphia, PA)
Vertical Detroit (Detroit, MI)
Wallse (New York, NY)
Wildair (New York, NY)
Woodberry Kitchen (Baltimore, MD)
About Wine Enthusiast Magazine 
Wine Enthusiast Magazine educates and entertains readers about wine and the wine lifestyle in an accessible and user-friendly way. Published 13 times per year, the magazine's readership is more than 800,000. The magazine and its Buying Guide with more than 100,000 ratings and reviews are available online. The magazine hosts signature Wine Enthusiast events for both consumer and trade. www.WineMag.com