Woodstock Inn & Resort Adds to Culinary Team

Gary S. Thulander, president and general manager of the Woodstock Inn & Resort, announced two strategic appointments in the resort's culinary team. Rhys Lewis, former executive chef, has been promoted to Resort Executive Chef, and Scott Watson recently joined the resort as Inn Executive Chef.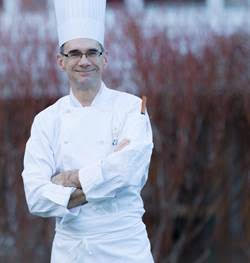 "These strategic changes signal the continued enhancement to the Woodstock Inn & Resort's culinary department," explains Thulander. "Spearheaded by Rhys with support from Scott and the entire team, the goal is to continue growing as an epicurean destination by creating extraordinary menus and distinctive culinary programming for our guests to sink their teeth into."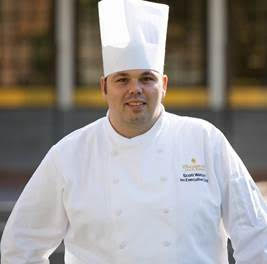 When Lewis first joined the Woodstock Inn & Resort in 2015 he was handpicked for his extensive experience revitalizing resort dining as he had successfully accomplished at Colonial Williamsburg. Prior to joining Woodstock, Lewis was the executive chef of the Colonial Williamsburg Foundation, responsible for the entire food service operation that included the Williamsburg Inn, Williamsburg Lodge and Conference Center, four historic taverns, the Woodlands Conference Center and Huzzah BBQ Grille, which he created.
As resort executive chef, Lewis' level of responsibilities will evolve to create innovative culinary programming at the resort across all dining operations and banqueting events. Central to his expanded role, he will continue to oversee and enhance culinary initiatives at each of the dining venues at the Woodstock Inn & Resort, including the fine dining Red Rooster, the more casual Richardson's Tavern, the Country Club's Fairway Grill and Suicide Six Ski Area, as well as for both corporate and social events.
"Rhys is always seeking to implement food-centric ways to delight and entertain guests, including new programs to engage guests with the Kelly Way Gardens in the spring," continued Thulander. "We are confident that with these dynamic leaders at the helm, both the community and resort guests will find an unparalleled culinary experience at the Woodstock Inn & Resort."
Inn Executive Chef Watson will oversee all culinary and stewarding operations within the restaurants and dining venues of the Woodstock Inn & Resort. Previously employed as executive sous chef at the Williamsburg Inn for seven years, Watson oversaw the Inn's Regency Room restaurant and all catering and banquet operations. Prior to that, Chef Watson was a sous chef for the Williamsburg Lodge, where he later earned his promotion to executive sous chef. He was also instrumental in driving the Inn's highly acclaimed culinary apprenticeship program.
Continuing Lewis' tradition, Watson will incorporate farm-fresh, carefully harvested and thoughtfully chosen ingredients into each of the seasonal menus at Woodstock's restaurants. The Red Rooster features chef-driven and farmland inspired items for the menu with ingredients sourced throughout Vermont and New England, including the resort's own certified organic Kelly Way Gardens.
For reservations and additional information about the Woodstock Inn & Resort, please visit www.woodstockinn.com or call (888) 338-2745
About The Woodstock Inn & Resort
Located in idyllic Woodstock, Vermont, The Woodstock Inn & Resort defines country sophistication in one of New England's most charming and popular year-round vacation destinations. The 142-room, AAA Four Diamond Resort and a member of the Preferred Hotels & Resorts LVX Collection, offers award-winning dining in two restaurants, ranked among the finest in New England. The Woodstock Inn & Resort is owned and operated by The Woodstock Foundation, Inc. Proceeds from Resort operations support The Woodstock Foundation and Billings Farm & Museum education and conservation programs.
About Preferred Hotels & Resorts
Preferred Hotels & Resorts℠ is the world's largest independent hotel brand, representing more than 650 distinctive hotels, resorts, residences, and unique hotel groups across 85 countries. Through its five global collections, Preferred Hotels & Resorts connects discerning travelers to the singular luxury hospitality experience that meets their life and style preferences for each occasion. Every property within the portfolio maintains the high quality standards and unparalleled service levels required by the Preferred Hotels & Resorts Integrated Quality Assurance Program. The iPrefer℠ guest loyalty program, Preferred Residences℠, Preferred Family℠, Preferred Pride℠, and Preferred Golf™ offer valuable benefits for travelers seeking a unique experience. For more information, visit PreferredHotels.com.